According to U.S. Attorney General Loretta Lynch, her seemingly impromptu meeting with former President Bill Clinton earlier this week was "primarily social," but conservative talker Rush Limbaugh isn't convinced.
"I did see President Clinton at the Phoenix airport as he was leaving, and he spoke to myself and my husband on the plane," Lynch told Phoenix news outlet KNXV-TV Monday. "Our conversation was a great deal about his grandchildren. It was primarily social, about our travels and he mentioned golf he played in Phoenix."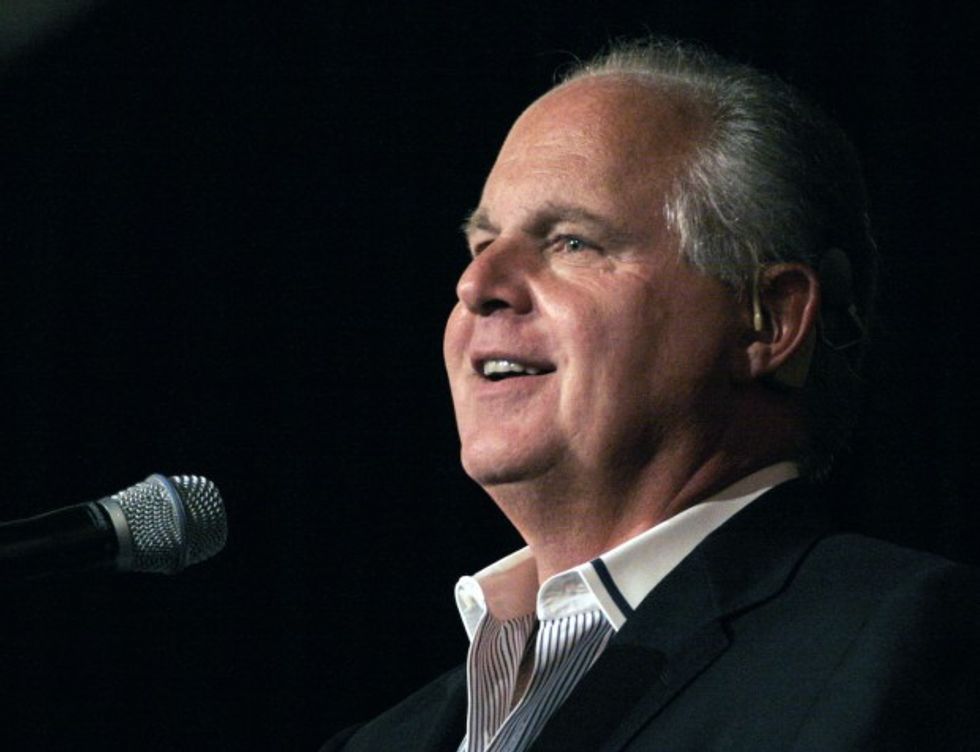 Bill Pugliano/Getty Images
But Limbaugh feels a few too many things lined up for the meeting, which has been criticized given the fact Lynch is overseeing an investigation into Hillary Clinton's private email server, to be a spontaneous social call.
"So [Bill] Clinton just happens to be told that Loretta Lynch is arriving soon when he just happens to be arriving to depart at Sky Harbor International Airport?" Limbaugh asked during his radio show Thursday. "[W]e are supposed to believe here that Bill Clinton, a 70-year-old man with a history of heart trouble, played golf in Phoenix where it was 108, 110 degrees?"
Limbaugh doesn't seem to buy Lynch's recanting of the meeting. Instead, he feels the discussion — which the radio personality believes was intended to be clandestine — involved Bill Clinton blackmailing Lynch, telling her to drop the email issue all together.
During his program, Limbaugh posed another possibility, in which Bill Clinton praised the attorney general and reminded her he "was one of the people that told Barack Obama to put you in this job," adding that he's been one of her "champions" for "I can't tell you how long."
Limbaugh, creating his view of the meeting, invoked a highly-controversial moment in 2008, when Bill Clinton reportedly told late Massachusetts Sen. Ted Kennedy that the only reason people supported then Sen. Barack Obama was because of his race, adding that, a few years ago, the Chicago politician "would be getting us coffee." Many suggested the flub cost Hillary Clinton an endorsement from the liberal giant.
"It wasn't that long ago, and he got mad at it, Loretta," Limbaugh said, impersonating what Clinton might have told Lynch. "But I'm telling you, things haven't changed, it's still that way, and if you want to keep it that way, you know this email thing? It doesn't exist. Just broom it, Loretta. Just forget about it.  Ain't nothing there."
"Nothing to see. Tell [FBI Director James] Comey. No matter what he wants, you don't have any evidence. That's it. It's been great seeing you. It was fun playing golf. I hope your grandkids are doing great," he continued his impression. "[I] gotta go. Don't forget what I told you, Loretta. And remember who put you here. Remember how you got here. And remember how easy, Loretta, it would be to send you somewhere else."
According to the local news report, Lynch was in Phoenix for a planned visit as part of her national tour to promote community policing, and the run-in with the former president was just happenstance. The discussion took place on Lynch's plane.
Regardless of what really happened during the talk, it has been criticized by many on both side of the aisle, including David Axelrod, Obama's former chief strategist, who said the meeting was "foolish."
–
Follow the author of this story on Twitter: