Retired Lt. Gen. Michael Flynn, former director of the Defense Intelligence Agency, went off on President Barack Obama Wednesday for focusing on climate change one day after the bombing in Istanbul and just weeks after the Orlando shooting.
"Here we have the president of the United States up in Canada talking about climate change. I mean, God, we just had the largest attack ... on our own soil in Orlando," Flynn told Fox News anchor Megyn Kelly. "Why aren't we talking about that? Who is talking about that? I mean, Fort Hood, Chattanooga, Boston, people forget about 9/11."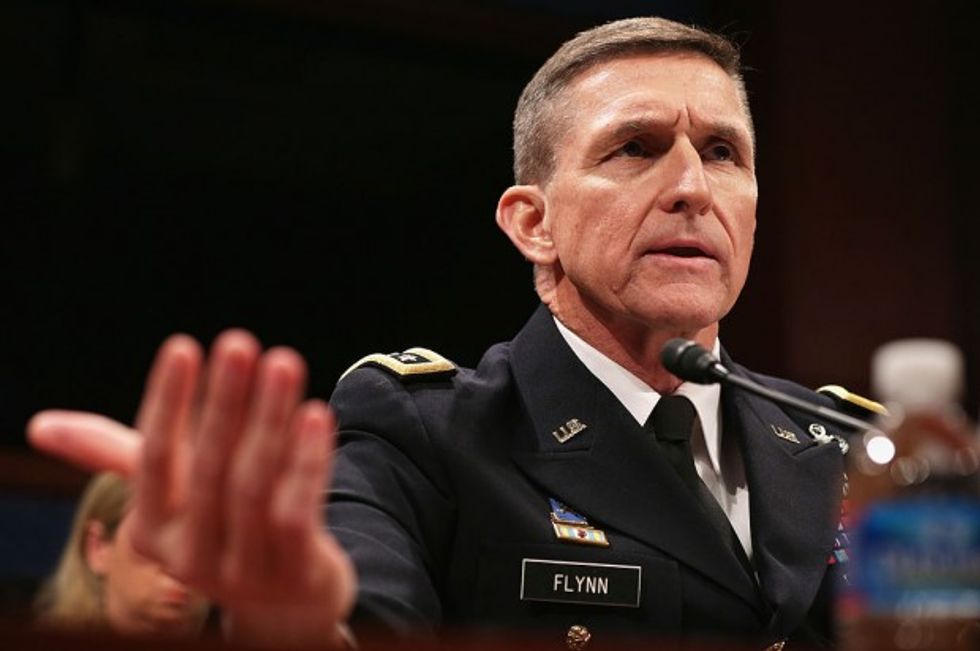 Lt. Gen. Michael Flynn, director of the Defense Intelligence Agency, testifies during a hearing before the House (Select) Intelligence Committee February 4, 2014 on Capitol Hill in Washington, DC. The committee held a hearing to examine threats to the U.S. from all around the world. (Photo by Alex Wong/Getty Images)
The president was in Canada Wednesday for a summit meeting with Canadian Prime Minister Justin Trudeau and Mexican President Enrique Peña Nieto, where they discussed a pledge to use clean energy resources to generate half of their power by 2025.
But according to Flynn, the U.S. needs to intensely focus on the issue of terror.  In order to truly destroy terror groups like the Islamic State, he says government leaders must determine to "go after ... radical Islamist ideology."
"Until we decide to do that, all the tactics in the world, all the little things we do around airports — that just actually increases the cost and that is to the advantage to our enemy," he told the "Kelly File" host, adding that the U.S. has not established a "real strategy" to defeat terrorism internationally.
Kelly pushed back against that point, telling Flynn the Obama administration "has made progress" in Iraq, noting U.S. forces have taken cities like Fallujah back from the Islamic State and the terror group is "on their heels now" in Mosul.
But Flynn suggested the government is not doing enough. He said the strategy to take the Islamic State down should consist of capturing and killing leaders, discrediting their violent ideology and issuing warnings to nations that are friendly to their efforts.
He then laid into Secretary of State John Kerry, who bemoaned the difficulties of trying to detect potential attacks before they happen and suggested the Islamic State is getting "desperate" — a comment for which he received much criticism.
"Secretary Kerry, and I believe he did an unbelievable discredit to all of us in the United States, all Americans, when he said, 'Hey, we can't really stop these things, these are gonna continue to happen.' I mean, come on. Are you kidding me? So we have to put up with this nonsense?" Flynn told Kelly. "No, we do not have to put up with this nonsense."
He added that the U.S. will need to engage in a "very dramatic effort" in order to halt radical terrorism.
"I'm not gonna sit here and tell you that this is not gonna be cheap and it's not gonna come without violence — it is," Flynn said. "But when we continue to see the level of fear that's being increased, the level of cost that's being increased by these guys. I mean, the international community cannot stand for this type of behavior on an international stage like we have seen again and again and again."
Watch the interview below:
—
Follow the author of this story on Twitter: