Serbian tennis star Viktor Troicki's Wimbledon meltdown Thursday was so over-the-top it is being compared to John McEnroe's famous 1981 "You cannot be serious!" rant on center court at the iconic tennis tournament.
Troicki was locked in very tight match against Spain's Albert Ramos-Viñolas. The match was tied two sets apiece and Ramos-Viñolas was leading Troicki five games to three in the deciding set when the umpire overturned a call and set off the Serbian's rant.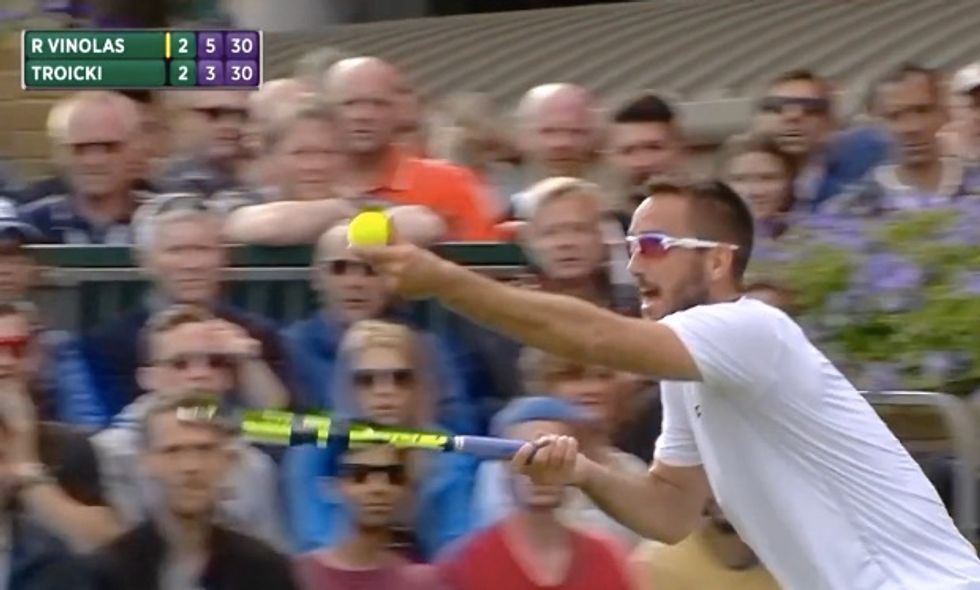 Image source: YouTube
Ramos-Viñolas' serve was initially called out by the line judge, only to be overruled by the chair umpire, triggering Troicki's outburst.
The 30-yr-old pro let out a scream, grabbed the ball used in the shot he believed to be out of bounds and ran towards the umpire, imploring the official to examine it,  saying, "No white, look at it!" Troicki begged.
Apparently, Troicki was attempting to show the umpire there was no evidence of white chalk on the ball, proving the initial call by the line judge to be the correct one.
The umpire was not interested in Troicki's appeal and refused to change his call. Troicki reacted to the umpire's inflexibility by launching the ball out of the stadium. That move earned the 27th-ranked mens tennis star a "conduct warning" from the official.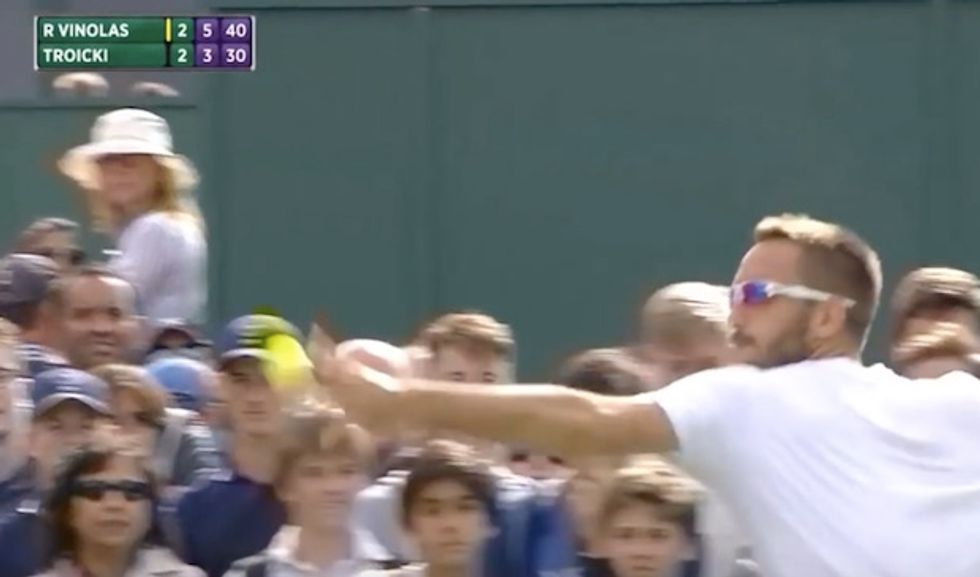 Image source: YouTube
The ump's decision gave Ramos-Viñolas a point and put match point on the Spaniard's racquet. Ramos-Viñolas finished off the match on the very next serve, defeating Troicki 3-6 6-3 6-3 2-6 6-3.
Watch the point that ignited Troicki's anger and his subsequent McEnroe-like meltdown:
Here's the 1981 McEnroe meltdown:
—
Follow the author of this story on Twitter and Facebook: