© 2023 Blaze Media LLC. All rights reserved.
Sanders Reportedly Set to Endorse Clinton Early Next Week — If He Gets These Concessions
"We have got to do everything that we can to defeat Donald Trump and elect Hillary Clinton."
One-time Democratic presidential rival Bernie Sanders is poised to endorse presumptive nominee Hillary Clinton during a New Hampshire rally Tuesday, according to sources close to the situation.
The Vermont senator's full-fledged support hinges on whether disagreements in the Democratic platform can be resolved during a party meeting in Orlando over the weekend.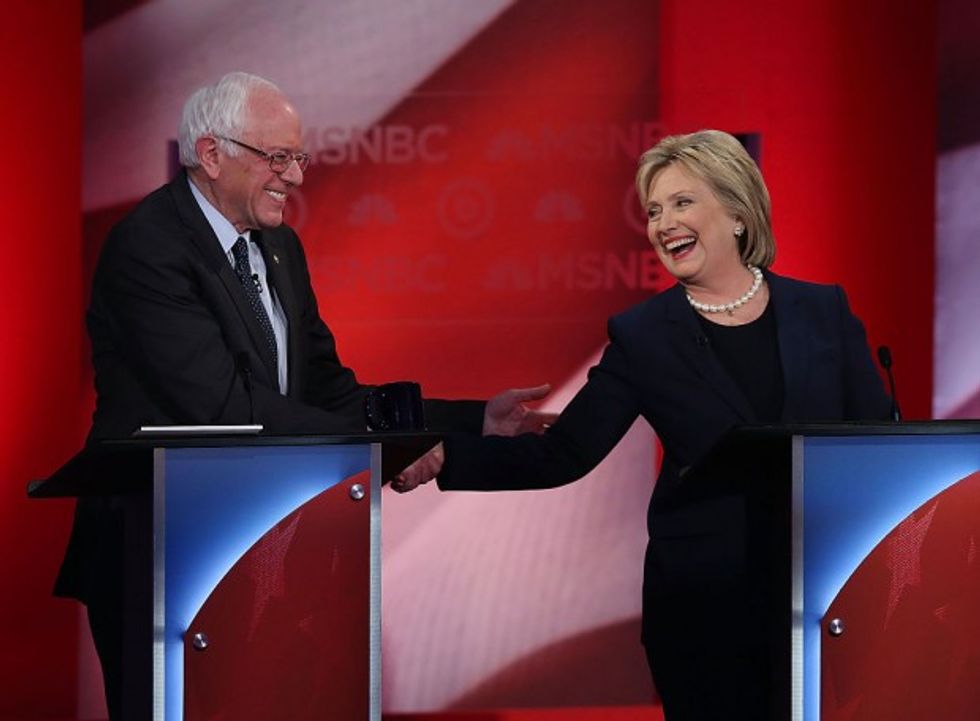 Photo by Justin Sullivan/Getty Images
For the past three weeks, Sanders has been inching closer to endorsing the former secretary of state's candidacy, but has been unwilling to fully back Clinton until the platform is completed. Regardless, he has remained committed to defeating Donald Trump, the presumptive Republican nominee for president.
"We have got to do everything that we can to defeat Donald Trump and elect Hillary Clinton," Sanders said in an interview with Bloomberg View's Al Hunt. "I don't honestly know how we would survive four years of Donald Trump as president."
On the campaign trail, Sanders and Clinton differed on policy regarding college tuition, but the presumptive Democratic nominee ultimately offered a concession Wednesday, when she announced a proposal to make tuition free at in-state colleges and universities for those earning less than $125,000 per year for a family of four.
Sanders, who has not yet ended his presidential campaign, has sought a health care commitment from Clinton to allow those who are aged 55 and older to opt into Medicare. He has also pushed for concessions in the party platform to oppose the Trans-Pacific Partnership, a 12-country trade deal negotiated by President Barack Obama's administration, even before the next president is sworn in.
If all goes well with the meeting in Orlando, and Sanders gets the things on his wish list, sources familiar with the talks say Clinton and the Independent lawmaker are on track to appear together early next week. But things could still unravel.
For some, patience is in short supply, with Sanders insistent on major policy concessions and Clinton aides feeling he has remained in the race for too long after Clinton became the presumptive nominee. Sanders was booed in a meeting with House Democrats on Wednesday for withholding a Clinton endorsement, according to CNN.
Democrats are slated to meet Friday and Saturday in Orlando in order to finalize their party platform, which mentions Trump a record 35 times, ahead of the Democratic convention in Philadelphia later this month.
—
Follow the author of this story on Twitter:
Want to leave a tip?
We answer to you. Help keep our content free of advertisers and big tech censorship by leaving a tip today.
more stories
Sign up for the Blaze newsletter
By signing up, you agree to our
Privacy Policy
and
Terms of Use
, and agree to receive content that may sometimes include advertisements. You may opt out at any time.