House Oversight Committee Chairman Jason Chaffetz told FBI Director James Comey on Thursday he will soon receive a referral from Congress asking for an investigation into whether Hillary Clinton lied under oath about her private email scandal.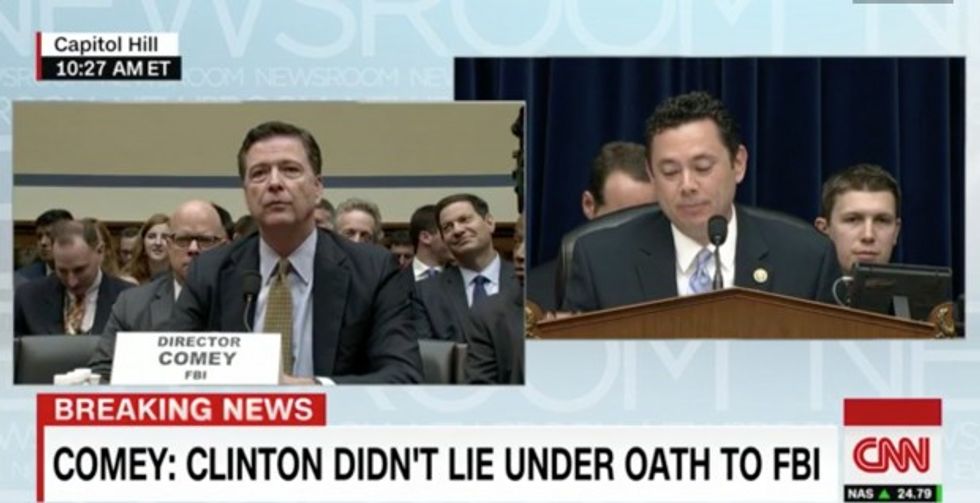 Chaffetz made the disclosure during an exchange over false statements made by Clinton on her private email server.
"Did Hillary Clinton lie under oath?" Chaffetz asked.
"Not to the FBI," Comey responded. "Not in a case we were working."
Chaffetz then reminded the FBI director that Clinton claimed under oath that "there was nothing marked classified" in her emails, either "sent or received."
Comey said was "aware" of the comments but the FBI has not investigated the testimony because there has not been a referral from Congress.
"Do you need a referral from Congress to investigate her statements under oath?" Chaffetz pressed.
"Sure do," Comey replied.
"You'll have one," Chaffetz said. "You'll have one in the next few hours."
Watch the exchange below:
Chaffetz: Did Hillary Clinton lie?
Comey: We have no basis to conclude she lied to FBIhttps://t.co/ixbo4KdXyehttps://t.co/hDIfihsw9M

— CNN Politics (@CNNPolitics) July 7, 2016
---