A former high-ranking police officer told NBC's "Meet the Press" Sunday that the United States is "sitting on a powder keg" following last week's fatal police shootings.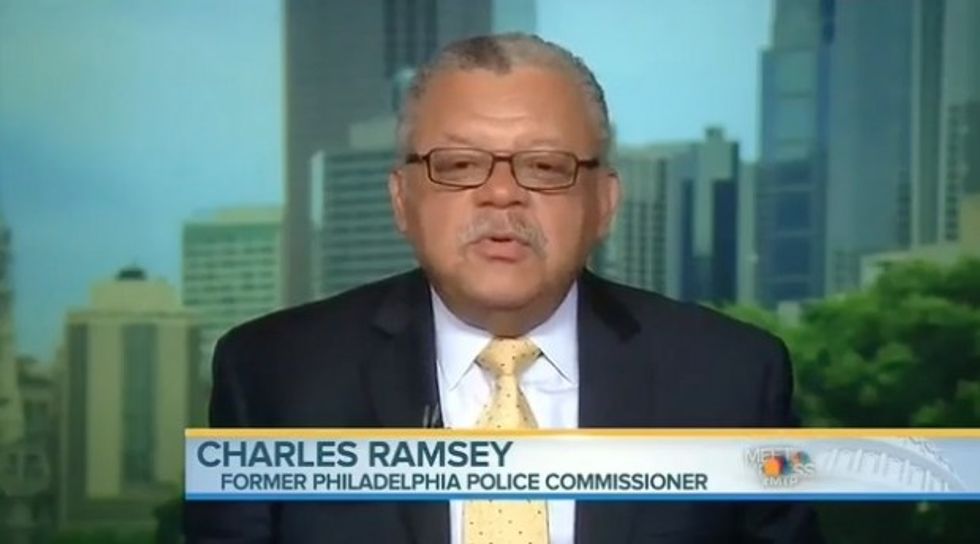 Image source: YouTube/NBC News
Charles Ramsey, who served as both Washington, D.C., police chief and Philadelphia police commissioner, explained to host Chuck Todd that the nation is in the midst of a "volatile time."
"You can call it a powder keg," Ramsey said. "You can say that we're handling nitroglycerin, but obviously, when you just look at what's going on, we're in a very, very critical point in the history of this country."
"We need to come together, we need thoughtful people to sit down and engage in dialogue, but actually come up with solutions, not just finger pointing and playing the blame game; that's not helpful to anybody at all," he added. "But it is a very, very volatile time that we're in right now."
Asked by Todd about the number of police shootings in the U.S., Ramsey, who co-chairs a White House task force on policing, replied, "I think we need to keep it in context that police officers have a very challenging and often dangerous job."
"Now, that's not to say that we should not be mindful of the fact that we have some officers that use excessive force, that shoot people when it's not totally justified," Ramsey said. "We've got to really address that and hold them accountable. But it is not a reflection of the department and policing at large."
Ramsey noted, though, that "police officers are human beings" and that the  "environment" needs to be changed:
And I mean, when you are being attacked like that or at least, you're perceived to being attacked, it does create some issues and some problems. But I think that we all need to recognize that there are some changes that need to be made. I mean, we can't look at it from a defensive posture. How do we move forward? How do we create an environment where we're on the same page? There's only one issue, and that is creating safe neighborhoods; but also, those neighborhoods, with the people in it, have a sense and feeling of justice and fairness as the law is being applied. And I think that's really what people are asking for. So does it have an impact? Yeah, I think it does. But we've got to move forward from it.
Ramsey called for "consistency" in the training of police officers and for the consolidation of police departments by region as possible solutions to the problem.
"Well, I mean, it just seems like sometimes it is two steps forward and one back, but we have to continue to move forward," he said. "Has there been progress? Yeah, absolutely. ... But we cannot expect that there won't be some stumbling blocks along the way. We're going to have issues that are going to arise, but we have to keep pushing forward if we really want to see the kind of change that we need to bring these two sides together."
Watch:
—
Follow the author of this story on Twitter and Facebook: