Kenneth and Colleen Shults are hoping to formally adopt a foster child into their family, but in a federal suit filed this week, they are claiming they would be forced to give up their Second Amendment rights to do so.
The Fairmount, Ill., couple, already parents of three, decided to purchase guns to keep their family safe after being informed by Colleen Shults' employer they could be at risk. Earlier this year, the wife, a nurse at the Illinois Department of Corrections' Danville Correctional Center, was warned prisoners were seeking prison employees' home addresses and was told she should take unspecified precautions.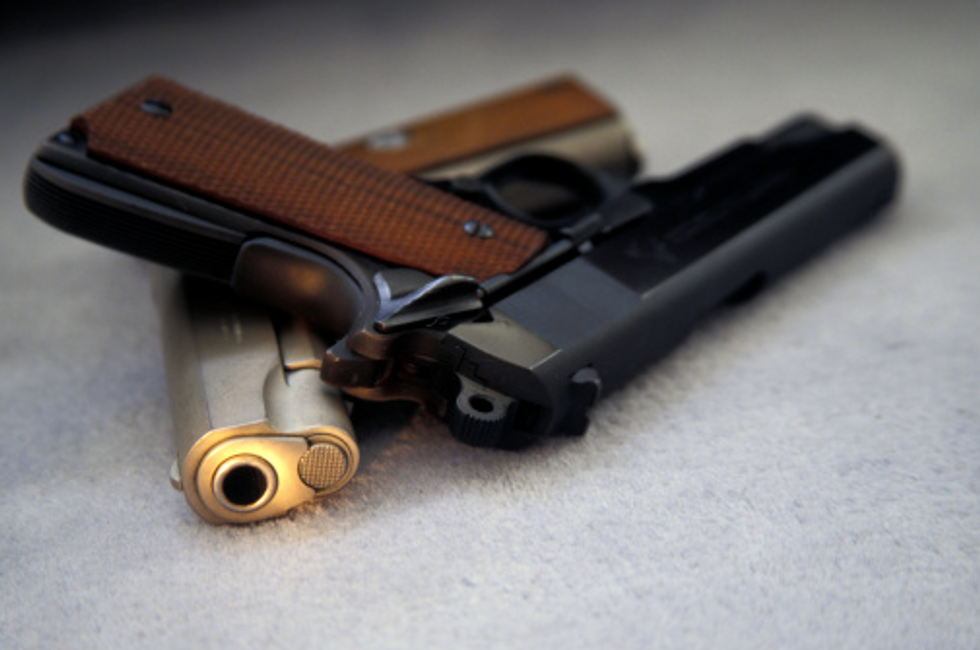 Colt 9Mm Commander and .38 - Super Combat Commander handguns (Getty Images/Education Images/UIG)
But now, their Second Amendment rights may be hanging in the balance — if they want to go through with the adoption of a daughter.
They are hoping to formally welcome the child into their family through the state-run foster care system, but have been tripped up by restrictions put in place by the Department of Children and Family Services. In their minds, the rules aimed at protecting the children are actually violating their constitutional right to own guns.
"Our family has always owned and used firearms," Kenneth Shults, who is a firearms safety instructor and machine shop manager, told Fox News. "No foster parent should have to forfeit their constitutional rights in order to be a foster parent."
According to the restrictions, the Shults family could keep firearms in their home, but the specifics of the rules would defeat the purpose of even owning guns for protection, Alan Gottlieb, founder of the Washington-based Second Amendment Foundation, said.
Potential foster parents in Illinois must either certify there are no firearms in their house or complete a form called the "Foster Family Firearms Arrangement," which requires applicants to disclose all the guns they own and how much ammunition they have, both of which must be kept in separate locations. In addition, prospective parents must guarantee their guns have trigger locks and are stored unloaded in locked containers accessible only with a key and kept off the premises, or on the owner's person.
"When seconds count, having your gun unloaded, locked up and ammunition stored somewhere else makes you a likely victim of a violent crime," Gottlieb, whose association has joined the suit as a plaintiff, said.
Though this current case may be in Illinois, Gottlieb believes its results could be felt all around the country.
"This lawsuit is important not just for foster families in Illinois, but all across the nation," he said. "What we are challenging is the denial of the fundamental right to defend yourself and your family."
The suit was filed Tuesday in the U.S. District Court for the Central District of Illinois and accuses the director of the Illinois Department of Children and Family Services of taking away the Shultses civil rights. It also claims the Illinois Department of Children and Family Services policy violates potential parents' Second Amendment rights.
Illinois is no stranger to Second Amendment-related lawsuits. One of the most-discussed cases was McDonald v. City of Chicago in 2010. Otis McDonald, a maintenance worker and grandfather living in the Windy City, said he was unable to protect himself and his loved ones because of an ordinance that barred him from owning a firearm.
Ultimately, the issue rose to the Supreme Court, where, in a 5-4 ruling, the high court decided it was the right of every person to "keep and bear arms," which is guaranteed by the Second Amendment.
"One would think the state would have wised up by now," Gottlieb said.
–
Follow the author of this story on Twitter: