Ebony editor Jamilah Lemieux said she wasn't "comfortable" describing the targeting killing of five police officers in Dallas as a "hate crime."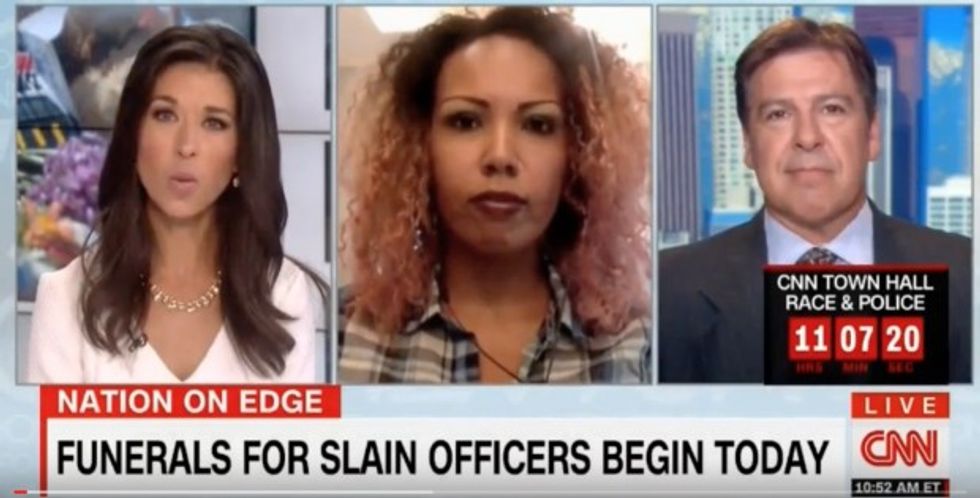 Ebony editor Jamilah Lemieux discusses the Dallas shooting on CNN Wednesday. (CNN screengrab)
She even went a step further during her Wednesday appearance on CNN, suggesting it's very "tricky" to assume white people and police officers can be classified as victims of hate crimes.
"I have to say, I would not describe 'hate crime' as the most comfortable word choice, considering these circumstances," Lemieux said. "There is so much we don't know about what took place, what motivated this person."
Dallas Police Chief David Brown said Dallas gunman Micah Johnson said he wanted to kill white officers as retaliation for recent police-involved shootings in Louisiana and Minnesota. He killed five cops and wounded seven others before police took him out with a bomb-delivering robot.
Despite these statements, Lemieux remained unconvinced that the killings fall into the "hate crime" category. She went on to explain her point of view.
"When we use a phrase like 'hate crime,' we're typically referring to crimes against people of color, people of various religious groups, LGBT people, people who have been historically attacked, abused or disenfranchised on the basis of their identity," she added.
But she continued: "To now extend that to the majority group and a group of people that have a history with African-Americans that has been abusive – and we can apply that to either police officers or to Caucasians – I think gets into very tricky territory. So I'd like to know if he was referring to the hate crime because he singled them out by race or because they were police officers."
She was eventually challenged by former FBI agent Steve Moore, saying any person, regardless of race, can be a victim of a hate crime.
"You can't just say that only certain groups are allowed to be hated, only certain groups can have crimes designated as hate crimes against them. That's racism," he responded. "You can't just say if you're white, nobody can commit a hate crime against you."
You can read the full transcript of her comments below:
Here's the entire transcript, for @foxnation and other outlets being dishonest: pic.twitter.com/TK6vHaSzL7

— jamilah lemieux (@JamilahLemieux) July 14, 2016
(H/T: Mediaite)
---