Secretary of State John Kerry shared on ABC's "This Week" Sunday his worry that Turkish President Recep Tayyip Erdogan may use Friday's attempted military coup to crack down on democracy in the country.
"We hope that will not be the case," Kerry told told George Stephanopoulos.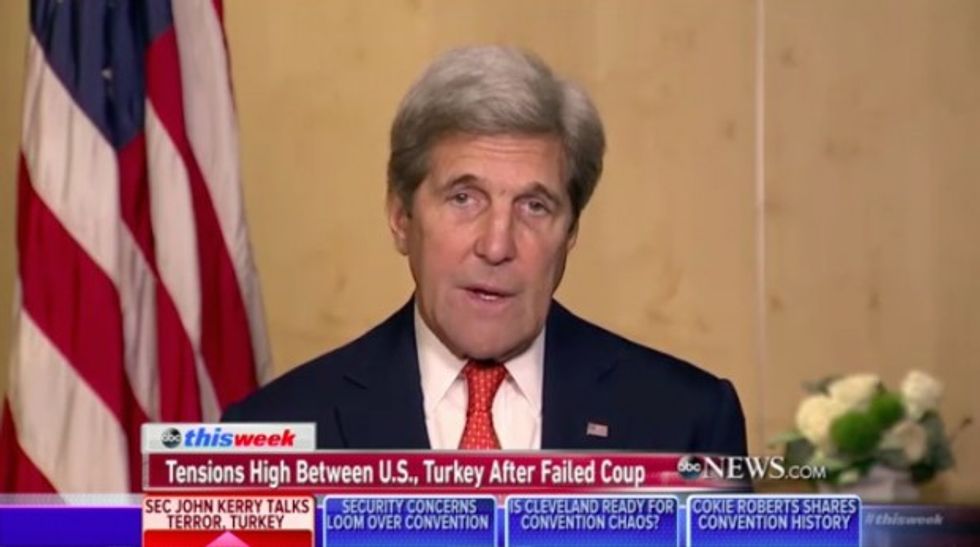 Image source: ABC/"This Week"
More than 260 were killed and 1,440 wounded in the coup and its aftermath. The Associated Press reported Sunday that Erdogan's forces have now arrested about 6,000 people the two days following the attempted takeover.
"Obviously there are coup plotters, and the coup plotters need to be held accountable, and they will be," Kerry said Sunday. But, Kerry noted that he warned the Turkish president, whom he explained "is fully in control," of abusing his office and escalating the conflict beyond what is necessary.
"We're all concerned, and we've expressed that concern that there's not ... a reach well beyond those who engaged in the coup, but that [Erdogan's government] strengthen democracy," he said.
The potential overreach include calls for the extradition of Turkish cleric Fethullah Gulen, who is a permanent United States resident living in self-imposed exile in Pennsylvania.
Kerry told ABC Sunday that Turkey has made no formal request for the United States to extradite Gulen, though Erdogan did allege televised speech Saturday that the Muslim cleric was behind the plot and suggested that the U.S. extradite him to Turkey.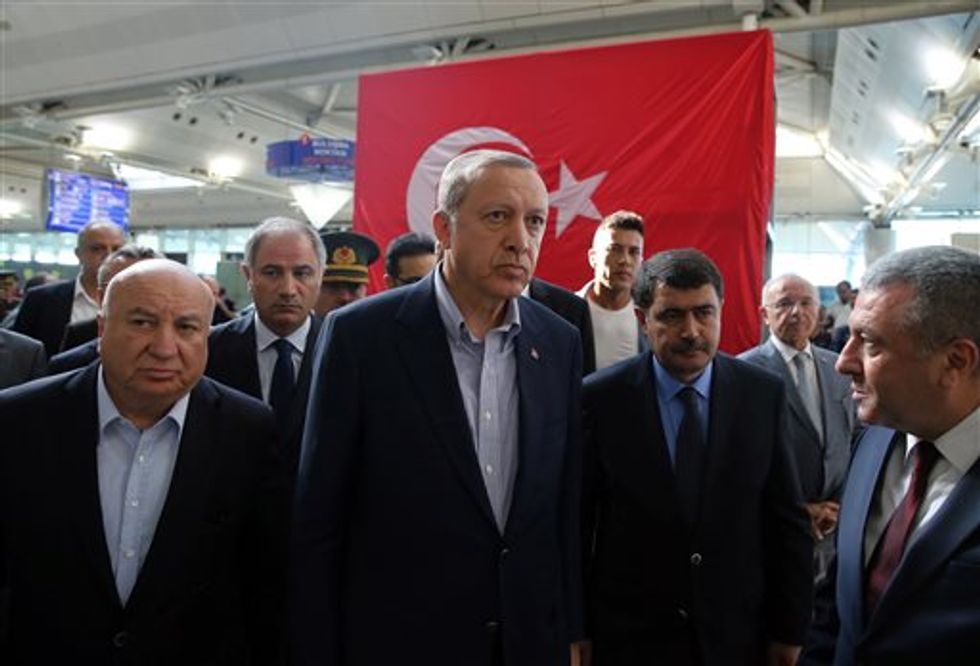 Turkish President Recep Tayyip Erdogan, center. (Kayhan Ozer, Presidential Press Service, Pool via AP)

"I say if we are strategic partners then you should bring about our request," he said.
Visiting Luxembourg Saturday, Kerry said Turkey would have to prove the wrongdoing of Gulen, who left Turkey in 1999.
"The faster they get us the evidence, not allegations, but evidence, we will immediately evaluate it," Kerry told ABC. "Turkey is a friend, Turkey is an ally, Turkey is an important coalition partner in the fight against ISIL, and we'll do our due diligence within our legal process."
Kerry also discussed this week's attack in Nice, France, after the Islamic State terror group, also called ISIL, claimed the attacker was inspired by their calls to attack countries combatting radical Islamic extremism.
Despite the string of terror attacks that have occurred globally this past year, the secretary of state said the United States is making progress in the fight against the Islamic State.
"The direct and absolutely factual assessment of where we are is that we are making significant progress in Iraq," Kerry said. "We're making progress in Syria."
He described the task of preventing tragic acts of terrorism and trying to identify individuals who might pose a threat as being "worse than [finding] a needle in a haystack."
Kerry noted, however, that he is confident the Islamic State is losing traction, which makes the U.S. safer.
"I believe before the next president of the United States is sworn in, we will have made even greater progress, and ISIL will be having a very, very difficult time in both Iraq and Syria," he said.
Watch: