CLEVELAND — Former House Speaker Newt Gingrich criticized former Republican presidential contenders as "sore losers" for skipping the GOP convention in Cleveland this week.
"You have a handful of people who are sort of sore losers. Jeb Bush lost, so the family doesn't want to show up," Gingrich told a group of reporters Monday morning following an address at a GOP breakfast.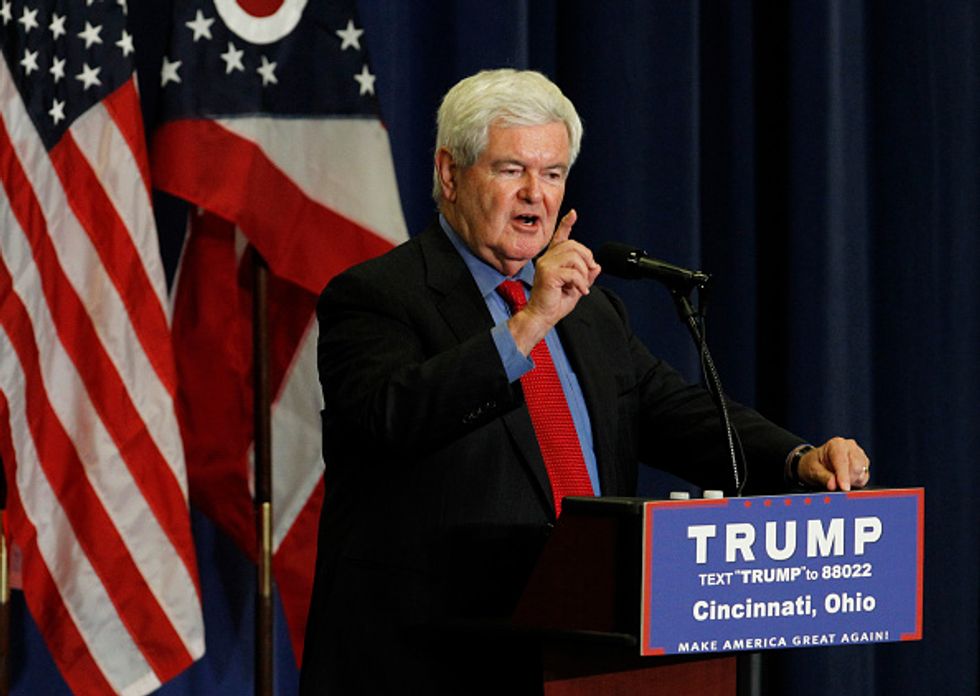 Former Speaker of the House Newt Gingrich (R) introduces presumptive Republican presidential candidate Donald Trump during a rally in Cincinnati, Ohio. (Getty Images/John Sommers II)
Despite being passed over as presumptive Republican nominee Donald Trump's running mate, Gingrich came out swinging against Republicans who are skipping the convention because of Trump. In an interview with ABC prior to the breakfast, Gingrich said the Bushes "are behaving childishly" and encouraged them to "get over it."
Gingrich also criticized former New York Gov. George Pataki and Ohio Gov. John Kasich for avoiding the convention.
"It's amazing how many of these folks that John Kasich lost," he told reporters Monday. "It's amazing, I've never seen so many bad losers. I'm not impressed."
[sharequote align="center"]"I've never seen so many bad losers."[/sharequote]
The former Georgia lawmaker also said that he "had a very long talk" with Trump regarding his vice presidential pick and said he was not upset about not being chosen.
"[Indiana Gov.] Mike Pence actually will do much more to unify the party than I would have done," he said.
"He and I had talked about it at length," Gingrich said of his talks with Trump prior to the announcement. "I knew exactly what he was going to do."
He declined to speculate on what position he could have in Trump's administration but contended that he will have "plenty of access."
Gingrich also addressed national security — including the recent shootings of police officers in Dallas and Baton Rouge and as well as clubgoers in Orlando — with the New York delegation gathered at the Renaissance Hotel in downtown Cleveland early Monday morning as the 2016 convention got underway.
"The country is at stake, literally," Gingrich said. "I believe we can lose our freedom."
—