CLEVELAND — Environmental and immigration activists scaled flagpoles at Cleveland's Rock and Roll Hall of Fame Tuesday to hoist an anti-Trump banner near the site of the Republican National Convention.
The activists raised a banner that read, "Don't Trump Our Communities," between two 60-foot flagpoles outside the museum. The banner also advocated for a conglomerate of causes, including "Ban Fracking," "Tear Down the Wall" and "Stop Climate Injustice."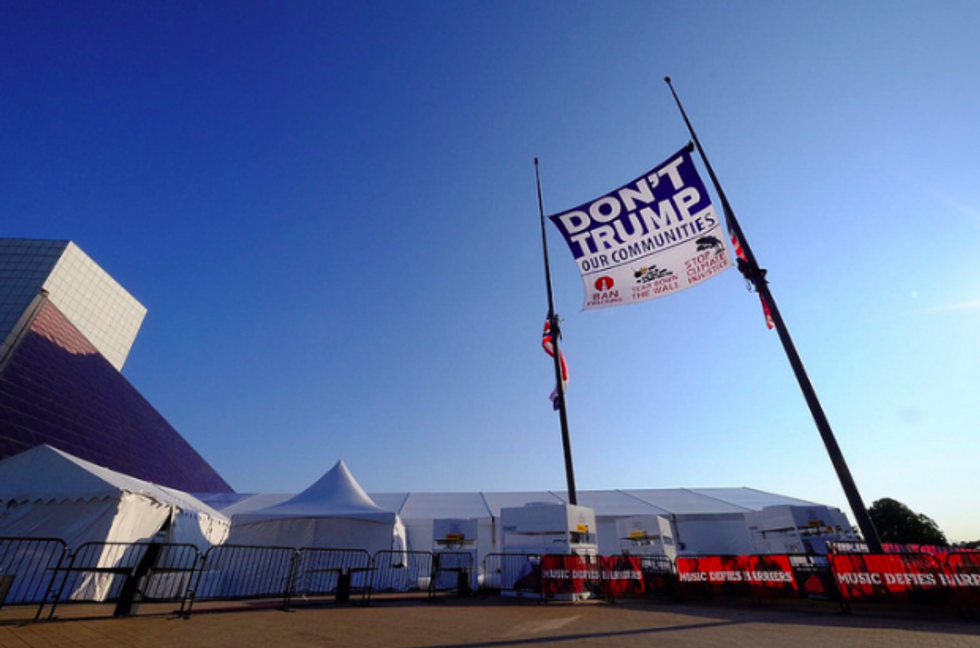 Activists scale flagpoles outside the Cleveland Rock and Roll Hall of Fame to hoist an anti-Trump banner. (Image provided to TheBlaze)
"As the presidential campaigns swing into full step with this week's RNC and next week's DNC, communities directly impacted by oil and gas extraction have come together with immigrant communities being torn apart by deportations to take a stand against an unjust system that targets us all," said Emmelia Talarico, a Maryland activist for labor and immigration issues.
Shane Davis, an activist who said he was forced from his Colorado home due to fracking, said the practice disproportionally "targets low income communities of color, often many of which are immigrants."
"Through the power of direct action, our movements can and will stop the hateful rhetoric of Donald Trump and continue to push Hillary Clinton to ban fracking and stop the deportations," Davis said in a statement.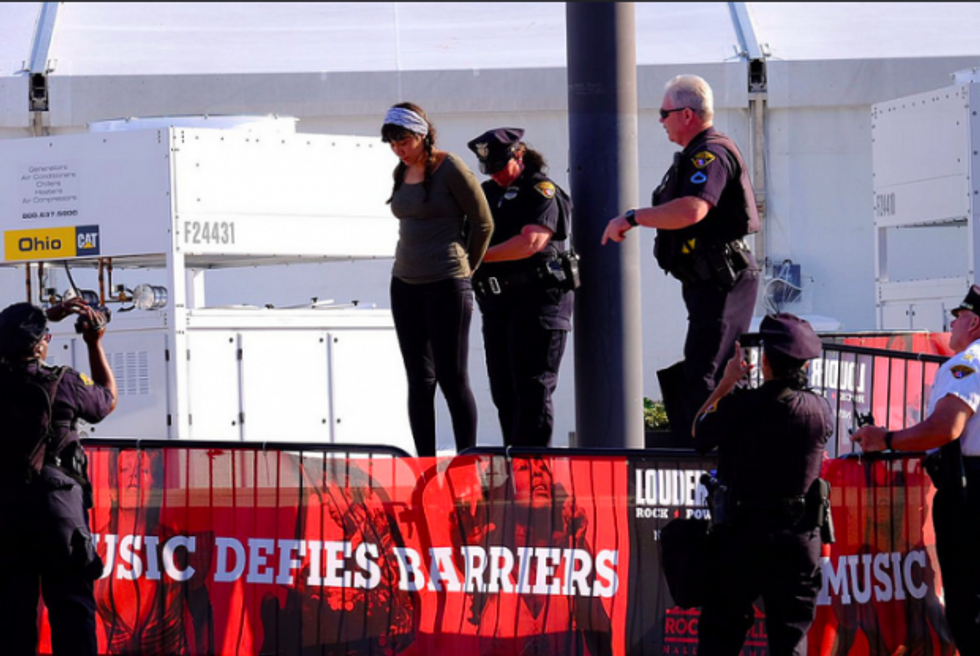 Police arrested the activists once they descended from the flagpoles. Fire officials removed the large banner shortly after. (Image provided to TheBlaze)
Police arrested the activists after they descended from the flagpoles shortly after 8:30 a.m., and police reportedly used their own cameras to record the arrests. Sharon Spencer, from Ohio, and Jacqui Cepeda, from Los Angeles, were the two arrested Tuesday morning, a spokesperson for the activists told TheBlaze.
The activists' spokesperson said she has not received word from Spencer or Cepeda yet but expects them to be held for 36 hours.
Cleveland fire officials removed the 25-foot banner from the flagpoles.
"The Rock and Roll Hall of Fame is an icon of free speech," a statement released by the museum Tuesday said. "This week our home city of Cleveland faces the task of safely hosting thousands of convention-goers and visitors. We encourage free expression but discourage illegal actions that stress our first responders. Please continue to express yourself but do so safely and legally."
The Rock and Roll Hall of Fame is located approximately one mile from the Quicken Loans Arena where the GOP convention activity is taking place this week. It's also the site for a variety of events, including a town hall with Ohio Gov. John Kasich later Tuesday.
—
Follow Kaitlyn Schallhorn (@K_Schallhorn) on Twitter