The attack that killed three Baton Rouge law enforcement officers and wounded three others could have been much worse had it not been for a fast-acting SWAT team rifleman, Police Chief Carl Dabadie Jr. told CNN.
An emotional Dabadie explained Monday that after the recent police-involved fatal shootings of Alton Sterling in Louisiana and Philando Catille in Minnesota, his team has faced intense questioning regarding their use of militarized tactics.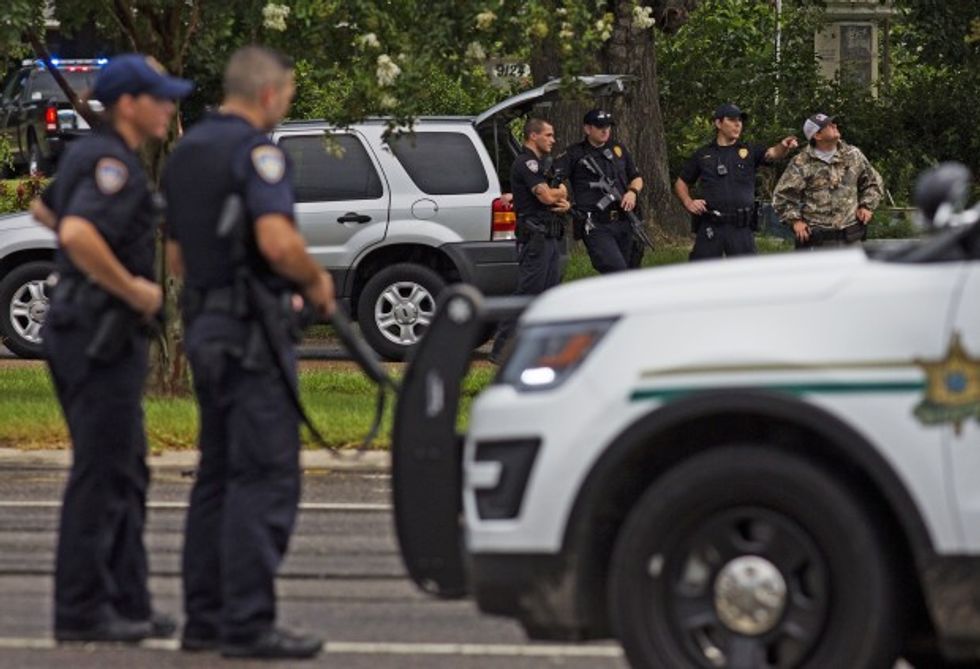 Law enforcement officers man a road block on Airline Highway and Goodwood Blvd. after police were shot earlier in the day in Baton Rouge, La., Sunday, July 17, 2016. (AP Photo/Max Becherer)

But the SWAT member's shot, he argued, is exactly why militarized tactics are needed. The rifleman took out gunman Gavin Long while more than 100 yards away without a clear line of sight, Dabadie told CNN.
"That shot our SWAT team made was a helluva shot," Dabadie said.
In the last two weeks, multiple police officers have been murdered by skilled gunmen in Dallas and Baton Rouge.
"We've been questioned for the last [two] weeks about our militarized tactics and our militarized law enforcement," the police chief continued. "This is why. We are up against a force that is not playing by the rules. They didn't play by the rules in Dallas, and they didn't play by the rules here."
East Baton Rouge Parish Sheriff Sid Gautreaux told CNN Monday he was "convinced" that if the SWAT team had not arrived at the time it did, the wounded deputies would be dead and the gunman would have gone on to kill more officers.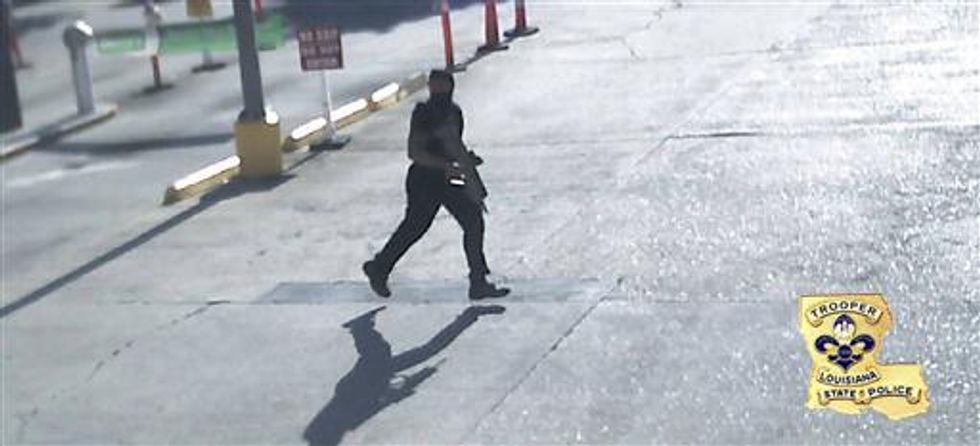 Baton Rouge cop killer Gavin Eugene Long. (Louisiana State Police via AP)
"This guy was going to another location," Dabadie said. "He was not going to stop here. He was going to take more lives."
Louisiana State Police Superintendent Col. Michael D. Edmonson told CNN that Long — a former Marine from Kansas City, Missouri — was a skilled rifleman who moved strategically to ambush officers.
After viewing surveillance video of the attack, Edmonson described Long's actions as "chilling in the sheer brutality."
"There is no doubt whatsoever that these officers were targeted and assassinated," he said.
Edmonson noted that Long appears to have been in Baton Rouge for several days leading up to the attack, and investigators are in the process of tracking his movements before the Sunday morning ambush to determine if he had contact with anyone and if there were some who knew about his plan.
"We are not ready to say he acted alone," state police spokesman Major Doug Cain told the Associated Press. Following the shooting, two "persons of interest" were detained for questioning in the nearby town of Addis. They were later released without any charges being filed.
The attack took place near a convenience store near police headquarters.
Long was equipped with three guns during the shooting: a IWI Tavor SAR 5.56 rifle with a strap on it to keep it in place and maintain accuracy, a 9mm pistol and a Stag Arms M4 variant 5.56 rifle. Long set up the latter rifle inside his Chevrolet Malibu rental car for easy access during the shooting, Edmonson said.
"He was extremely accurate," the superintendent noted.