New Jersey Gov. Chris Christie, a one-time contender for the Republican presidential nomination, electrified the crowd at the GOP convention Tuesday night by laying out an "indictment" against Hillary Clinton, the presumptive Democratic nominee for president.
"So let's do something fun tonight," Christie proclaimed from the stage of the Quicken Loans Arena in Cleveland. "Tonight, as a former federal prosecutor, I welcome the opportunity to hold Hillary Rodham Clinton accountable for her performance and her character."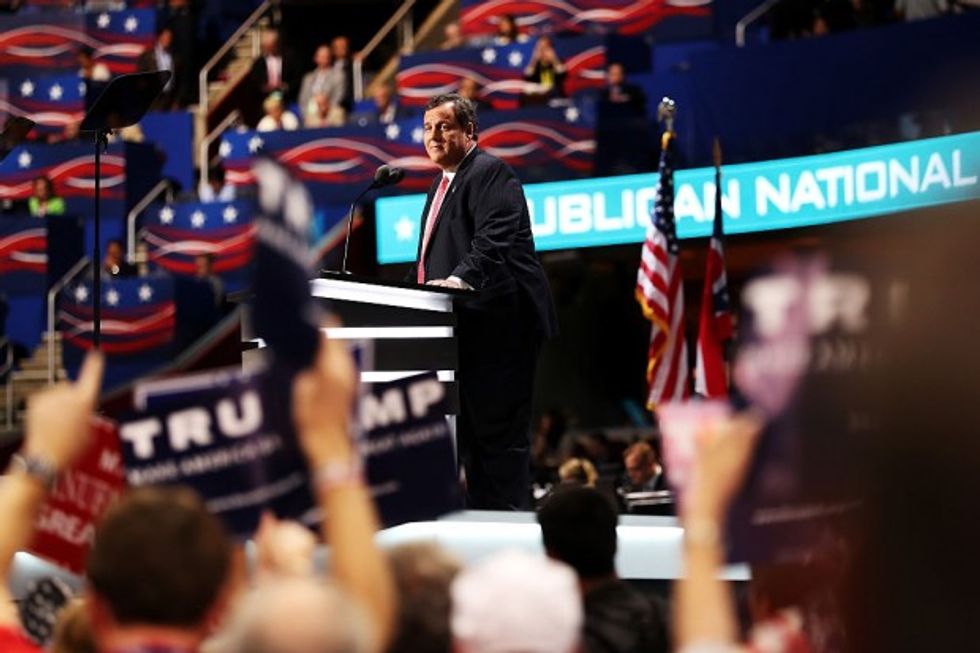 New Jersey Gov. Chris Christie delivers a speech on the second day of the Republican National Convention on July 19, 2016 at the Quicken Loans Arena in Cleveland, Ohio. Republican presidential candidate Donald Trump received the number of votes needed to secure the party's nomination. An estimated 50,000 people are expected in Cleveland, including hundreds of protesters and members of the media. The four-day Republican National Convention kicked off on July 18. (Photo by John Moore/Getty Images)
At that, the Republican governor, who noted the Justice Department's recent decision not to bring criminal charges against Clinton for her use of a private email server while she was secretary of state, launched a fiery missive outlining why, in his mind, Clinton is "guilty."
"Since the Justice Department refuses to allow you to render a verdict, let's present the case now — on the facts — against Hillary Clinton," he told the excited crowd of delegates.
"She was America's chief diplomat," he began. "Look around at the violence and danger in our world today every region of the world has been infected with her flawed judgment. But let me be specific, so you can render your verdict."
Christie's remarks were wide ranging, but it seemed as if he couldn't get through his litany of accusations fast enough, as the eager audience began chanting, "lock her up, lock her up," at several points during the address, to which Christie replied, "Oh, we're not done yet, the indictment is hardly complete."
His speech not only included Clinton's email scandal, but also touched on her foreign policy and the candidate's record in the State Department under President Barack Obama. At the end of each accusation, he asked the audience to render — and announce — a verdict, which was always, "Guilty!"
He slammed Clinton for the Iran nuclear deal, which has been a point of contention for many conservatives, the 276 schoolgirls kidnapped in Nigeria and her views on Libya, Syria and the decision to lift the decades-old restrictions on Cuba. Throughout his speech, he called the Democratic candidate "reckless," "an awful judge of the character" and "an inept negotiator."
"In one of her first decisions as Secretary of State, she set up a private e-mail server in her basement in violation of our national security," Christie asserted. "Lets face it: Hillary Clinton cared more about protecting her own secrets than she did about protecting America's secrets."
He blasted Clinton for traveling to Russia to present the Kremlin with a "stupid, symbolic reset button."
"The button should have read, 'delete,' as she is very good at that," Christie quipped.
He told the crowd they know "exactly" what Clinton would offer as president: "All the failures of the Obama years, but with less charm and more lies." He said voters have an "obligation" to block Clinton from ever getting "within 10 miles of the White House again."
Later in the speech, Christie, who was a finalist to be Trump's running mate, pivoted to the Republican presidential nominee, who he has been friends with for 14 years.
"We have a man who is unafraid. We have a man who wants to lead us. We have a man who understands the frustrations and the aspirations of our fellow citizens," he said. "[W]e have a man who judges people based on their performance regardless of your gender, race, ethnic or religious background. We do not need to settle for less."
But that has not always been the sentiment Christie voiced about his former presidential rival. In January, he told voters they should not be "electing an entertainer-in-chief," adding, "Showmanship is fun, but it is not the kind of leadership that will truly change America."
Ultimately, Christie ended his bid for the Republican nomination and became the first former presidential hopeful to throw his support behind the billionaire businessman.
Watch the fiery speech below:
—
Follow the author of this story on Twitter: