Meredith McIver, an in-house staff writer at the Trump Organization, released a statement Wednesday saying that the apparent plagiarism in Melania Trump's speech at the Republican National Convention "was my mistake."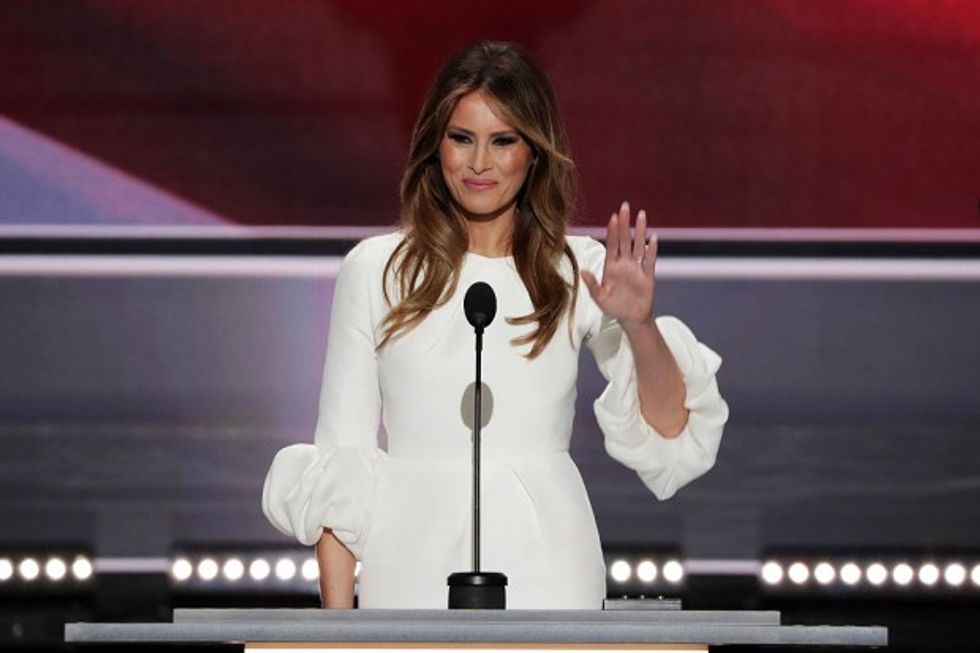 Melania Trump, wife of Republican presidential nominee Donald Trump, waves to the crowd after delivering a speech on the first day of the Republican National Convention on July 18, 2016 at the Quicken Loans Arena in Cleveland, Ohio. (Alex Wong/Getty Images)
Several passages in the speech delivered by Melania Trump on Monday at the RNC were found to be similar to a speech first lady Michelle Obama delivered at the 2008 Democratic National Convention.
McIver said that while working with Melania Trump on the speech, she referenced Michelle Obama as someone she admires, and read her passages of the first lady's speech as examples.
"I wrote them down and later included some of the phrasing in the draft that ultimately became the final speech," McIver said. "I did not check Mrs. Obama's speeches. This was my mistake, and I feel terrible for the chaos I have caused Melania and the Trumps as well as to Mrs. Obama. No harm was meant."
McIver said that she offered her resignation to the Republican nominee for president, but he declined to accept it.
"Mr. Trump told me that people make innocent mistakes and that we learn and grow from these experiences," McIver said.
McIver said said that she apologizes for the "confusion and hysteria" surrounding the plagiarized speech, and that she is "honored" to work for the Trump family.
Meredith McIver of the Trump Organization says the plagiarism in Melania Trump's #RNCinCLE speech "was my mistake." pic.twitter.com/H4RqsSxaCV

— Kate Scanlon (@kgscanlon) July 20, 2016
—
Follow the author of this story on Twitter and Facebook: