CLEVELAND — New Yorkers may be accused of having a unique set of values, but they definitely believe in defending one of their own.
Former Republican presidential contender Sen. Ted Cruz (Texas) undoubtedly stole the show with his unconventional convention speech Wednesday night as he encouraged Republicans to "vote your conscience" and refused to endorse GOP presidential nominee and Manhattan billionaire Donald Trump — and New Yorkers are none too pleased.
New York lawmakers and delegates gathered for a breakfast Thursday morning where Cruz was just as reviled as presumptive Democratic nominee Hillary Clinton, as attendees blasted the conservative senator's loyalty and truthfulness.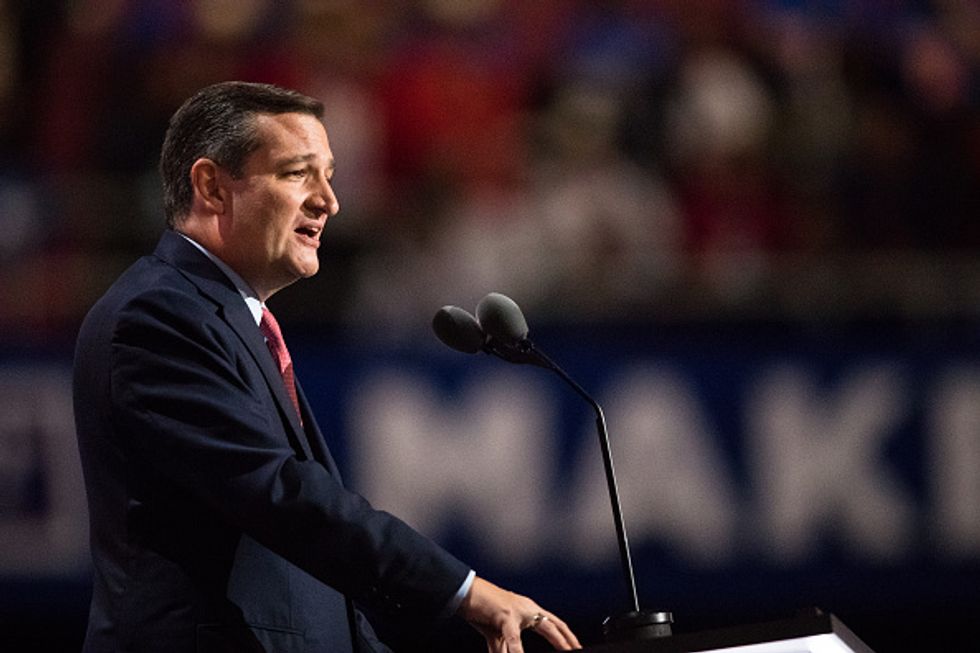 Texas Sen. Ted Cruz (R) speaks at the Republican National Convention Wednesday at Quicken Loans Arena in Cleveland. (Getty Images/Brett Carlsen)
Former congressional candidate Michael Faulkner led the invocation before the breakfast and implored those gathered at the Renaissance Hotel to pray for Cruz's "dysfunction." And while he also asked for forgiveness for his anger toward Cruz, other New York Republicans seemed to revel in their resentment toward the Texas lawmaker.
Rep. Peter King didn't hold back. "The fact is, he is the nominee of the party," King said of Trump. "If you're going to accept prime-time television from Donald Trump and you don't have the common decency or manners to support Donald Trump … then that shows he's a fraud, he's a liar."
"How anyone could even consider not voting for Donald Trump and call themselves a Republican is beyond the pale," King said.
New York GOP Chairman Ed Cox told reporters Thursday morning that he was with the Trump family in their box during Cruz's speech. The Trumps, Cox said, were "not angry, but disappointed."
Cox went on to compare Cruz's speech to former New York Gov. Nelson Rockefeller's 1964 convention address, during which he took shots at Sen. Barry Goldwater (Ariz.), the GOP nominee whom the governor did not endorse.
"In the end, Donald Trump was very gracious to give a prime-time speaking slot to Cruz," Cox said, adding that Cruz had a choice to make when he delivered his speech — and he chose to "commit political suicide."
New York Republican strategist John Burnett was a slightly more gracious regarding Cruz's speech, saying he liked the message of conservative values, especially as a black man. But his lack of unifying the party, Burnett said, simply served as a "rally cry" for the anti-Trump crowd.
"As much fire and brimstone that he breathes, he should have thicker skin," Burnett told TheBlaze in an interview. "Part of 'New York values' is you don't wear your heart on your sleeve. I thought Texans were tougher than that — in fact, I know Texans are tougher than that. Instead, he chose to cry about it in front of millions."
"Cruz, like me, is a preacher's son," Burnett continued. "The Bible tells us to turn the other cheek and forgive those that trespass against us, but Cruz decided to turn his bottom cheek on unifying the party."
Former New York City Mayor Rudy Giuliani went on the offensive against the Clintons Wednesday morning, as he slammed presumptive Democratic nominee Hillary Clinton for her use of a private email server and referred to her husband, former President Bill Clinton, as a "sexual predator."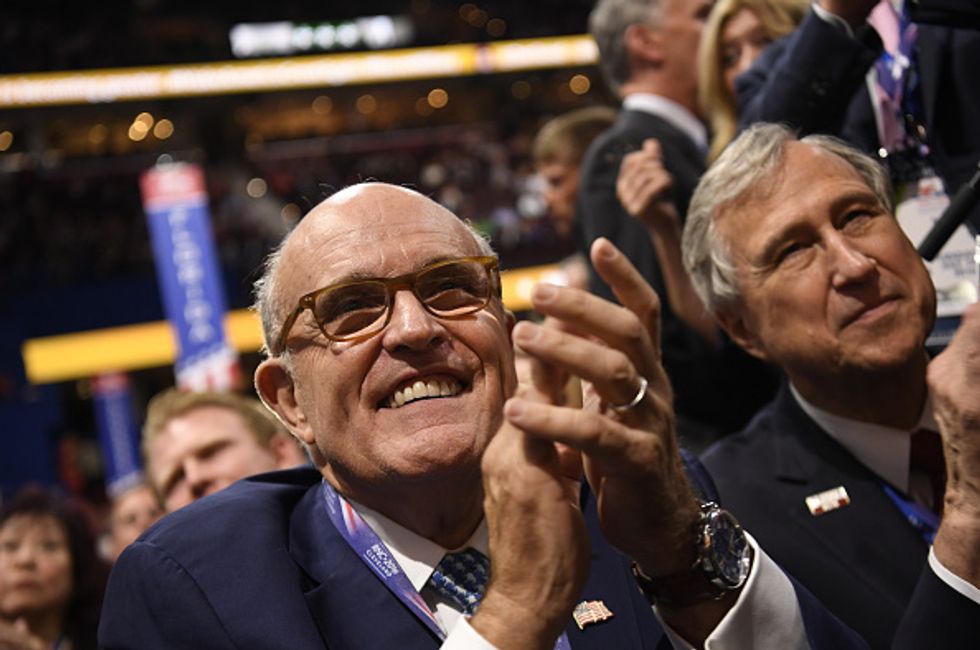 Former New York City Mayor Rudy Giuliani applauds during the Republican National Convention in Cleveland Tuesday. (David Paul Morris/Bloomberg)
But despite Giuliani's focus on the Clintons, Cruz was definitely not safe from the mayor's wrath as he called the Texan a "disloyal Republican."
"Mr. Cruz broke his word," he told a group of reporters. "He made a promise to support the winner of the primary and he broke his promise. I was told a long time ago … that your word is your bond in politics. Well, I guess in Ted Cruz's case, his word is worthless."
"I know the senator is considered quite brilliant," he added, "but he's made one of the worst mistakes in history."
Trump himself took to his favorite social media site, Twitter, to address the controversy.
Wow, Ted Cruz got booed off the stage, didn't honor the pledge! I saw his speech two hours early but let him speak anyway. No big deal!

— Donald J. Trump (@realDonaldTrump) July 21, 2016
"Wow, Ted Cruz got booed off the stage, didn't honor the pledge!" Trump tweeted Wednesday night. "I saw his speech two hours early but let him speak anyway."
He added, "No big deal!
—
Follow Kaitlyn Schallhorn (@K_Schallhorn) on Twitter