New details have emerged in the case of the mixed martial arts fighter charged in the beating of two Muslim teenagers outside a mosque in New York City — and, if true, they could change everything.
Christopher Vallaro, 31, faces charges of attempted assault, assault, menacing and harassment after allegedly beating a 16-year-old and a 17-year-old outside the Madine Muslim Community Center in Sunset Park, New York, July 3 at around 1:15 a.m., DNAinfo reported. Vallaro reportedly called one of the teens a "terrorist" during the alleged attack, but he has not been charged with a hate crime.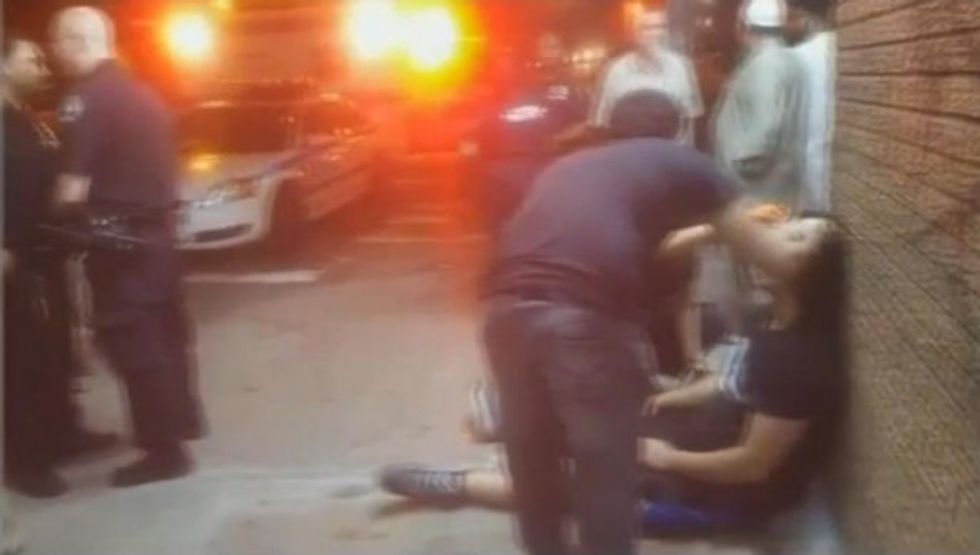 Image source: WABC-TV
However, new information suggests there could be more to the story than previously thought. According to Vallaro's uncle, John Schiavone, the teenagers first confronted Vallaro's fiancee while she was sitting in her car and began making comments to her that were sexual in nature.
"They were in the window telling her filthy things, he was just protecting her," Schiavone said, while defending his nephew.
According to Vallaro's lawyer, the teens "were putting their hands into the car, accosting her sexually." Vallaro was inside his nearby home at the time of the incident, but when he came out, he heard his fiancee screaming for help.
From DNAinfo:
Vallaro punched the teen in the face and head multiple times before slamming the victim onto the sidewalk, and kicking and stomping on his head.

Vallaro then chased the second victim, who was riding on his bicycle. He grabbed the victim's shoulders and threw him off the cycle, then began punching him in the face.
Vallaro reportedly shouted slurs at the two teenagers, calling one of them a "f**king terrorist." He also reportedly shouted, "You Muslims are the cause of all the problems of the world," WABC-TV reported.
The teens had to be treated for bruising, swelling, bleeding, scrapes and black eyes after their encounter with the MMA fighter. Vallaro was later arrested and his bail was set at $25,0000. He was arraigned Thursday.
Vallaro declined to give any comment as he left the courthouse, the New York Post reported.
—
Follow the author of this story on Twitter and Facebook: