Donald Trump doesn't think his closing speech at the Republican National Convention Thursday evening was overly cynical. On the contrary, the GOP nominee told NBC's Chuck Todd in an episode of "Meet the Press" that aired Sunday that he believes his message was optimistic because "we're going to stop the problems."
Trump explained to Todd that he intended his speech to illustrate the contrast between Democratic rival Hillary Clinton and himself: a crumbling nation versus a flourishing, restored one.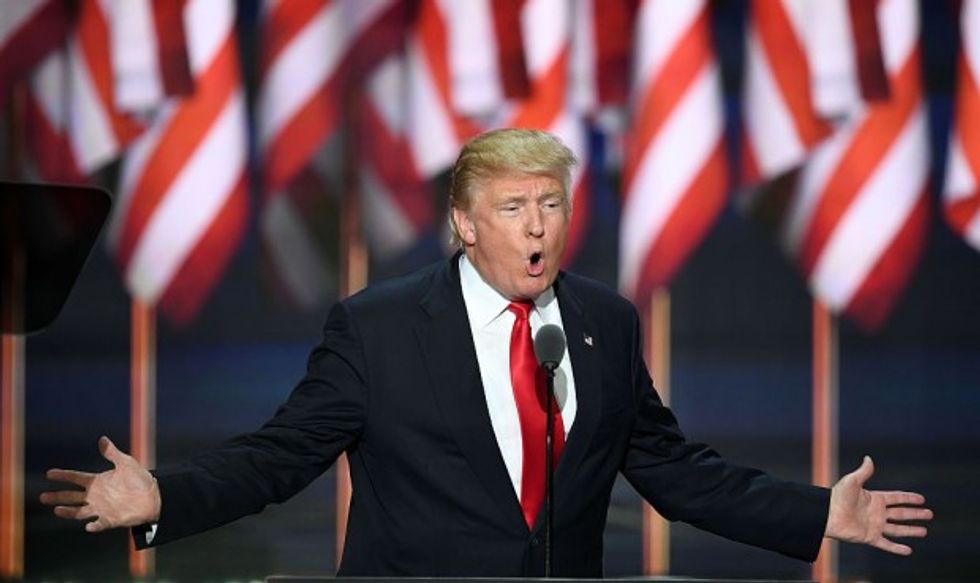 Republican presidential candidate Donald Trump speaks on the last day of the Republican National Convention on July 21, 2016, in Cleveland, Ohio. (Photo by JIM WATSON/AFP/Getty Images)

When pressed about the statement he made that "I alone can fix it," which garnered backlash from opponents who found the sentiment totalitarian, the Republican candidate explained that the comment was meant to highlight his competence in solving the country's problems, as well as Clinton's inability to do the same.
"I am running against Hillary. It's not like I'm running against the rest of the world," Trump asserted. "I know people that are very, very capable that could do a very good job, but they could never get elected."
Trump referred to his critics as "haters," noting the ever-increasing violence in the Middle East as just one example of the dismal state of world affairs depicted in his speech.
"I think the only negativity, and, you know, the hate, I call them the haters, and that's fine. But the only negative reviews were, 'A little dark.' And the following day, they [Munich] had another attack, and then today you see what happened in Afghanistan with many, many people killed," he said.
Watch: