Moments after the the Democratic National Convention was gaveled in Monday evening, the Democratic National Committee offered a "sincere apology" to Bernie Sanders and his supporters for the "inexcusable remarks" made in the nearly 20,000 internal emails leaked late last week.
The emails, published by WikiLeaks, show what appears to be a concerted effort to damage Sanders' bid for the Democratic nomination as he and Hillary Clinton fought their way through the Democratic primary.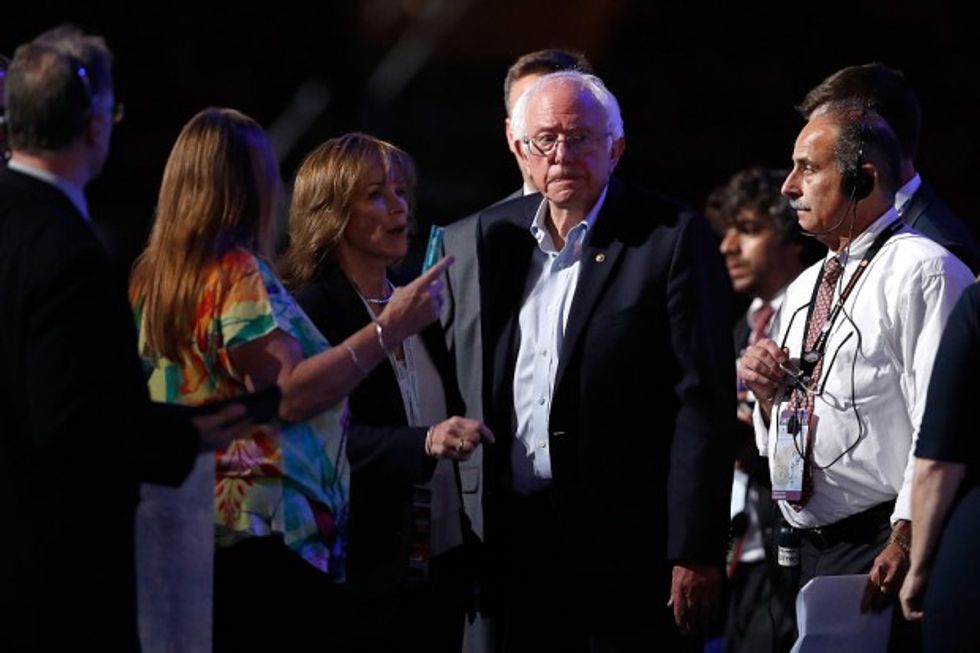 JULY 25: Sen. Bernie Sanders (I-VT) stands on stage prior to the start of the first day of the Democratic National Convention at the Wells Fargo Center, July 25, 2016 in Philadelphia, Pennsylvania. An estimated 50,000 people are expected in Philadelphia, including hundreds of protesters and members of the media. The four-day Democratic National Convention kicked off July 25. (Photo by Aaron P. Bernstein/Getty Images)
"On behalf of everyone at the DNC, we want to offer a deep and sincere apology to Senator Sanders, his supporters, and the entire Democratic Party for the inexcusable remarks made over email," incoming interim DNC chair Donna Brazile said Monday in a statement. "These comments do not reflect the values of the DNC or our steadfast commitment to neutrality during the nominating process."
"The DNC does not — and will not — tolerate disrespectful language exhibited toward our candidates," she continued. "Individual staffers have also rightfully apologized for their comments, and the DNC is taking appropriate action to ensure it never happens again."
The party's convention has been off to somewhat of a rocky start, as Sanders' supporters protest outside — and inside — the Wells Fargo Center in Philadelphia. Clinton's name was first mentioned during the invocation and, while there were some cheers for the presumptive presidential nominee, loud chants of "Bernie!" and "No TPP!" rang out, lasting around 20 seconds.
In addition, earlier in the day, outgoing DNC chair Debbie Wasserman Schultz was booed off the stage when she attempted to speak to her own Florida delegation.
In place of Wasserman Schultz, Baltimore Mayor Stephanie Rawlings-Blake, as secretary of the DNC, called the convention to order. However, after welcoming delegates and guests to the Philadelphia arena, she began to walk off stage before realizing she forgot to use the gavel to formally   start the convention. Seconds later, she quickly ran back to the podium to hit the gavel.
DNC Sec. and Baltimore Mayor Stephanie Rawlings-Blake returns to the lectern after forgetting to gavel in #DNCinPHL. https://t.co/OA6nKi95UN

— NBC Nightly News with Lester Holt (@NBC Nightly News with Lester Holt)1469478435.0
Ohio Rep. Marsha Fudge was also met with protesters. In response to the chants in support of Sanders, she said, "I am going to be respectful of you and I want you to be respectful of me. We're all Democrats and we need to act like it."
—
Follow the author of this story on Twitter: