Larry Sanders, brother of Sen. Bernie Sanders, traveled from the U.K. so he could cast his vote for his younger sibling during the delegate roll call at the Democratic National Convention Tuesday evening.
Sanders serves as the health spokesman for the Green Party in the U.K., but traveled to Philadelphia this week and participated in the convention as a member of the Americans Abroad delegation.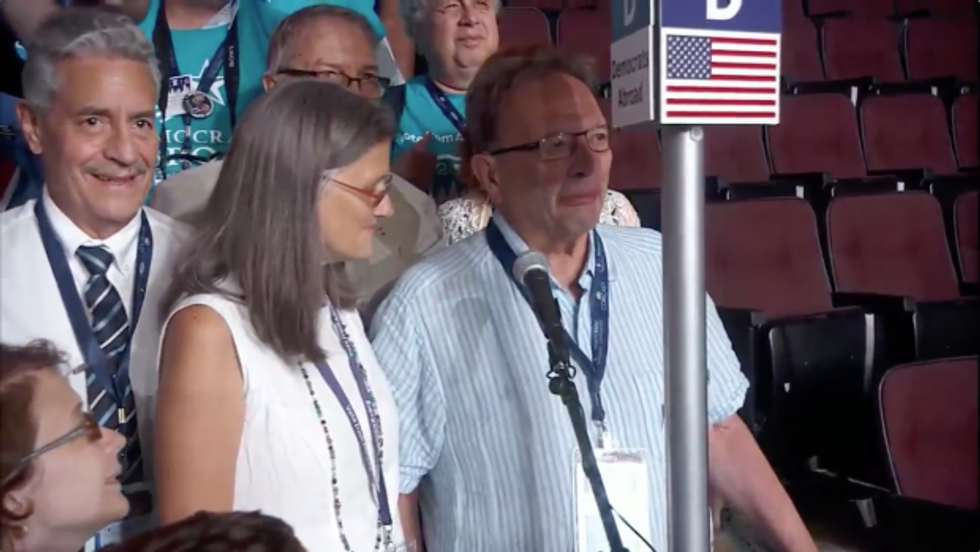 Image source: Twitter
His voice shaking, the delegate began his speech by naming his and his brother's parents, Eli Sanders and Dorothy Glassberg Sanders. Of them, he said, "They did not have easy lives and they died young. They would be immensely proud of their son and his accomplishments."
"They loved him," he added.
Sanders, with his senator brother looking on tearfully, went on to say their parents "loved" former President Franklin D. Roosevelt's New Deal and would be "especially proud that Bernard is renewing that vision."
At the conclusion of his remarks, the Americans Abroad delegation cast 10 votes for the Vermont senator and seven votes for Hillary Clinton, who was officially nominated for president by the Democratic Party Tuesday evening.
Watch Sanders' emotional speech:
DNC roll call underway; @BernieSanders tears up as his brother says his parents would be proud of his campaign pic.twitter.com/LRU6YADMGC

— CNBC Now (@CNBCnow) July 26, 2016
—
Follow the author of this story on Twitter: