PHILADELPHIA — It's official: the Democratic Party nominated former Secretary of State Hillary Clinton as its nominee.
Clinton, the first woman to be nominated by a major party, clinched the 2,383 delegates needed to become the party's presidential nominee with South Dakota putting her over the top.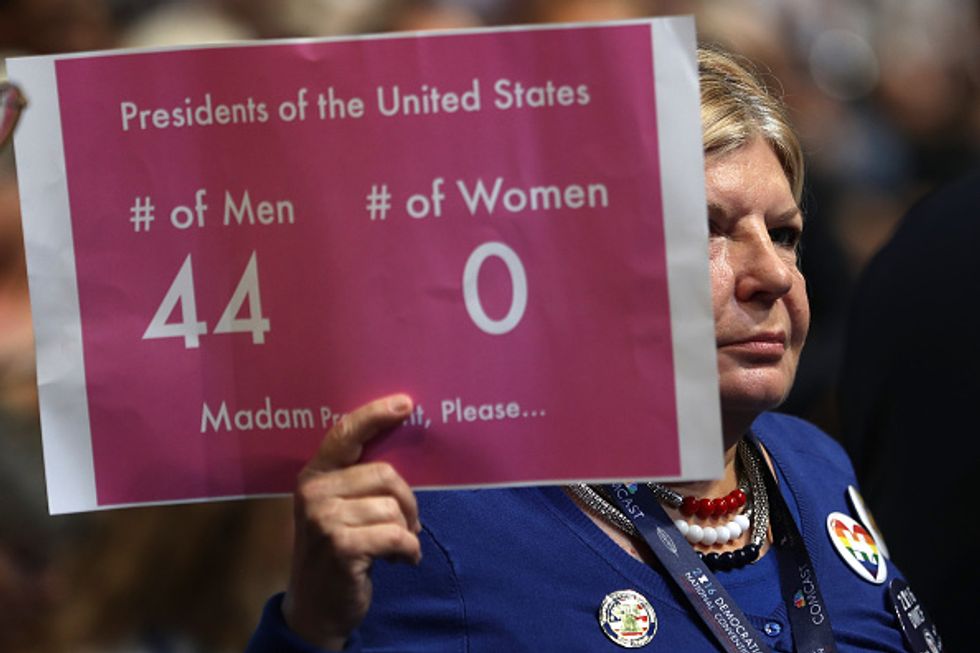 A delegate holds up a sign in support of Democratic presidential nominee Hillary Clinton during the Democratic National Convention. (Getty Images/Joe Raedle)
The state of Vermont initially passed during the roll-call vote but delegates gave its vote at the very end, giving its independent Sen. Bernie Sanders a chance to make a demonstration of party unity and give up his votes to Clinton.
"I move that Hillary Clinton be selected as the nominee of the Democratic Party of the United States," Sanders said to cheers.
The road to the Democratic presidential nomination wasn't easy for Clinton. From the moment the convention kicked off in the City of Brotherly Love, tensions between Clinton backers and more progressives have been anything but friendly.
History. pic.twitter.com/1ayWTx8SPH

— Hillary Clinton (@HillaryClinton) July 26, 2016
Due in part to the controversial and damning leaked DNC emails that culminated in the resignation of party chair Rep. Debbie Wasserman Schultz (D-Fla.), the anti-Clinton faction didn't go down without a fight this week. Thousands protested in the streets and others — including delegates — booed and chanted "lock her up" at the mere mention of Clinton's name.
The fallout from the DNC emails leak seemed inescapable throughout the beginning of the convention. Rep. Tulsi Gabbard (D-Hawaii), who notably quit her DNC post over disagreements with Wasserman Schultz, opened the speeches by nominating Sanders for the nomination.
Clinton will formally accept the nomination Thursday night.
—
Follow Kaitlyn Schallhorn (@K_Schallhorn) on Twitter