Political columnist George Will alleged Monday night that Republican presidential nominee Donald Trump will not release his tax returns out of fear that they could possibly show "he is deeply involved in dealing with Russia oligarchs."
The Fox News contributor did not supply any concrete proof to back his claim, which he shared with Fox's Brett Baier during a live taping of "Special Report" at the Democratic National Convention in Philadelphia.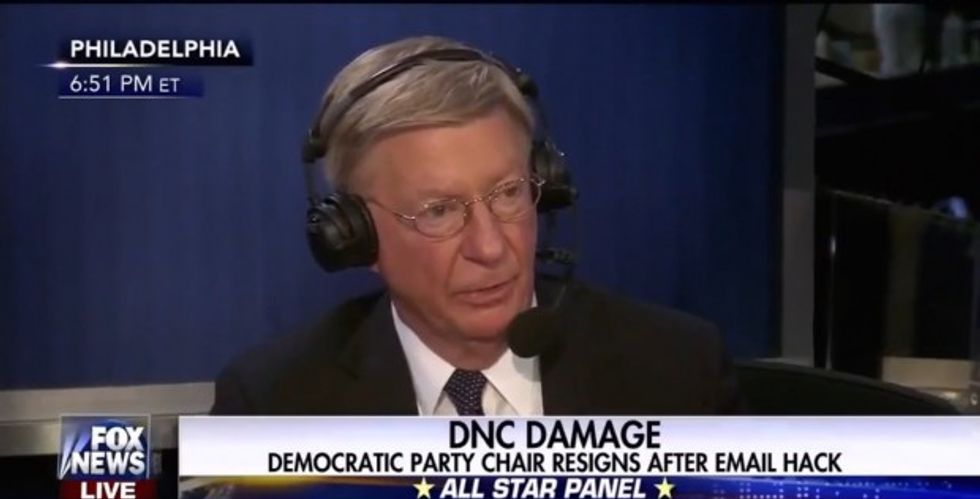 Image source: Fox News
Will's comment comes after Democratic National Committee officials, including Democratic candidate Hillary Clinton's campaign manager, Robby Mook, suggested that pro-Trump Russian hackers may have been behind the recent release of nearly 20,000 DNC emails.
The emails, released Friday by the notorious online whistleblowing site WikiLeaks, prompted criticism from conservatives and Bernie Sanders supporters who saw them as revelatory of collusion between Clinton and the DNC. The scandal led DNC Chairwoman Debbie Wasserman Schultz to announce her resignation just ahead of the convention that kicked off Monday.
"Both the campaign chair and anybody you talk to, including [Connecticut] Sen. [Chris] Murphy, would not go down that road once pressed on the connection between Russia and the Trump campaign," said Baier. "But they have thrown it out there."
"Well, it's the sort of thing we might learn if we saw the candidate's tax returns," Will began. "Perhaps one more reason why we're not seeing his tax returns — because he is deeply involved in dealing with Russian oligarchs and others. Whether that's good, bad or indifferent, it's probably the reasonable surmise."
Will, 75, announced last month he was leaving the Republican Party, asserting that he could no longer stand by Trump's politics.
"I decided that, in fact, this was not my party anymore," the veteran journalist said in June. ---