PHILADELPHIA — Following the official nomination of Democratic presidential nominee Hillary Clinton, Bernie Sanders delegates and supporters left the convention in exodus.
Chanting, protesters made their way to the media tents just out of the Wells Fargo Arena where the convention was being held. Dozens of demonstrators made it inside of the media's workspace before police officers blocked the entrances — disallowing anyone from coming or going.
Those protesters following Clinton's nomination simply wanted to be acknowledged and felt as though the Democratic Party abandoned them in favor of the party-favorite. Many of the disenfranchised demonstrators sat in the middle of the media tent with tape over their mouths to symbolize their purported silencing by the party. Still others gathered outside the media tent and spoke to reporters about the "rigged system" or held signs.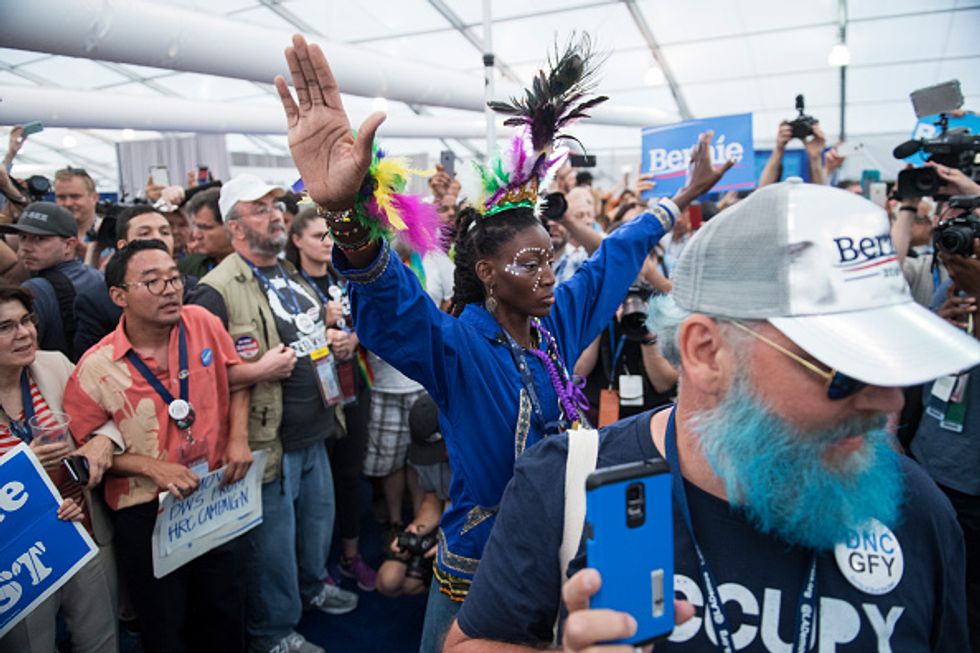 Supporters of Sen. Bernie Sanders (I-Vt.) stage a sit-in of the media tent after walking out of the Wells Fargo Center in Philadelphia on the second day of the Democratic National Convention. (Getty Images/Tom Williams)
Raina Whiting, a 28-year-old Hawaii delegate, told TheBlaze that delegates had been in talks for quite some time regarding what should be done, should Sanders not clinch the nomination.
"Since we arrived here, the DNC didn't care about what our votes were going to be, and they already coronated Hillary Clinton and gave her the nomination prior to us actually being able to vote," she said as she held a traditional light blue Sanders campaign sign.
"It's a stance against the DNC to say that these are people who are part of your party right now who might not always be," Whiting said of the protest. "They do not support Hillary Clinton, they will leave and they will go to a third-party voice. And if they do that, Donald Trump will most certainly become president. The DNC should really think about the voices that are being suppressed here." 
Like Whiting, Pike Peak Community College student Caitlin Glidewell joined in the protest against the DNC but wasn't entirely sure just who should would cast her vote for come November. Glidewell said she was a supporter of Clinton's in 2008 but over the years she "lost faith" in the former secretary of state.
"The number one thing you could do to win my trust back, or at least start to, is come clean," Glidewell, 20, said she would say to Clinton if she could. "Just tell the truth about what's going on with the emails."
But while the two young women didn't completely rule out a vote for Clinton in the general election, John Geremiah is not on board with the Clinton campaign. Standing from the steps outside of the media center with a humble, hand-made sign that read, "Rigged," Geremiah, a Nevada delegate, slammed the DNC  and said that without a "free and fair election," the U.S. is not a "free nation."
"She did not win that election; she stole it," he told reporters. "I've been a 45-year member of the Democratic Party. I didn't just jump in to support Bernie
Geremiah added that he "will not vote for the lesser of two evils," but will instead vote based on his morals.
Aside from the candidate choice, California at-large delegate Robert Shearer slammed the party as an "undemocratic party" based on the policies it neglected to include in its platform, including "healthcare for all."
"DNC lost most of us for good" pic.twitter.com/I3JtnC7wrT

— Kaitlyn Schallhorn (@K_Schallhorn) July 26, 2016
Happening now #DemsinPhilly pic.twitter.com/2pPEMnY4wN

— Kaitlyn Schallhorn (@K_Schallhorn) July 26, 2016
"I think the problem is we don't feel that Secretary Clinton or the Democratic establishment truly have embraced the pillars of our political revolution, the principles that have driven us here," Shearer told reporters as he stood in the media center with a yellow pro-Palestine sign. "We fought our hearts out to get [Sanders] elected, and we're going to keep fighting our hearts out for the issues that brought us together and brought this political revolution to light."
While disgruntled Sanders delegates blockaded the media center, another contingent of protesters made its way to the arena. Marchers burned American and Israeli flags as well as signs near the convention police perimeter.
Protests outside #DNC have def crossed into non-violent territory. Israeli flag was burned. I've seen one fight. pic.twitter.com/PLKoMd2Ox0

— Darren Samuelsohn (@dsamuelsohn) July 27, 2016
A number of protesters have light signs on fire along the security perimeter. pic.twitter.com/J8d2RE8QRN

— Byron Tau (@ByronTau) July 27, 2016
—
Follow Kaitlyn Schallhorn (@K_Schallhorn) on Twitter