In the wee hours of the night, Donald Trump's campaign responded to the speeches delivered Wednesday evening at the Democratic National Convention.
"Tonight was a sad night for the Democratic Party," a statement from the Republican presidential nominee's campaign declared. "They offered no solutions to the problems facing America."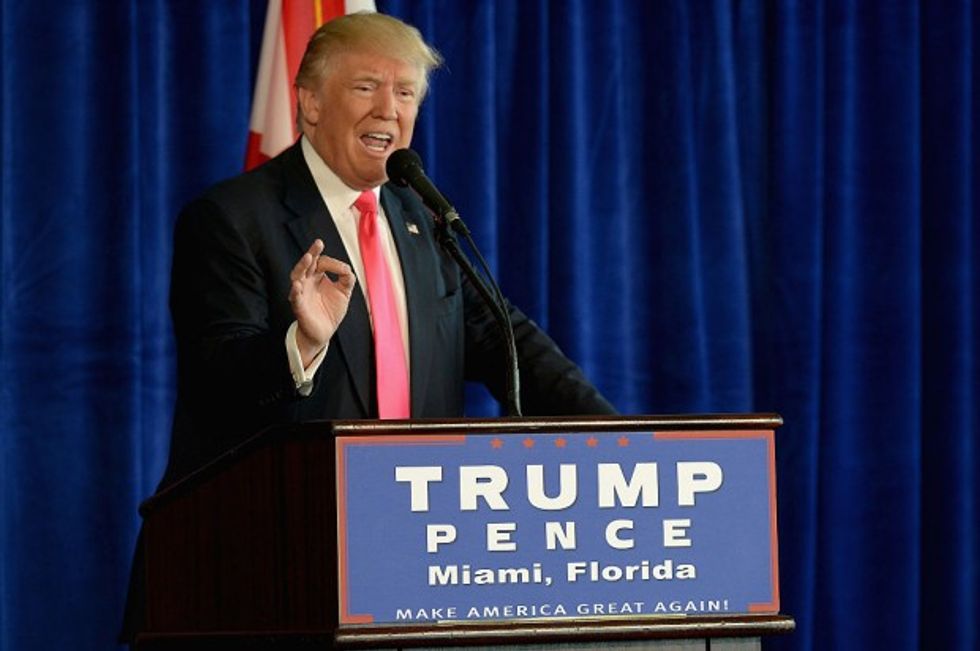 Republican presidential candidate Donald Trump holds a press conference at Trump National Doral on July 27, 2016 in Doral, Florida. Trump spoke about the Democratic Convention and called on Russia to find Hillary Clinton's deleted e-mails. (Photo by Gustavo Caballero/Getty Images)
The press release, which was penned by Trump's senior policy advisor Stephen Miller, asserted that the speeches — delivered by President Barack Obama, Vice President Joe Biden and vice presidential nominee Tim Kaine — proved how disconnected the Democrats are from the current American experience.
"Instead of dealing with reality, they spoke in cheap, petty terms beneath the dignity of a convention," Miller wrote. "Their entire message could be summed up as: things are perfect, let's not change a single thing."
The statement suggested Democrats have "resorted to the politics of fear, trying to convince Americans not to vote for change."
Trump, as the Republican nominee coming from the private sector, has sought to define himself as the agent of change in this election. Additionally, his running mate Mike Pence has dubbed Hillary Clinton the "secretary of status quo."
See the full statement below:
Inbox: "Trump Campaign Statement On The DNC's Night Of Empty Rhetoric" https://t.co/IwPni0LzWi

— Zeke Miller (@Zeke Miller) 1469677532.0
—
Follow the author of this story on Twitter: