Dr. Cornel West joined the "Real Time With Bill Maher" panel Friday night to reflect on the Democratic National Convention that ended the night before. During the panel discussion, Clinton supporter Bill Maher suggested that it's time for Bernie Sanders supporters to throw in the towel and get behind the newly appointed party nominee.
Guest Alex Wagner claimed that the rowdy anti-Clinton protesters at the DNC were hardly representative of the "vast majority" of Sanders supporters, who "understand the stakes" and are willing to back Clinton.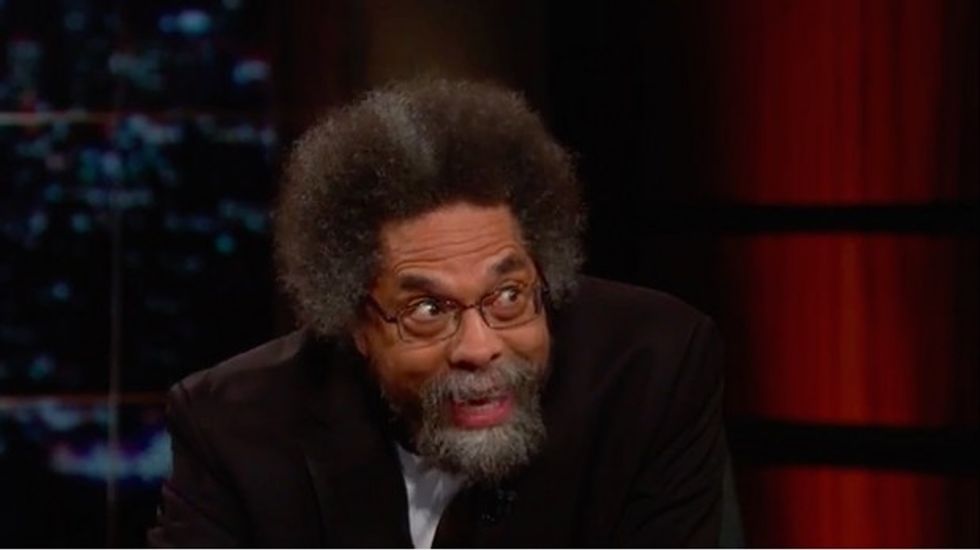 Image source: YouTube/"Real Time With Bill Maher"
"But once Hillary got the nomination, shouldn't they have shut the f*** up?" Maher suggested. "What are they serving at that point?"
The "Real Time" host went on to note that Clinton "said some great things" in her acceptance speech, and if Sanders had said the same things, his supporters "would have cheered."
"She was lip-syncing his speech in some ways!" West, a prominent member of the Democratic Socialists of America, interjected. "She has a way of giving lip service to these progressive issues. We want to know, what has she done on the ground for poor working people? That's the question right there."
"Hillary Clinton, really, you think has done nothing for the poor?" Maher shot back.
"No, I didn't say nothing," West clarified. "I said she has not done what people say in terms of her being this great champion for poor people. That's a lie! That's a lie!"
Maher then offered his guest the pragmatic argument that "there's only two items on the menu," and the pro-Sanders camp will have to decide between Republican nominee Donald Trump and Clinton.
West, who has referred to the former secretary of state as a "neoliberal disaster," refused to accept this, noting that likely Green Party candidate Jill Stein could still experience the type of success Sanders achieved in the primary.
"You really think Jill Stein is going to be president?" Maher scoffed. "Look me in the eye and tell me that."
West inched closer to the host, looked him in the eye and declared, "We shall see. But it's gonna be tough."
The former Princeton professor was equally tough on GOP nominee Trump, calling him "xenophobic" and neo-fascist, while still being careful to note that Clinton would do little to fix the underlying economic problems that contributed to his rise.
Watch (Caution: Strong language):