Joe Scarborough interrogated Hillary Clinton campaign manager Robby Mook on MSNBC's "Morning Joe" Monday on claims the former secretary of state made during her first interview since the Democratic National Convention.
"No, we're not gonna throw you a softball," Scarborough told Mook. "How could Hillary Clinton say that she did not send or receive classified emails?"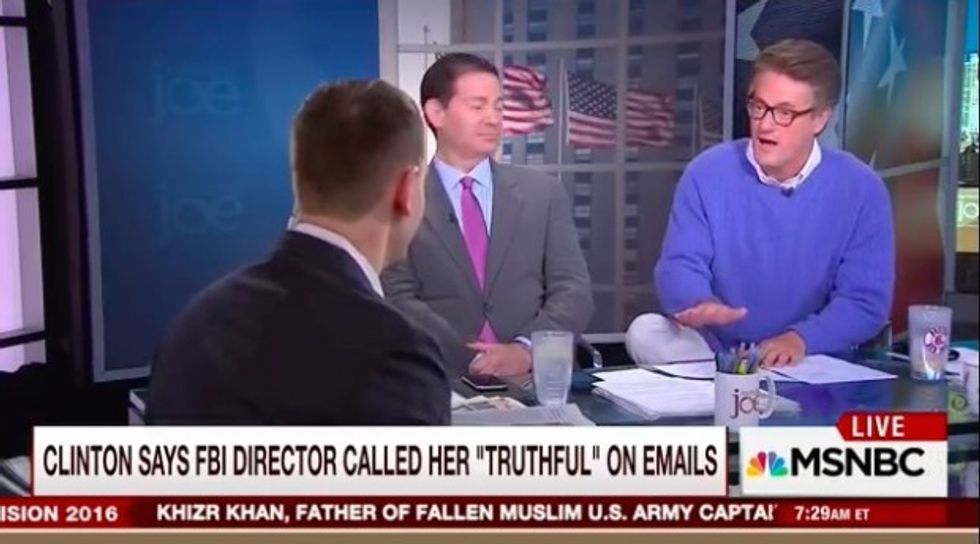 Image source: MSNBC
Over the weekend, Clinton appeared on "Fox News Sunday," where host Chris Wallace pressed her to account for the contradictions between FBI Director James Comey's testimony before Congress and statements she'd made in defense of her private server.
Scarborough began by examining the Wallace interview, where Clinton again insisted that she neither sent nor received information marked as classified.
"Director Comey said my answers were truthful, and what I've said is consistent with what I have told the American people, that there were decisions discussed and made to classify retroactively certain of the e-mails," Clinton told the Fox host.
Fact-checkers tore Clinton's statements apart, and Scarborough laughed at the part of the interview where she blamed staffers for sending classified information on her own unsecured server.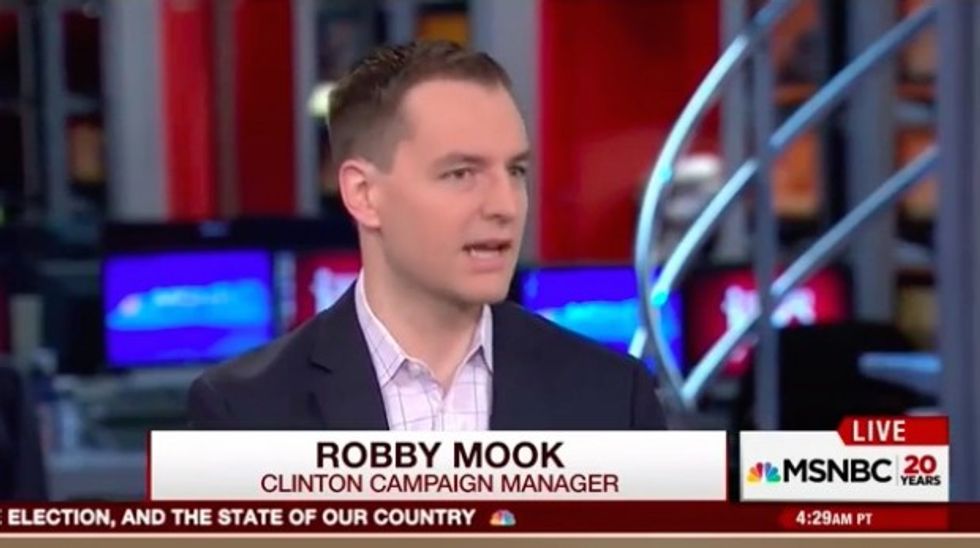 Image source: MSNBC
Mook told Scarborough that Clinton admitted that the private email server was a big mistake and apologized for it.
The campaign manager also claimed that Comey said he found "no basis" for Clinton to believe that the emails were classified at the time they were sent.
"I think he said just the opposite," Scarborough interjected. "He said a reasonable person in her position should've known that they were classified even if they weren't marked."
"Well, but that's leaving out the fact that these emails were coming from hundreds of State Department employees," Mook said. "These are longtime tenured State Department professionals, worked for different administrations. You know, these folks are not partisan. They were the ones sending her the emails."
Scarborough wasn't having it.
"She was forcing everybody that wanted to communicate with her to move out of the classified realm where you send classified information and then put it on their own servers and send it to her," he noted. "Isn't that worse?"
"That's simply not true," Mook said. "You just don't send classified information over the unclassified system."
"Well, you would understand this," Scarborough shot back. "The FBI director said she did."
"What the director of the FBI testified was that he did not see a basis to believe that she knew the information in question was classified when she received it. That's what he said," Mook replied.
He added that "we don't know" if the emails were marked correctly as classified because "we can't see these emails," so the public has to rely on Comey's statements.
Watch: