A Los Angeles police officer who was falsely accused of racism and brutality is now facing a $10,000 fine for releasing a recording of the incident to TMZ in order to clear his name.
In September 2014, actress Daniele Watts, who starred in "Django Unchained," was arrested for failing to cooperate with LAPD Sgt. Jim Parker, who was responding to complaints from witnesses who allegedly saw Watts and her boyfriend having sex in a car in public. The incident took place near CBS Studios in the San Fernando Valley.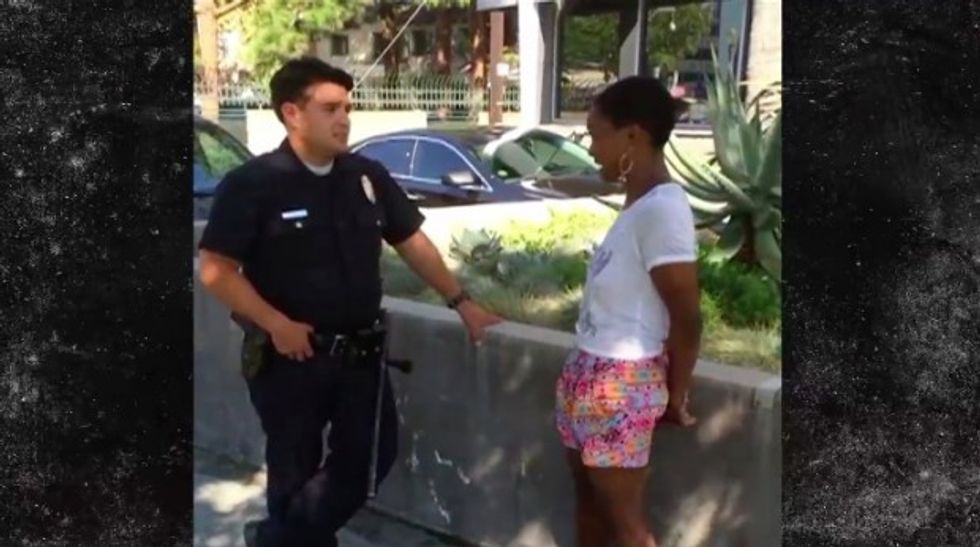 Image source: TMZ
When Watts refused to hand over her ID and walked away from Parker, he handcuffed her and placed her under arrest. TMZ reported that after the arrest, Watts' furious boyfriend, Brian, took to Facebook to offer his take on the run-in with Parker.
Brian, who is white, accused Sgt. Parker of displaying prejudice and aggression towards Watts because she is black. Watts told TMZ that she was cuffed so tightly it drew blood.
The LAPD did not defend Parker when Watts and her boyfriend first made the accusations, which were later determined to be false. In the meantime, he was labeled a racist cop by Watts and her fans.
Now, almost two years later, the L.A. Ethics Commission wants recently retired Parker to pay a $10,000 fine for releasing an audio recording of the incident to TMZ as proof that he did not profile Watts because she's black.
The recording shows that Watts was antagonistic and uncooperative, cursing at Parker and falsely accusing him of racism and threatening to get her publicist involved.
She was later forced to apologize to Parker for her accusations as part of a plea deal.
But according to TMZ, the commission met Monday and is pressuring the retired officer to admit his wrongdoing in leaking the audio, which he acknowledges he did. The entertainment news site reported that the commission's lawyer was "extremely aggressive" toward the cop at the hearing and tried to get him to accept a $2,500 fine or face a $10,000 penalty from the commission.
Parker refused to admit any wrongdoing, and the case is now headed for trial.
Listen to the original audio of the arrest:
(Content warning: Strong language)