While avoiding specifically mentioning any presidential candidate by name, President Barack Obama had a message for the two nominees who have received classified briefings: "Start acting like the president."
Donald Trump has raised questions about whether he disclosed classified information he received in one of those briefing as the Republican presidential nominee after he discussed a "top secret" "military tape" of the U.S. delivering $400 million in cash to Iran at one of his rallies earlier this week.
Obama said Thursday that his office was "going to go by both tradition and the law, which is if somebody is the Republican nominee for president, they need to get security briefings so that if they are going to win, they are not starting from scratch in terms of being prepared for this office."
"I'm not going to go into details into the nature of the security briefings both candidates received. What I will say is that they have been told these are classified briefings, and if they want to be president, they have to start acting like the president, and that means being able to receive these briefings and not spread them around," Obama said during a press conference at the Pentagon.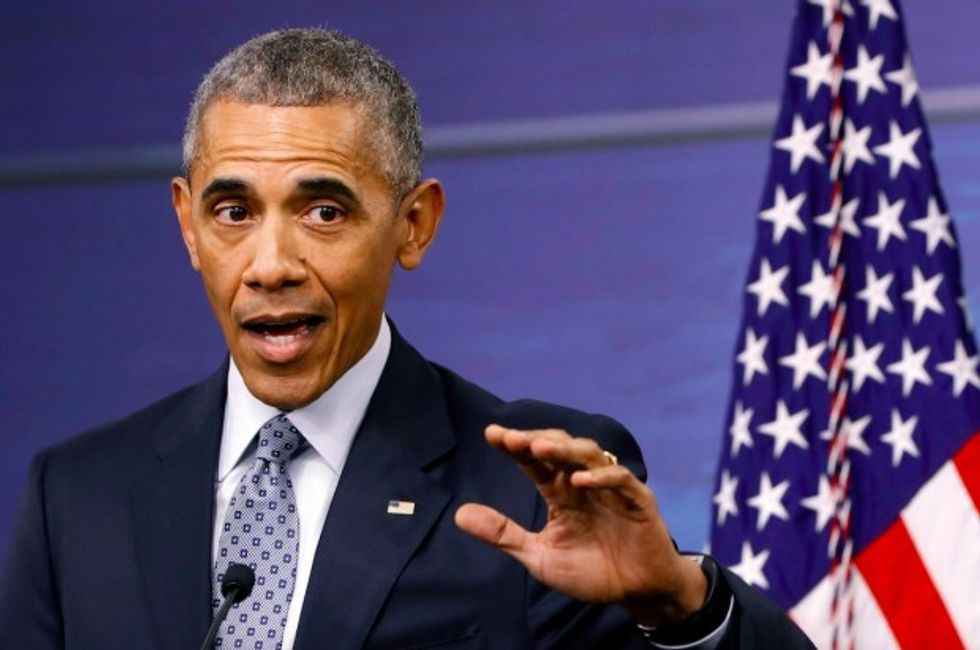 President Barack Obama answers a question during a Pentagon news conference after attending a National Security Council meeting on efforts to counter the Islamic State. (AP Photo/Jacquelyn Martin)
He declined to answer if he was fearful that any candidate would disseminate information from these briefings. Both NBC News and Trump's campaign manager have asserted that the classified briefings have not yet begun.
As far as the delivery of cash to Iran, Obama maintained that it was not a "nefarious" action and was actually announced in January. He also asserted that the money was not used to pay ransom for hostages even though the payment coincided with the release of four American prisoners.
"We announced these payments in January many months ago. It wasn't a secret; we announced them to all of you," Obama said, contending that the payments were the result of a settlement with Iran after the country pressed through an international tribunal for the recovery of its money that the U.S. had frozen.
"We do not pay ransom for hostages. We have a number of Americans being held all around the world, and I meet with their families, and it is heartbreaking," Obama continued. "Those families know that we have a policy that we don't pay ransom. The notion that we would somehow start now in this high-profile way and announce it to the world even as we're looking into the faces of other hostage families whose loved ones are being held hostage and say to them that we don't pay random defies logic."
Obama noted that paying ransom for American hostages would "start encouraging Americans to be targeted much in the same way that some of the countries that do pay ransom end up having a lot more of their citizens being taken by various groups."
He also took a jab at Trump, comparing the nominee's allegations that the election is rigged to that of a child who complains that he has been cheated after losing a game or sport.
"Of course the elections will not be rigged. What does that mean?" Obama told reporters Thursday, adding that state and local governments are responsible for overseeing voting sites. "If Mr. Trump is suggesting that there is a conspiracy theory that is being propagated across the country, including in places like Texas where typically it's not Democrats who are in charge of voting booths, that's ridiculous. That doesn't make any sense, and I don't think anybody can take that seriously."
Obama added, "This will be an election like every other election. I think all of us at some point in our lives played sports or maybe just played in a schoolyard or a sandbox and sometimes, if folks lose, they complain that they got cheated. But I've never heard of somebody complain that they got cheated before the game is over or before the game is tallied."
"My suggestion would be: Go out there and try to win the election," Obama said. "If Mr. Trump is up 10 or 15 points on Election Day and ends up losing, maybe then he can raise some questions."
This story has been updated.
—
Follow Kaitlyn Schallhorn (@K_Schallhorn) on Twitter