Actor Graham Beckel, the brother of outspoken liberal commentator Bob Beckel, passionately defended Clint Eastwood's remarks on Trump and political correctness during a Thursday panel discussion on CNN.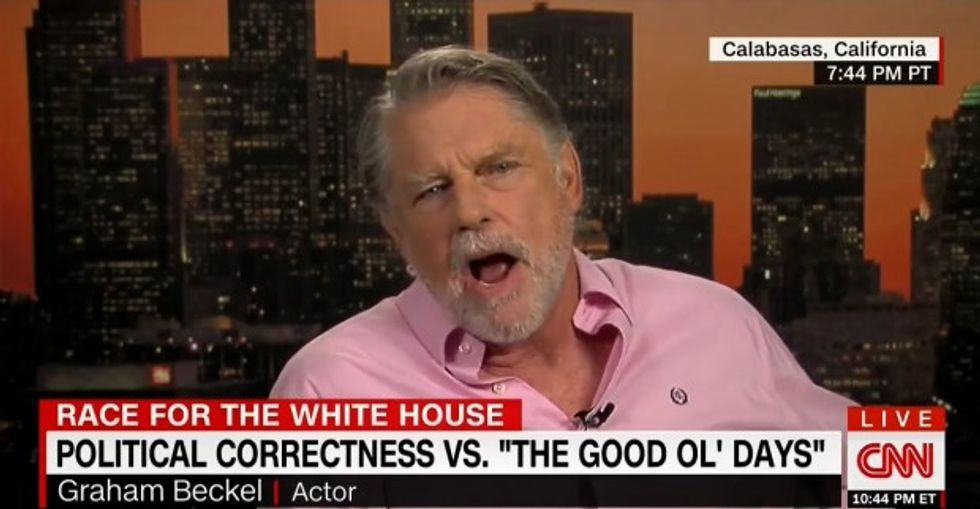 Actor Graham Beckel speaks on CNN.
Eastwood made headlines when he railed against the "p***y generation" upset about GOP nominee Donald Trump's rhetoric.
"Everyone in Hollywood kisses ass, except for people with a tremendous amount of integrity, he being one of them," Beckel said of Eastwood.
He then went off-topic and told a story about the time he worked with Eastwood at San Quentin prison for a movie and recalled prisoners of all races applauding the legendary director.
"But what does that have to do with the question?" CNN host Don Lemon asked.
"I don't get what the racist thing is! The post-colonial victim s**t," he said, before saying "sorry" for the expletive.
When asked to respond to Beckel's point, columnist Charles Blow replied, "I don't know what this man's talking about."
Watch the segment via CNN below:
(H/T: Mediaite)
---