Filmmaker Oliver Stone's upcoming Hollywood movie about NSA whistleblower Edward Snowden may violate U.S. federal laws that prohibit profiting off his crimes, according to a legal watchdog group.
"Snowden," the story of a Booz Allen Hamilton analyst who leaked top-secret information then fled to Russia in 2013, is expected to show Snowden in a favorable light.
The National Security Agency contractor's disclosures exposed government surveillance of U.S. citizens and others around the globe through widespread access to phone records and programs like PRISM, which gave access to Americans' Google and Yahoo accounts if approved by a court.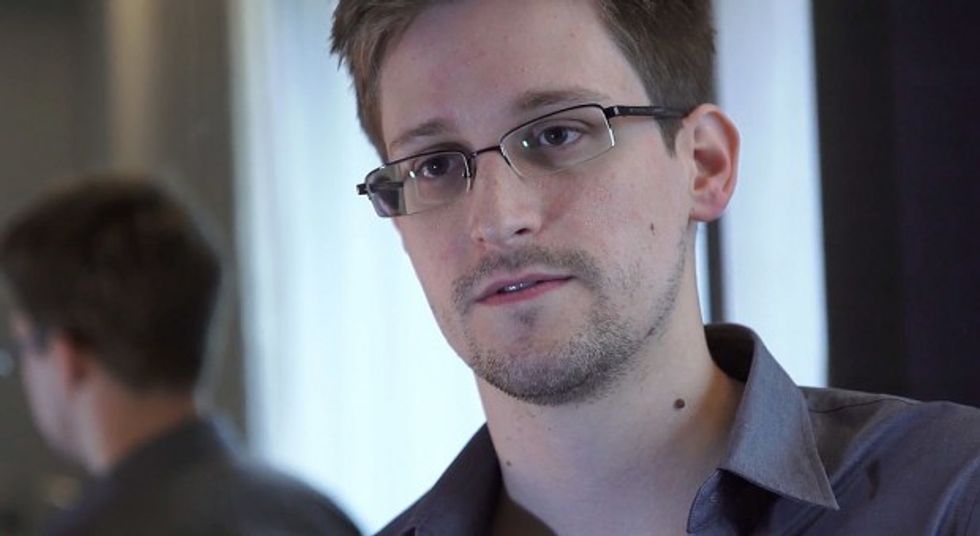 Edward Snowden speaks during an interview in Hong Kong. (Photo by The Guardian via Getty Images)

But the watchdog group Judicial Watch contends that if Snowden indeed violated his secrecy agreement, it's illegal to profit off of those crimes, for example, with a blockbuster Hollywood movie.
Judicial Watch said it has "launched an investigation" and requested Freedom of Information Act records to determine whether the Department of Justice should "confiscate all money made" as a result of Snowden's acts.
"Officials in position to know said good people have already lost their lives thanks to Snowden," said University of Virginia law professor Robert F. Turner, who was counsel to the White House's Intelligence Oversight Board, according to Judicial Watch. "Countless more are likely to lose theirs now that our enemies know our most closely guarded sources and methods of communications intelligence collection. ... When all of the smoke clears, it may very well be proven that Snowden is the most injurious traitor in American history."
Stone's movie follows the Oscar-winning 2014 documentary "Citizenfour," which included interviews with Snowden in a hotel in Hong Kong. Both Stone and "Citizenfour" director Laura Poitras met with Snowden abroad, and Stone has said publicly that he intentionally filmed "Snowden" in Munich because it was too dangerous to film in the U.S.
The "Snowden" movie stars Joseph Gordon-Levitt, and will debut in the U.S. on Sept. 16. The movie's trailer, which came out in April, portrays Snowden and his disclosures as heroic.
—
Follow the author of this story on Twitter and Facebook:
[facebook //www.facebook.com/plugins/like.php?href=