Ohio Gov. John Kasich still isn't sure exactly who he will be casting his vote for in November.
The former Republican presidential contender's dislike of GOP nominee Donald Trump isn't a well-kept secret, especially as Kasich refused to attend the Republican National Convention held in his own state last month. During an interview on CNN's "State of the Union," Kasich declined to say if he would actually vote for a Democrat for president come November but didn't seem too optimistic that he would vote for Trump either.
"This is very disturbing," Kasich said. "I wish that I could be fully enthusiastic, but I can't be. I don't know what's going to happen at the end."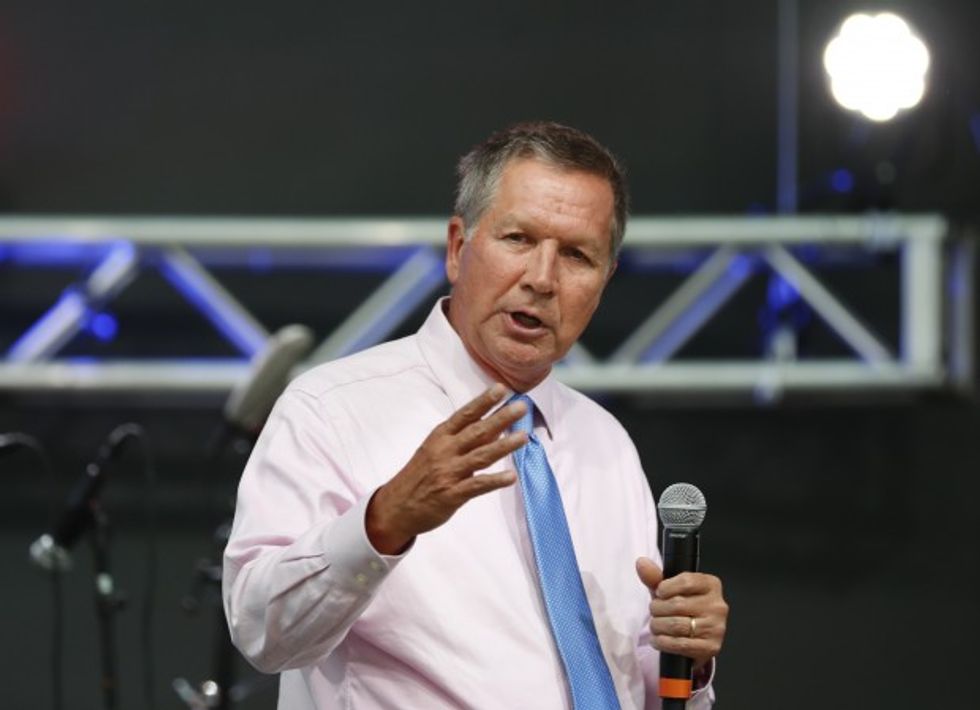 Ohio Gov. John Kasich speaks at the The Rock and Roll Hall of Fame and Museum in Cleveland during the second day of the Republican convention. (AP Photo/Alex Brandon)
Kasich told CNN's Jake Tapper that he gets "a little grief over" his decision not to support or endorse Trump for now.
"I've had a lot of people pound on me about you need to do this, you need to do this, this is about the party," he said. "And I love my party, but I love my country. And I have to be true to myself. I wish that I could be fully enthusiastic. I can't be."
Kasich also addressed reports that he was approached by Trump's campaign to be his running mate. He said that while he personally was not approached, he confirmed that Donald Trump Jr. did reach out to one of his aides and promised to make Kasich an all-powerful vice president.
"That's what one of them has told me, yes," Kasich said.
Trump and his campaign have denied the reports — both in statements and on social media.
Kasich said that "believe it or not," his decision to skip the GOP convention in Cleveland was actually out of respect to Trump.
"If I wasn't prepared to go there and get up and endorse a nominee, I just thought it was inappropriate to go into that convention hall," Kasich said.
The Ohio governor's presence that week wasn't totally hidden; Kasich held and attended several events around Cleveland during the actual convention while he avoided the Quicken Loans Arena.
—
Follow Kaitlyn Schallhorn (@K_Schallhorn) on Twitter