LONDON (AP) -- Delta Air Lines has grounded flights and predicted widespread cancellations Monday, disrupting the travel plans of thousands of passengers, after a power outage hit its computer systems globally.
The Atlanta-based carrier said the outage began at around 2:30 a.m, though it was unclear how that affected the company's global computer systems. Eastern. Flights which were already en route were operating normally, but others were delayed or cancelled.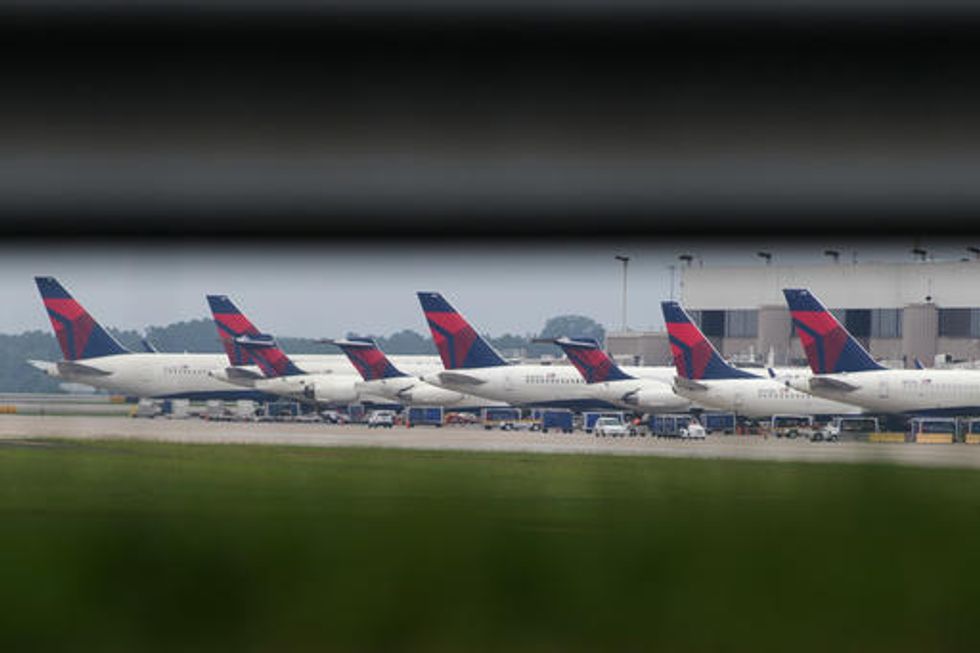 Delta planes are parked at gates at Atlanta's Hartsfield International Airport in Atlanta, Monday, Aug. 8, 2016, as Delta Air Lines grounded all flights after after a power outage hit its computer systems globally. (AP Photo/Branden Camp)
The massive outage threw the airline back to the days of yore in aviation travel, where many things were done manually. In Richmond, Virgina, boarding passes were written out by hand. In Tokyo, a dot-matrix printer was resurrected to keep track of passengers on a flight to Shanghai. In New York, self service check-in kiosks were dark.
.@Delta flights grounded worldwide for more than 4 hours, boarding passes issued by hand https://t.co/2vqkH1Hrrp pic.twitter.com/MmkqLGmIiV

— Alastair Jamieson (@alastairjam) August 8, 2016
And the technology that was working was giving inaccurate information. Flight status systems, including airport screens, were incorrectly showing flights on time, something the company was trying address.
The @Delta staff in @DFWAirport telling passengers flights show as on time. Airline says that's inaccurate @NBCDFW pic.twitter.com/uL7N1OiSnS

— Ben Russell (@BenRussellNBC5) August 8, 2016
"We apologize to customers who are affected by this issue, and our teams are working to resolve the problem as quickly as possible," the company said in a statement.
We apologize to customers who are affected. Waiver is in effect. https://t.co/Jc0naCYqN1

— Delta News Hub (@DeltaNewsHub) August 8, 2016
Many passengers, like Bryan Kopsick, 20, from Richmond, were shocked that computer glitches could cause such turmoil.
"It does feel like the old days," Kopsick said. "Maybe they will let us smoke on the plane, and give us five-star meals in-flight too! "
Early confirmation of the troubles first came in an official account that responds to customers via Twitter. The company had said its IT systems were down "everywhere" and "hopefully it won't be much longer." Several applications were affected, including the company's website.
Among those affected was Tanzie Bodeen, 22, an intern at a software company who lives in Beaverton, Oregon. She had left for Minneapolis St. Paul airport at about 4 a.m. and learned about the delays only upon her arrival - when she found news crews gathered at the door.
"Delta didn't really say anything," she said.
Bodeen said that passengers have been taking the matter in stride. "It doesn't seem really hostile yet," she said.
People all over the world were affected. Stephen Smith, 32, of Baton Rouge, Louisiana, had been stuck on the ground for hours at Tokyo's Narita Airport on a flight that was supposed to go to Shanghai.
Smith took solace in the fact the air conditioning on the plane was working and said it seemed everyone on board was fine.
"Waiting game at this point," he tweeted to The Associated Press.
The company said travelers will be entitled to a refund if the flight is cancelled or significantly delayed. Travelers on some routes can also make a one-time change to the ticket free of charge.
Delta shares were down 2 percent in pre-market trading.
Computer outages have caused major headaches for airlines and travelers before. Southwest Airlines was forced to cancel more than 2,000 flights across the U.S. last month after technology problems prevented many travelers from checking in or boarding flights.
Some passengers were reporting, with hope, that they still hoped to get to their destinations - eventually. While unhappy at missing vacation time, some were calmed by the airline's promise to get them on their way.
"The nice thing is that everyone here at the terminal are dealing with the same issues," Kopsick said. "Many passengers are joking at this point."
—