A little more than two weeks after Roger Ailes' ouster, another female host has come forward alleging the former Fox News chairman and CEO sexually harassed her.
Andrea Tantaros, who has not been on the network since April, says she brought the alleged harassment to the attention of several senior Fox News executives , but claims she was kicked off the air after coming forward. Judd Bernstein, Tantaros' lawyer, told New York Magazine he believes the move was "retaliatory."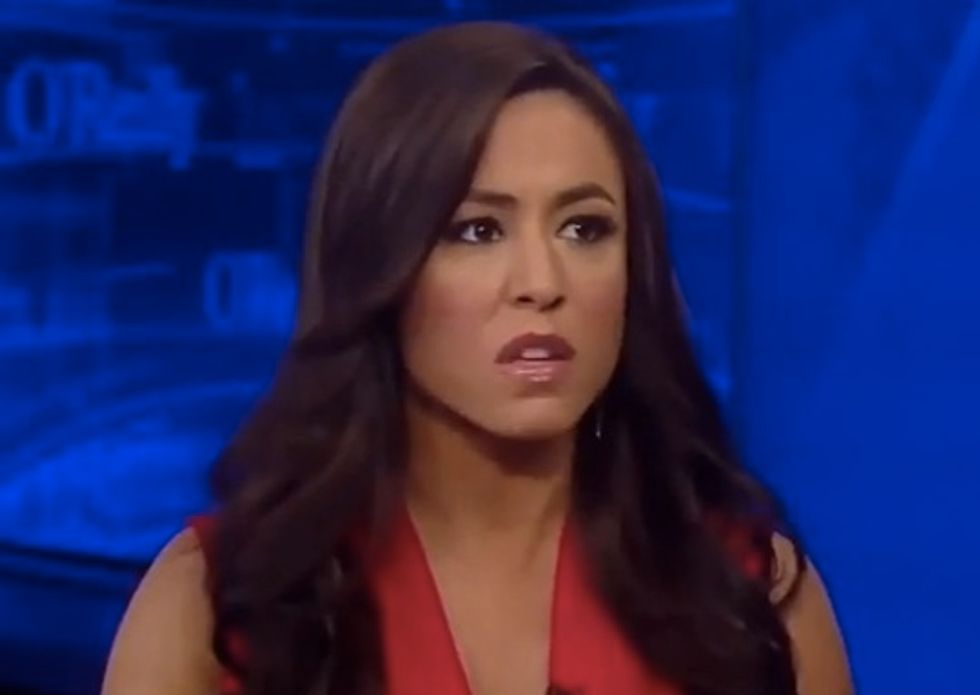 Image source: Fox News
Fox News' attorneys have rebuffed Bernstein's accusation. Instead, they said Tantaros, who co-hosted "The Five" and "Outnumbered," was sidelined because she failed to allow the network to vet her 2016 book "Tied Up in Knots: How Getting What They Wanted Has Made Women Miserable." The Fox News legal team asserted the channel was embarrassed by the book's cover, which depicts Tantaros bound by ropes.
According to Tantaros, Ailes began harassing her on August 12, 2014. She claims that, during a meeting in Ailes' office, the former chairman asked her to do "the twirl" so he could see her figure. Tantaros refused the alleged advance, but in December Ailes tried again.
"Ailes asked her to turn around, and then he said, 'Come over here so I can give you a hug,'" Bernstein said of the alleged December encounter, adding that Tantaros refused then, too.
In February 2015, Tantaros was pulled from her hosting slot on "The Five" and was demoted to working full-time on the midday show "Outnumbered." That same month, according to her lawyer, Tantaros was again harassed by Ailes, who allegedly asked about the former network host's workout routine because her body "looked good," adding that she must "really look good in a bikini."
But Tantaros claimed that, after filing an April 2015 complaint with Bill Shine, the Fox News executive vice president "allegedly told her, 'Roger is a very powerful man,' and that she 'should not fight this.'" Fox News' lawyers are fighting back against these accusations, but Tantaros is not backing down.
However, there are competing accounts about Tantaros' harassment allegations. According to TVNewser, a source close to the legal proceedings said that, while the former anchor had complained about threatening behavior from other Fox News employees, there was no mention of any sexual harassment by Ailes.
Additionally, in March 2016, one month before Tantaros was removed from "Outnumbered" for breaching her contract, the anonymous source told TVNewser that the host did file an official complaint accusing several men and women within the network of harassment, but not Ailes.
Fox News subsequently opened an internal investigation into the ordeal. The probe was led by network legal chief Dianne Brandi. Through the course of the investigation, 15 men and women — including Tantaros — were interviewed. A follow-up interview was requested, but Joseph Cane, Tantaros' attorney at the time, did not make his client available, the source said.
Given the number of other women who have spoken out since former Fox News anchor Gretchen Carlson's bombshell accusations against Ailes in July, Bernstein says Tantaros "doesn't have the same fear of being attacked by the Fox PR machine, and the Murdochs have made it clear they want to clean up the place."
—
Follow the author of this story on Twitter: