While the mother of one Benghazi victim is asking the GOP not to use her son's death for political gain, the parents of two other victims are suing Hillary Clinton, asserting the former secretary of state's "extremely careless" handling of classified information contributed to their sons' deaths.
The case, filed in the U.S. District Court for the District of Columbia by Larry Klayman of Freedom Watch USA on behalf of Patricia Smith, mother of Sean Smith, and Charles Woods, father of Tyrone Woods, alleges Clinton wrongfully caused the death of their sons. They are also suing the Democratic presidential nominee for defamation and intentional and negligent infliction of emotional distress.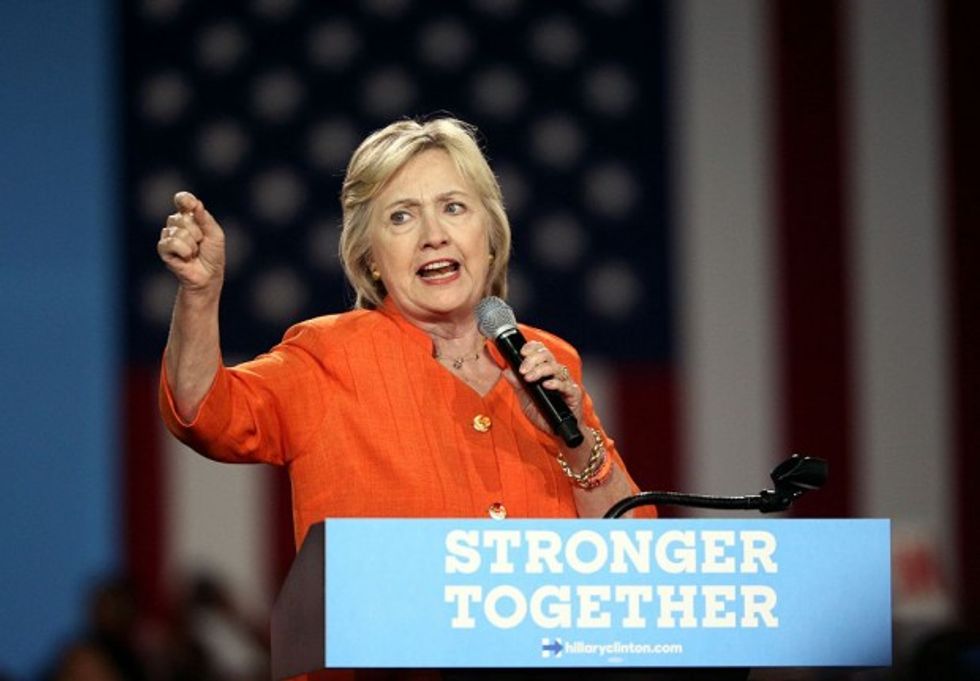 Democratic presidential candidate Hillary Clinton addresses supporters during a rally at the Osceola Heritage Park in Kissimmee, Florida on August 8, 2016. (Photo by GREGG NEWTON/AFP/Getty Images)
In the lawsuit, Klayman asserts Clinton's use of a private email server during her tenure at the State Department allowed the terrorists to "obtain the whereabouts of Ambassador Christopher Stevens and thus the U.S. State Department and covert and other government operations in Benghazi, Libya, and subsequently orchestrate, plan, and execute the now infamous September 11, 2012 attack."
"Having used a secret private email server that we now know was used to communicate with Ambassador Christopher Stevens with confidential and classified government information, and which we also now know was likely hacked by hostile adversaries such as Iran, Russia, China and North Korea aligning with terrorist groups," Klayman said in a statement, "it is clear that Hillary Clinton allegedly negligently and recklessly gave up the classified location of the plaintiffs' sons, resulting in a deadly terrorist attack that took their lives."
Both Woods and Smith also claim Clinton defamed them in statements to the media.
"During her campaign for President, Defendant Clinton has negligently, recklessly, and/or maliciously defamed Plaintiffs by either directly calling them liars, or by strongly implying that they are liars, in order to protect and enhance her public image and intimidate and emotionally harm and silence them to not speak up about the Benghazi attack on at least four separate occasions," the complaint reads.
Team Clinton responded Monday night to the lawsuit, citing the nine investigations into Clinton's handling of the attack that have been conducted. Nick Merrill, Clinton's traveling press secretary, said "none [of the probes] found any evidence whatsoever of any wrongdoing on the part of Hillary Clinton."
Smith has been a very vocal critic of Clinton, who she says is a "liar." During a speech delivered at the Republican National Convention last month, Smith said, "I blame Hillary Clinton personally for the death of my son."
"For all of this loss, for all of this grief, for all of the cynicism the tragedy in Benghazi has wrought upon America, I blame Hillary Clinton," she added.
Read the full complaint below:
—
Follow the author of this story on Twitter: