Republican presidential nominee Donald Trump applied his "America first" policy to economics Monday in a policy speech in Detroit.
"We are in a competition with the world, and I want America to win," the billionaire businessman said, stating clearly his zero-sum approach to economic conflicts like trade deficits. Trump, who wrote "The Art of the Deal," added that he is pro-trade — but only when the United States gets a favorable deal.
"Trade has big benefits, and I am in favor of trade," Trump said in his speech to the Detroit Economic Club. "But I want great trade deals for our country that create more jobs and higher wages for American workers."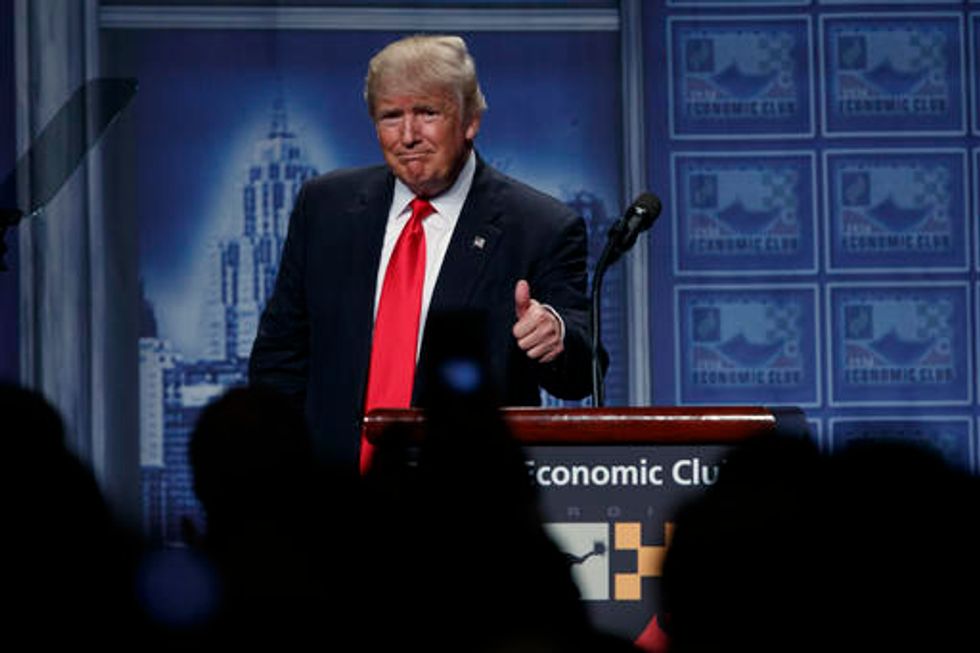 Republican presidential candidate Donald Trump gives a thumbs up after delivering an economic policy speech to the Detroit Economic Club, Monday. (AP/Evan Vucci)
In his speech, Trump outlined plans to reduce the current number of tax brackets from seven to three. He also said he'll cut taxes across the board at every income level — instituting the same tax brackets proposed by House Republicans: 12, 25 and 33 percent.
"Our current tax code is so burdensome and complex that we waste 9 billion hours a year in tax code compliance," Trump said. "These reforms will offer the biggest tax revolution since the Reagan Tax Reform, which unleashed years of continued economic growth and job creation."
Trump sought to contrast his economic plan with Democratic nominee Hillary Clinton's, as well as tie her to economic failures during the tenures of her husband — former President Bill Clinton — and President Barack Obama. Trump also criticized Clinton's time as a senator, during which she pledged 200,000 jobs for upstate New York when the area actually lost jobs, he said.
"In the days ahead, we will provide more details on this plan and how it will help you and your family," Trump said. "It will present a night-and-day contrast to the job-killing, tax-raising, poverty-inducing Obama-Clinton agenda."
Trump also knocked Clinton for being beholden to donors, saying that she'll enact the Trans-Pacific Partnership if elected — a main fear of supporters of former Clinton rival Sen. Bernie Sanders.
"A vote for Hillary Clinton is a vote for TPP," he said in an attempt to reach Sanders voters. "And it's also a vote for NAFTA."
Trump was interrupted several times by female protesters but didn't engage with unruly members of the crowd. Instead, he waited and smiled while the protesters were escorted out and the crowd cheered.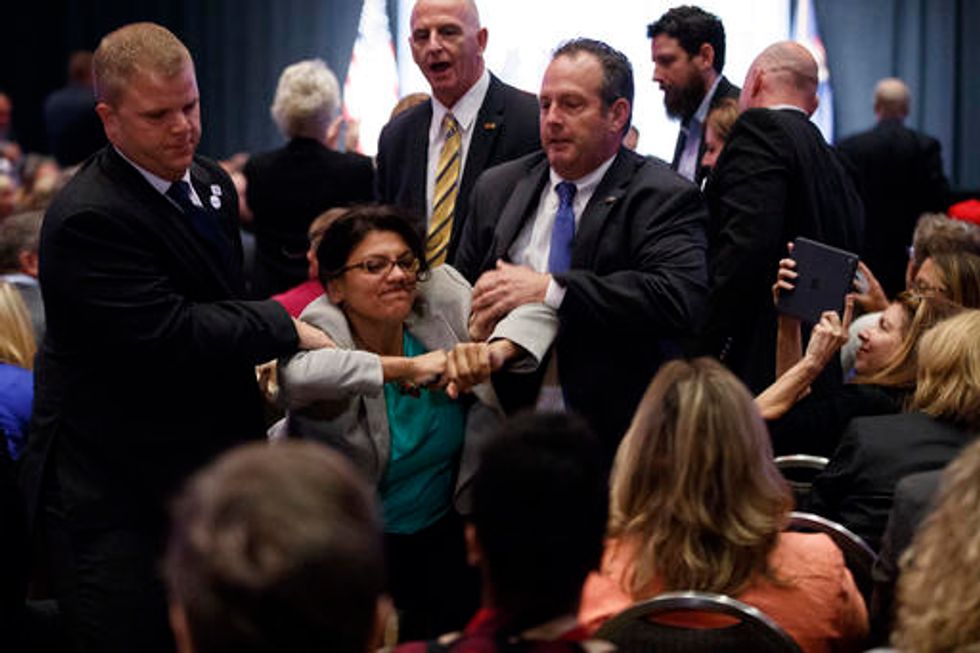 A demonstrator is led away as Republican presidential candidate Donald Trump delivers an economic policy speech Monday in Detroit. (AP/Evan Vucci)
Trump also pointed to a New York Post story titled "How Donald Trump helped save New York City," which said he "waded into a landscape of empty Fifth Avenue storefronts, the dust-bowl mugging ground that was Central Park and a Wall Street area seemingly on its last legs ... [and] almost by force of will — [he] rode to the rescue."
Trump took issue with the Obama administration's data on unemployment — something he's said throughout his campaign is vastly underreported.
"One in five American households do not have a single member in the labor force," he said. "These are the real unemployment numbers – the five percent figure is one of the biggest hoaxes in modern politics."
He pledged to cut regulations "massively" — including putting a stop to them completely in the immediate days after taking office, if he's elected.
"It is time to remove the anchor dragging us down," Trump said. "Upon taking office, I will issue a temporary moratorium on new agency regulations."
Trump said he'll also cancel all "illegal and overreaching" executive orders put in place by Obama.
"Next, I will ask each and every federal agency to prepare a list of all of the regulations they impose on Americans which are not necessary, do not improve public safety, and which needlessly kill jobs. Those regulations will be eliminated," he said.
This story has been updated.
—
Follow the author of this story on Twitter and Facebook:
[facebook //www.facebook.com/plugins/like.php?href=