Texas confirmed its first Zika-related death Monday. The infant victim who passed away shortly after birth in Harris County had microcephaly that was linked to the virus.
KTRK-TV reported that the mother of the infant traveled to Latin America while she was pregnant. It was there that she contracted Zika, which was transmitted to her unborn child in the womb.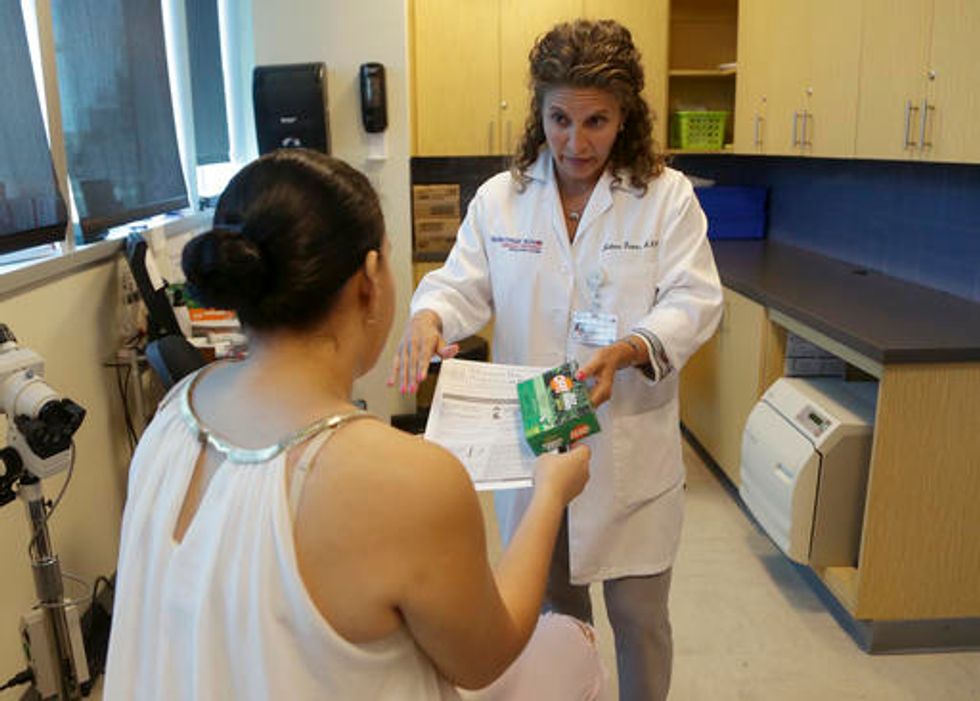 A nurse practitioner gives a pregnant patient insecticide and information about mosquito protection at the Borinquen Medical Center in Miami. (AP Photo/Lynne Sladky, File)
Test results confirmed the baby's condition and linked the microcephaly to Zika. According to KTRK, the mother and child are classified as travel-related cases, and officials have determined there is no additional associated risk in the state.
Just last month, Texas reported its first case of microcephaly, also a Harris County infant, which was linked to Zika.
"Zika's impact on unborn babies can be tragic, and our hearts are with this family," Dr. John Hellerstedt, Texas Department of State Health Services commissioner, told KTRK. "Our central mission from the beginning has been to do everything we can to protect unborn babies from the devastating effects of Zika."
Hellerstedt assured that the DSHS is coordinating with Harris County Public Health and the U.S. Centers for Disease Control and Prevention to track these cases.
According to KTRK, Texas has reported 97 cases of Zika. All Texas cases have been deemed travel-related, contracted in areas with high Zika transmission.
So far there have been no reported cases of Zika virus disease transmitted by mosquitoes in Texas, but state officials are tracking the the possibility of local transmission.
Zika poses the greatest threat to unborn children and the elderly. It has affected more than 4,000 babies in Brazil, according to KTRK.
DSHS has been monitoring the number of pregnant women with Zika in the state, working with health care providers and providing weekly data to the national Zika pregnancy registry. DSHS is also studying past cases of microcephaly to understand the condition's prevalence and patterns in Texas.
The government organization has also launched a public education campaign for travelers and pregnant women via TexasZika.org.
Common symptoms of Zika include fever, rash, joint pain and red, irritated eyes, according to the CDC. Few people who contract the virus actually show symptoms, and severe complications caused by Zika are rare. A blood or urine test can confirm the virus even if no symptoms are present.