American champion swimmer Michael Phelps will compete for the 20th gold medal of his career Tuesday night in the men's 200-meter butterfly finals against South Africa's Chad Le Clos.
Le Clos, Phelps' longtime rival, tried to antagonize the swimmer ahead of the semifinal swim Monday evening with some pre-race shadowboxing and dancing around the Olympic pool in front of Phelps.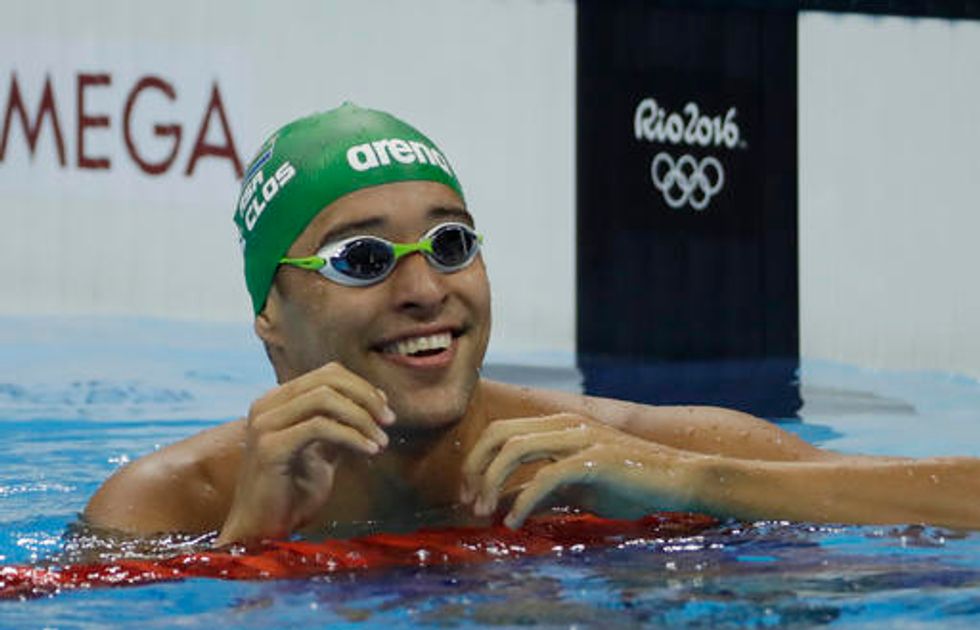 Chad Le Clos smiles after competing in the men's 200-meter butterfly during the swimming competitions at the 2016 Summer Olympics in Rio de Janeiro, Brazil, Monday. (AP Photo/Matt Slocum)
Phelps, who came out of retirement to avenge himself after losing to Le Clos in the 2012 London Games, was caught on camera giving his opponent one of the most intense death glares in the history of televised sports.
Using the hashtag #PhelpsFace, folks on Twitter likened the swimmer to an axe murderer and Anakin Skywalker when he transformed into Darth Vader.
Phelps or Anakin Skywalker? pic.twitter.com/p7iDdlq76h

— Alec White (@awhite018) August 9, 2016
When you're the real Slim Shady but someone else stood up. pic.twitter.com/CtQTu7FXEa

— B®endan (@ChiBDM) August 9, 2016
@cjzero @accordingtobri pic.twitter.com/ZJZS3E06xU

— hehateme2012 (@hehateme2012) August 9, 2016
Michael Phelps. #Olympics pic.twitter.com/mewOF4N0CI

— nascarcasm (@nascarcasm) August 9, 2016
Like father, like son. #PhelpsFace pic.twitter.com/optbLOAgiH

— TODAY (@TODAYshow) August 9, 2016
PHELPS COMING pic.twitter.com/PJOhNh75vE

— Will Brinson (@WillBrinson) August 9, 2016
Speaking to the Associated Press, Phelps said that the high-stakes rematch "should be a fun race."
Still high off his 2012 win, Le Clos expressed excitement at the thought of beating the most decorated athlete in Olympic history for the second time.
"May the best man win," he told the AP. "I'll race my heart out."
"Of course there's a huge rivalry between Michael and myself," Le Clos said. "I race to win and I want to beat Michael."