The FBI reportedly approached the Justice Department earlier this year, requesting an investigation into the Clinton Foundation, but the public integrity probe was declined, according to a new report.
The investigation, based on CNN's reporting, was shot down because the Department of Justice could not find sufficient evidence to open such an investigation into Hillary and Bill Clinton's charitable organization. This revelation comes amid a new release of Hillary Clinton's emails by watchdog group Judicial Watch and raises even more questions about the objectivity of Attorney General Loretta Lynch's Justice Department.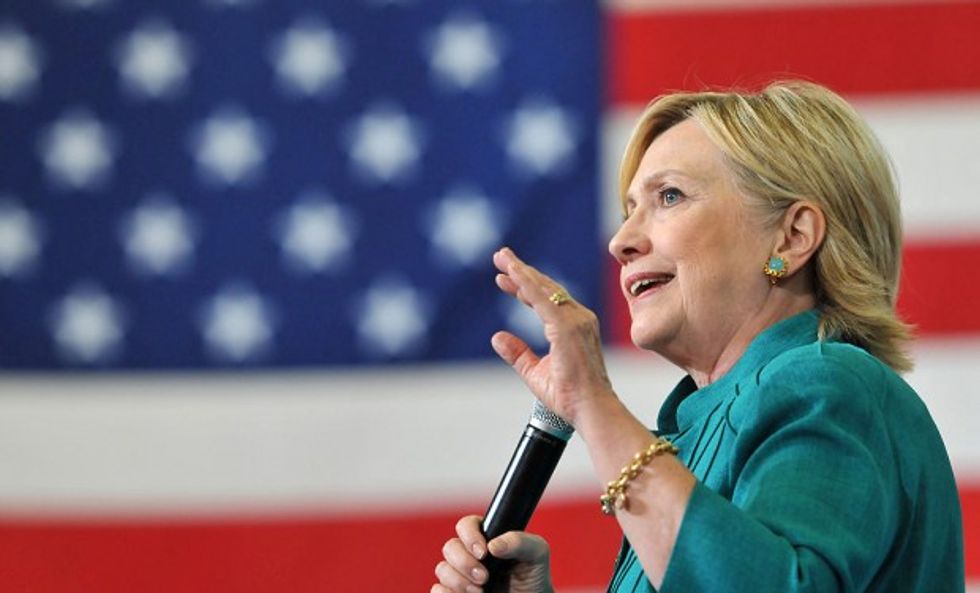 Democratic presidential nominee Hillary Clinton talks about her economic plan, August 10, 2016 in Des Moines, Iowa. It was Clinton's first trip back to Iowa since winning the Iowa Caucus. (Photo by Steve Pope/Getty Images)
Lynch was the subject of sharp criticism last month when it was revealed that she and former President Bill Clinton met privately just days before the FBI was scheduled to interview Hillary Clinton as part of its investigation into her use of a private email server during her time as secretary of state.
Among the 44 previously-unreleased emails obtained by Judicial Watch was an exchange that shines light on the tangled relationship the Clinton Foundation had with the State Department during Clinton's tenure there.
Doug Band, the former head of the Clinton Foundation, contacted Clinton's top aides, including chief of staff Cheryl Mills and senior advisor Huma Abedin, in April 2009, informing them it's "important to take care of" an individual whose name was redacted. The subject line of the email was "A favor." It appears the person may have been seeking a job at the State Department.
In another email, sent by Band on April 25, 2009, he asked Abedin and Mills to help put Lebanese-Nigerian billionaire Gilbert Chagoury in communication with the State Department's "substance person" on issues regarding Lebanon. Chagoury has given millions to the Clinton Foundation and in 2009 pledged $1 billion to help with one of the Clinton Global Initiative's initiatives.
"This is very important," Band wrote. "As you know, he's a key guy there and to us and is loved in Lebanon. Very imp."
The Clinton campaign was quick to push back against any suggestion these emails show a conflict of interest or insinuate any wrong doing by Clinton.
"Neither of these emails involve the secretary or relate to the Foundation's work," Clinton campaign spokesman Josh Schwerin told CNN in an emailed statement. "They are communications between her aides and the President's personal aide, and indeed the recommendation was for one of the Secretary's former staffers who was not employed by the Foundation."
The campaign said Chagoury was not seeking any favors, but instead only wanted to offer his insights on the then-upcoming Lebanese election. Schwerin also slammed the "right-wing organization" responsible for the lawsuit — Judicial Watch.
"The right-wing organization behind this lawsuit has been attacking the Clintons since the 1990s and no matter how this group tries to mischaracterize these documents," he said, "the fact remains that Hillary Clinton never took action as secretary of state because of donations to the Clinton Foundation."
Donald Trump, Clinton's Republican rival, jumped quickly on the revelation, slamming Clinton for her "pay-to-play" politicking.
"Once again, the Department of Justice has protected Hillary Clinton. Earlier this year the DOJ denied a request from the FBI to investigate her pay-to-play, corrupt Clinton Foundation," the Trump campaign wrote in an email to supporters. "News of its rejection comes immediately after leaked emails exposed a concerning link between the Clinton Foundation and the State Department!"
Trump also weighed in on the controversy in a tweet Tuesday night, asking when the media is going to start reporting on Clinton's emails.
When is the media going to talk about Hillary's policies that have gotten people killed, like Libya, open borders, and maybe her emails?

— Donald J. Trump (@Donald J. Trump) 1470791499.0
–
Follow the author of this story on Twitter: