Over the weekend, conservative author and traditional family advocate Ryan T. Anderson expressed his outrage on Twitter over an academic book titled "Pedophilia and Adult-Child Sex: A Philosophical Analysis." The book, published in May, was written by Stephen Kershnar, who chairs the philosophy department at State University of New York at Fredonia.
Slope? What slope? Academic press publishes philosophical defense (sorry, "analysis") of "Adult-Child Sex" https://t.co/x24VuHbQg7

— Ryan T. Anderson (@RyanTAnd) August 8, 2016
Wow. On the prof's CV, he lists the title of the book as: "Pedophilia and Adult-Child Sex: A Philosophical Defense" https://t.co/f1Lj7zg9J3

— Ryan T. Anderson (@RyanTAnd) August 8, 2016
At least publisher had good sense to change "defense" to "analysis." Prof teaches at StateU. Your taxdollars at work https://t.co/64waJgkvsM

— Ryan T. Anderson (@RyanTAnd) August 8, 2016
Kershnar's work, which suggests that the moral status of pedophilia is blurrier than some care to assert, has raised concern among Christians and social conservatives who believe society is on a dangerous path that could lead to normalizing things once deemed perverse.
The 168-page book examines whether adults who are sexually attracted to children "have a disease, act wrongly or are vicious," and explores the legal implications of these analyses.
"This sex intuitively strikes many people as sick, disgusting, and wrong," the book description of publisher Rowman & Littlefield's website reads. "The problem is that it is not clear whether these judgments are justified and whether they are aesthetic or moral. By analogy, many people find it disgusting to view images of obese people having sex, but it is hard to see what is morally undesirable about such sex: here the judgment is aesthetic."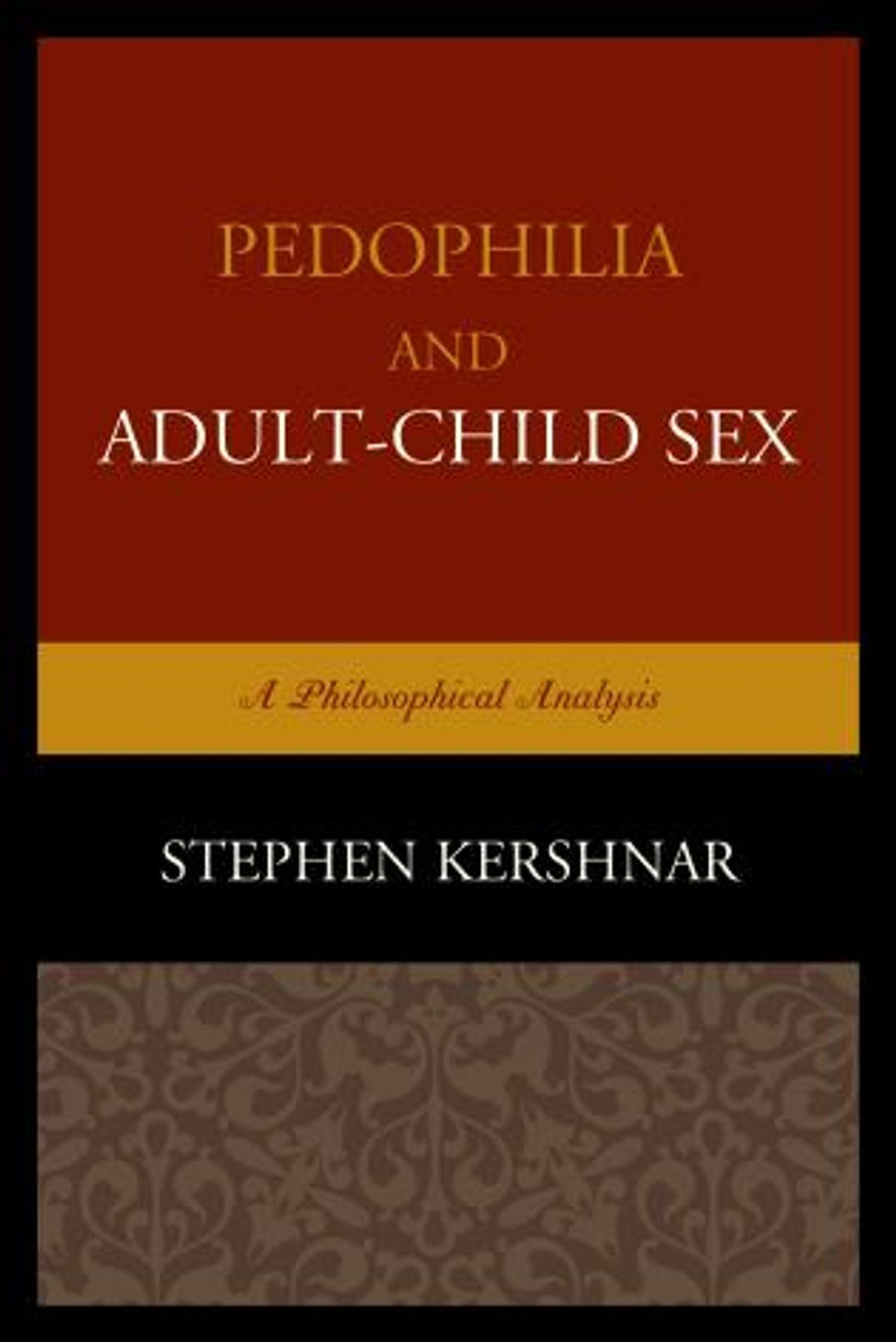 Image source: Rowman and Littlefield
Peter LaBarbera, president of Americans for Truth About Homosexuality, spoke with the Christian Post Monday to discuss the moral and religious implications of Kershnar's book.
He said that while he does not believe that pedophilia will be normalized in the next few years, a work like Kershnar's is further evidence of the left's ongoing war against Judeo-Christian values.
LaBarbera found one line from Kershnar's book particularly concerning: "Adult-child sex involving willing participants has an unclear moral status."
"Kershnar is injecting nuance and situational ambiguity to chip away at the near-universal understanding that sex between adults and kids is always wrong," LaBarbera told the Post, adding, "Sex radicals have learned from the successful campaign by 'gay' militants to normalize once-taboo behaviors and concepts like same-sex 'marriage.' Now they are in the 'study' phase on pedophilia."
He then stressed that "social conservatives must sound the alarm on any effort to mainstream adult-child sex."
"For the sake of vulnerable children, we must take this seriously — and not be intimidated by charges of scare-mongering," he continued.
LaBarbera warned, however, that disputing a work like Kershar's work "legitimize[s] this as an issue worthy of debate — thus creating the notion that there are two legitimate opinions on pedophilia."
"There are not," he declared. "Sex with children is inherently exploitative and immoral; it corrupts and victimizes kids, who often grow up to have perverse desires toward children themselves."
LaBarbera concuded that "those like Kershnar who seek to make a case for pedophilia — or certain types of pedophilia — must be exposed and rebutted."