Israeli athletes at the 2016 Olympic Games have encountered "hostility" from delegations from Muslim-majority nations, according to the Washington Times.
The treatment of Israeli athletes has prompted responses from groups that fight anti-semitism.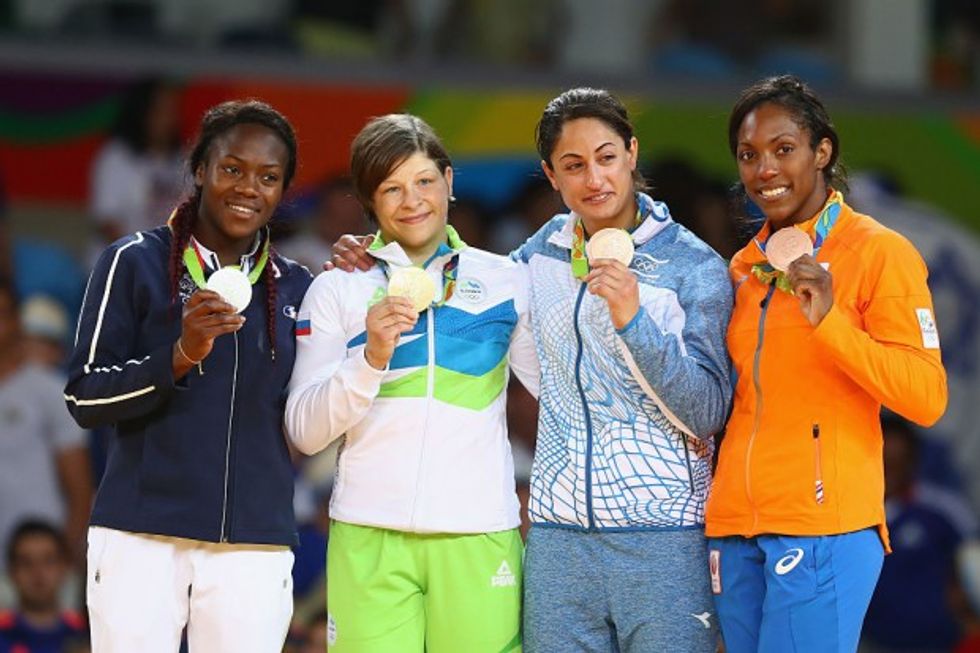 Silver medalist Clarisse Agbegnenou of France, gold medalist Tina Trstenjak of Slovenia and bronze medalists Yarden Gerbi of Israel and Anicka van Emden of the Netherlands pose on the podium during the medal ceremony for the women's judo-63kg at the 2016 Olympic Games in Rio de Janeiro Aug. 9. (Ryan Pierse/Getty Images)
As TheBlaze previously reported, a group of Lebanese Olympic athletes allegedly blocked an Israeli delegation from boarding their bus to the opening ceremony. According to the Jerusalem Post, the Lebanese delegation was chastised by the International Olympic Committee over the incident.
According to the Washington Times, earlier this year, Syrian boxer Ala Ghasoun refused to participate in an Olympic qualifying match against an Israeli because doing so "would mean that I, as an athlete, and Syria, as a state, recognize the state of Israel."
Joud Fahmy, a Saudi Arabian athlete, reportedly forfeited a judo match in order to avoid competing against an Israeli. However, the Saudi Olympic team said Fahmy was injured, the Times of Israel reported.
"Shocking but not surprisingly, the Lebanese and Saudi delegations obviously have the wrong idea about the Olympic Games," Roz Rothstein, CEO of the pro-Israel group Stand With Us, told the Washington Times. "Instead of using the events to forget animosity and promote peace between people, they have brought their brainwashed minds to Rio. How unfortunate that they could not implement the good, peaceful intentions of the Olympics, and instead have used it as a forum to spread hate and continued rejection of peace."
The Anti-Defamation League, a group that fights anti-semitism, wrote in a blog post that "the Olympics will for­ever be tainted by the 1972 Munich games, where 11 Israeli ath­letes were bru­tally mur­dered by Pales­tin­ian ter­ror­ists."
"These days, anti-Israel vio­lence at the Olympics has been replaced by pol­i­tics, with repre­sen­ta­tives from coun­tries hos­tile to Israel going to great lengths to avoid any inter­ac­tion with Israeli athletes," the group added.
During the 2016 Olympics, Israeli judo fighter Yarden Gerbi won a bronze medal, the country's first medal at the summer Olympics since 2008.
—
Follow the author of this story on Twitter and Facebook: