The conventions are finished. The major parties' presidential nominees have been chosen. Third-party candidates have risen in recognition. And yet there's a new presidential candidate drilling its way into the race.
"Proven candidate launches bid for highest office in land, provides attractive alternative for Americans dissatisfied with current choices," the press release for the new candidate reads.
"Her platform includes jobs, pocketbook savings, energy security, environmental benefits and funding for local services," it continues.
That independent presidential candidate is none other than fracking.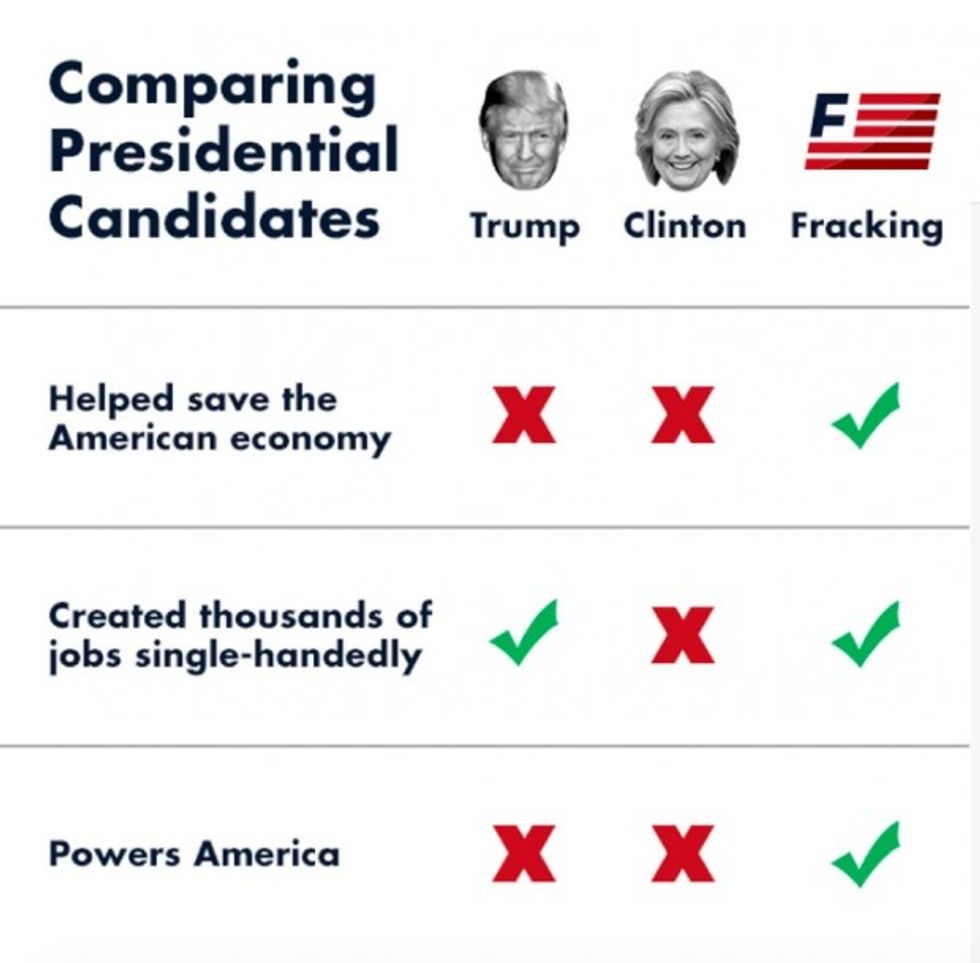 Image via Facebook/Fracking for President
FrackFeed, a project of North Texans for Natural Gas, launched the online campaign last week as a way to promote and educate Americans on the benefits of fracking — "although we can't help it if people laugh too," the group said.
"People in the Northeast or Florida may not know that their power bills are lower because of the fracking revolution, even though fracking is not occurring in their states," said Courtney Loper, a spokeswoman for the campaign. "People in California who care deeply about climate change may not realize that natural gas is the biggest contributor to carbon dioxide emissions reductions in the United States."
"It's a presidential year so we thought we could try to integrate ourselves into that conversation," Loper told TheBlaze. "If we can use the broader presidential debate to help people learn about fracking, and maybe even laugh along the way, then it'll be a huge success."
Like other presidential campaigns — that exist offline with a real human candidate — Fracking for President is taking its traditional campaign duties seriously. It has released a 60 second ad spot to announce the launch of the campaign and will soon begin a virtual bus tour across the country. The campaign will also announce a running mate next month.
And as of Thursday, the campaign released its tax returns, something one of the main presidential contenders has yet to do this presidential cycle.
The tax returns include an estimated "savings provided to each household." Fracking saves $120 on natural gas bills, $102 on electric bills and $554 on cheaper goods and services per household, the returns claim.
Harris Media, the Austin-based marketing agency, is using its social media accounts and content production to run the Fracking for President campaign, said Sam Larson, a senior account executive at Harris Media.
—
Follow Kaitlyn Schallhorn (@K_Schallhorn) on Twitter