Dr. Tim LaHaye started his ministry when pastors like Jerry Falwell, Sr., spoke powerfully from grand pulpits and Christianity was synonymous with American life. He passed away in a time when the Christian church has embraced a more casual appeal and, in the eyes of many, is the subject of cultural discrimination.
While the prominence of Falwell's famous Moral Majority has since gone by the wayside, one thing remained steadfast: LaHaye's resolve and commitment to the Christian gospel. LaHaye, the son of a Detroit autoworker, passed away July 25 at the age of 90.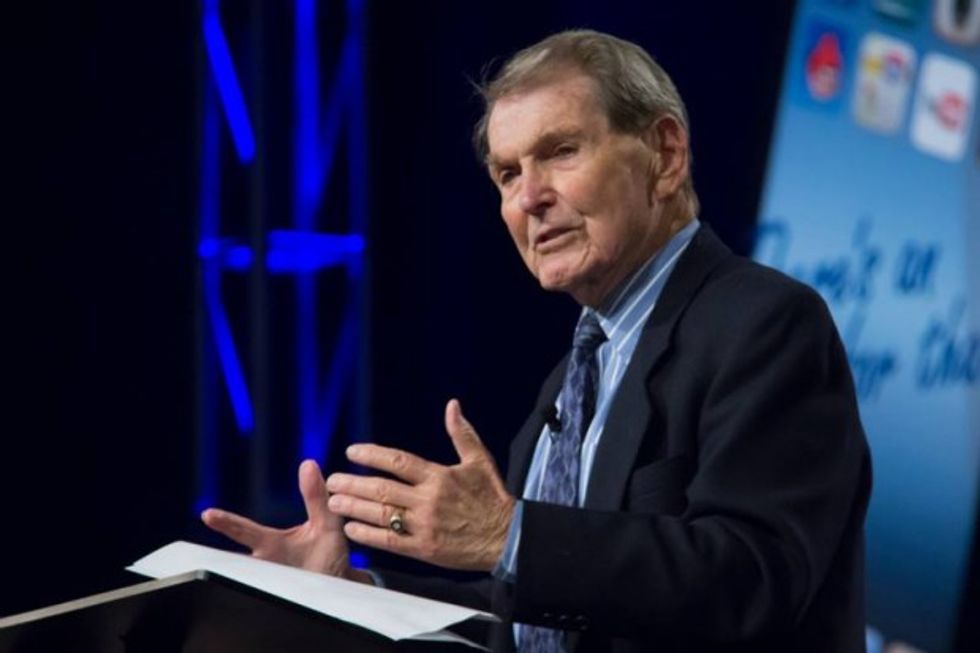 Tim LaHaye (Facebook)
LaHaye went on to become the well-known pastor and teacher who penned the best-selling "Left Behind" series, along with many other books he wrote with his wife, Beverly, known as the founder of the activist group Concerned Women for America.
During a memorial service for LaHaye Friday morning at Shadow Mountain Community Church in San Diego, Jerry Jenkins, the co-author of "Left Behind," described his writing partner as "a battler," adding that no one ever "had to wonder where he stood on any issue." He said LaHaye was first and foremost a "soul-winner" whose passing left a "void in my soul."
Several others who spoke at the service helped bolster Jenkins' description of the man who is known by many to have breathed new life into the end times debate. One of his grandsons, Joel, described LaHaye as someone who would travel from "Dallas to D.C." to share his faith and a man who had a daringly adventurous streak, telling the crowd his grandfather was a vigorous waterskier even in his old age.
But for his grandson, it was his "Pop's" faith that truly defined him. "It was the first thing he went to, it was the last thing he said, and it was always, always at the right time," Joel said through tears.
As for LaHaye's personal side, one of his daughters shared memories of growing up with the example her dad set. She told the crowd that her parents exemplified a "true love story" for their children, grandchildren and great-grandchildren. The LaHayes were married for 69 years in July.
"Our parents taught us what a true love story looked like," she said. "My dad adored my mom."
But it was perhaps Dr. David Jeremiah, pastor of Shadow Mountain Community Church, who offered the most powerful eulogy honoring LaHaye, who pastored the same church for 25 years before passing the pulpit to Jeremiah.
"Tim LaHaye was one of the godliest men I have known in my years in ministry," Jeremiah said before going on to explain exactly what he means by that phrase, "godliest."
He said godly people "flee" immorality, idolatry and materialism. He told the crowd, "I knew Tim LaHaye before the 'Left Behind' series and I knew Tim LaHaye after the 'Left Behind' series, and I can't tell the difference."
Jeremiah said godly people follow after "righteousness, godliness, love, faith and holiness," all things he believed LaHaye pursued. He also said a godly person "fights" for that which he believes in, adding LaHaye was a "soldier" and a "lethal weapon" when he became passionate something needed to change.
LaHaye was known for his pro-life advocacy, his work to ensure government never overstepped boundaries when it came to religious liberty, and his passion for the Christian message. And, in Jeremiah's view, the fight isn't over yet.
Just before LaHaye died, Jeremiah said he went to the hospital he was being treated, picked up the Christian author's hand and told him he would do his best to continue the mission LaHaye began working toward so many decades ago.
"Tim squeezed my hand real hard," Jeremiah recalled, "as if to say there is still much work to be done."
LaHaye is survived by his wife Beverly, four children, nine grandchildren 16 great-grandchildren, a brother, Richard, and a sister, Margaret White.
—
Follow the author of this story on Twitter: