A woman and her dog were trapped in a red convertible Saturday during the historic flooding in Louisiana. As the vehicle sank beneath the muddy floodwater, a group of men on a boat appeared just in time to rescue the woman and her pet from a grisly fate.
In a video of the rescue, captured by one of the men on the boat, the woman can be heard asking for help as the convertible begins to disappear beneath the surface.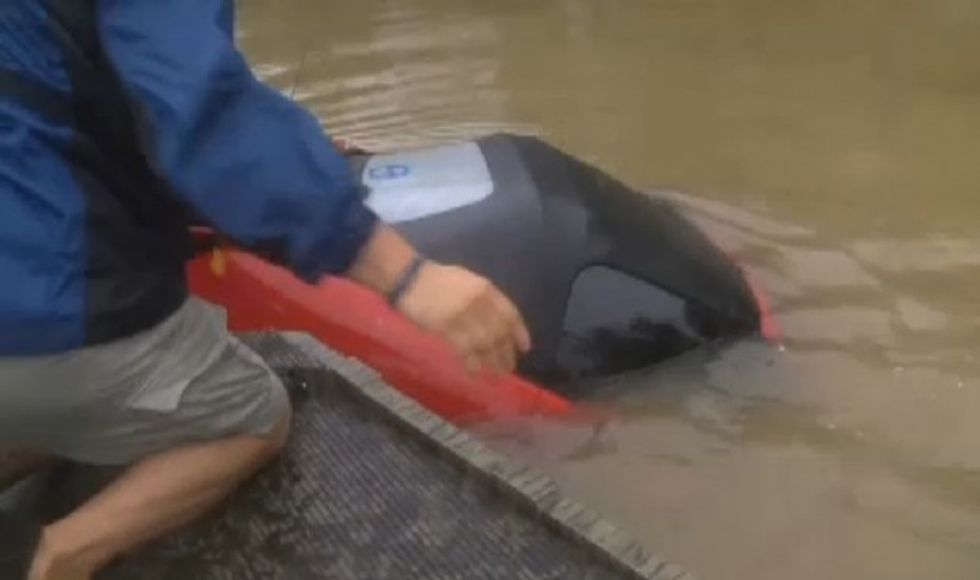 Image source: WAFB-TV
"Oh my God, I'm drowning," the woman can be heard saying.
At first, the three men attempt to break one of the car windows to free the woman, to no avail.
As the seconds drag on, one of the men makes the bold move to jump out of the boat and onto the car. He proceeds to tear through the convertible's roof. At this point, the car is more than two-thirds submerged.
Only after the vehicle has completely disappeared under the surface is the man finally able to pull the woman to safety.
A look of panic remains on the woman's face as she cries out to her rescuer that her dog is still trapped. At first, he reaches inside and tries to find the dog but concludes that the dog is gone.
"No, she better not be," the woman says.
The dog then appears to float to the water's surface, and audible gasps can be heard from the boat.
Watch the incredible rescue, via WAFB-TV: