Six-time Olympic shooting medalist Kim Rhode said Monday night that new gun control measures implemented in her home state of California — and around the country — are "killing our sport at the core."
"That's something that I have, you know, feel very strongly about speaking out about and really trying to educate the general public about these laws that are being passed," Rhode told TheBlaze's Dana Loesch.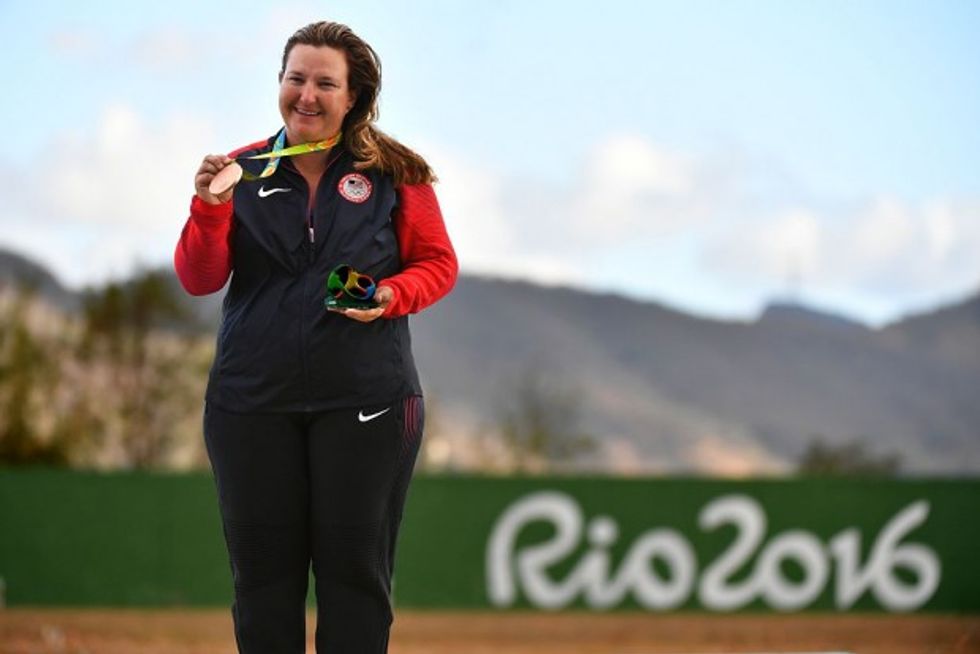 Photo by PASCAL GUYOT/AFP/Getty Images
During this year's Summer Olympics in Rio de Janeiro, Rhode became the first woman to ever medal at six straight Olympic games, but she fears the recent rash of gun control legislation could greatly damage the accessibility of her sport, and ultimately, firearms in general.
Rhode said Gov. Jerry Brown (D) just signed a law that requires a background check "each and every time" she purchases ammunition. The Olympian told Loesch she averages "500 and 1,000 rounds a day" while she's in training. However, it is important to note that, according to a report from The Los Angeles Times, frequent buyers will be added to a database of ammunition purchasers.
She went on to say she's unsure how the sponsors who ship her ammunition will be affected because of a new bill that prohibits the possession of high-capacity rounds, which are defined as those holding more than 10 rounds of ammunition, according to The New York Times.
"If I have ammo that I purchase in California, and say I take 300 rounds to a match, and I wanna bring maybe 100 rounds back because I didn't shoot it all, I'm only allowed, I think, a couple rounds of that to be able to bring back," Rhode said. "So I don't know what I'll do with the rest of it."
On a personal note, Rhode told Loesch about several firearms that have been in her family "for generations" that will now be labeled as assault weapons. According to California law, those guns cannot go to Rhode's son unless they are rendered "permanently inoperable," lawfully removed from the state, or if he obtains a permit from the Justice Department allowing him to possess the weapons.
"There's some real major issues there that I have — just not only being a competitor, but just being a Second Amendment advocate and being a shooter and being born and raised in Southern California," Rhode said.
New legislation signed by the governor will also block Rhode from loaning any of her firearms out unless the person who she's leaving the gun with undergoes a background check, according to The Los Angeles Times.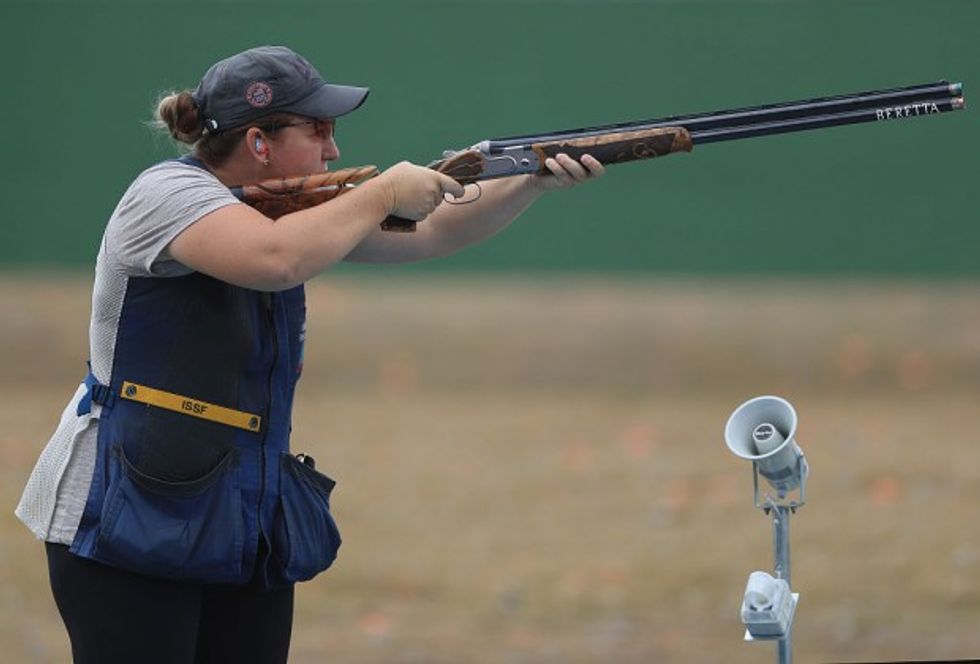 Photo by Sam Greenwood/Getty Images
"How do you teach somebody about shooting or, you know, educate them about safety and responsibility if you can't loan them a gun to even try the sport," Rhode, who said she often coaches Boy Scouts so they can earn a badge, lamented.
When the sweeping gun control measures were signed into law last month, the National Rifle Association accused Brown of exploiting the recent terrorist attacks for political gain.
"Gov. Jerry Brown today signed a Draconian gun control package that turns California's law-abiding gun owners into second-class citizens," Amy Hunter, the NRA's California spokeswoman, said in a statement. "The governor and legislature exploited a terrorist attack to push these measures through even though the state's already restrictive laws did nothing to stop the attack in San Bernadino."
Watch Rhode's comments below:
–
Follow the author of this story on Twitter: