Vice President Joe Biden declared Monday that Republican presidential candidate Donald Trump's claim that President Barack Obama founded the Islamic State terrorist group directly jeopardized the safety of U.S. troops in Iraq.
Biden's statement, which came during remarks at a campaign event for Democratic presidential nominee Hillary Clinton in Scranton, Pennsylvania, blasted Trump's assertion in Sunrise, Florida, Wednesday that the Islamic State "is honoring President Obama." "He is the founder of ISIS," Trump also said. "He is the founder of ISIS, OK? He's the founder. He founded ISIS. And I would say the co-founder would be crooked Hillary Clinton." Trump later tweeted that he was being sarcastic.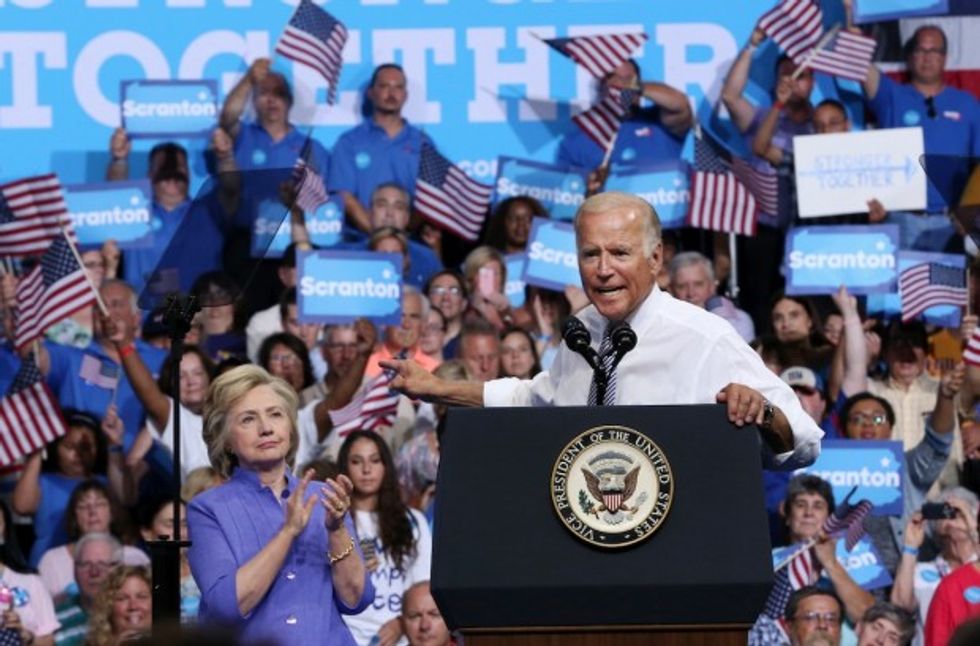 Democratic presidential nominee Hillary Clinton listens as Vice President Joe Biden speaks at a campaign rally in Scranton, Pennsylvania, Monday. (AP Photo/Mel Evans)
At the Clinton rally, Biden said that Trump's remarks could contribute to the "clash of civilizations" that the Islamic State is seeking.
"Last week, [Trump] stood in front of a crowd in Florida and said President Obama founded a terrorist organization, ISIL," Biden said. "Now look, that's an outrageous statement, but let me tell you why it's a dangerous statement. Why, as he might say, the bad guys are listening. Yesterday, the head of Hezbollah — a terrorist organization, Iran's top terrorist surrogate and a direct threat to our ally Israel — repeated Trump's claim in the entire Muslim world and around the world, that President Obama founded ISIL."
According to ABC News, Hassan Nasrallah, leader of the Lebanese militant group, did echo Trump's remarks about Obama founding the Islamic State.
"This is not simple speech," Nasrallah said. "This is an American presidential candidate. This was spoken on behalf of the American Republican Party. He has data and documents."
Biden said that Trump's "outlandish comments" risk "our allies, our friends and the physical safety of our troops."
"If my son were still in Iraq, and I say to all those who are there, the threat to their life has gone up a couple of clicks," he continued.
The vice president said that Nasrallah's remarks prove that Trump "is already making our country less safe."
Watch Biden's remarks:
—
Follow the author of this story on Twitter and Facebook: