Republican nominee Donald Trump says he has "two opponents" in his presidential race — Democratic rival Hillary Clinton and the media.
"We're not just fighting against Hillary Clinton. We are running against the very dishonest and totally biased media!" the email to Trump supporters said. "It's time to hold the media accountable for trying to rig this election against us."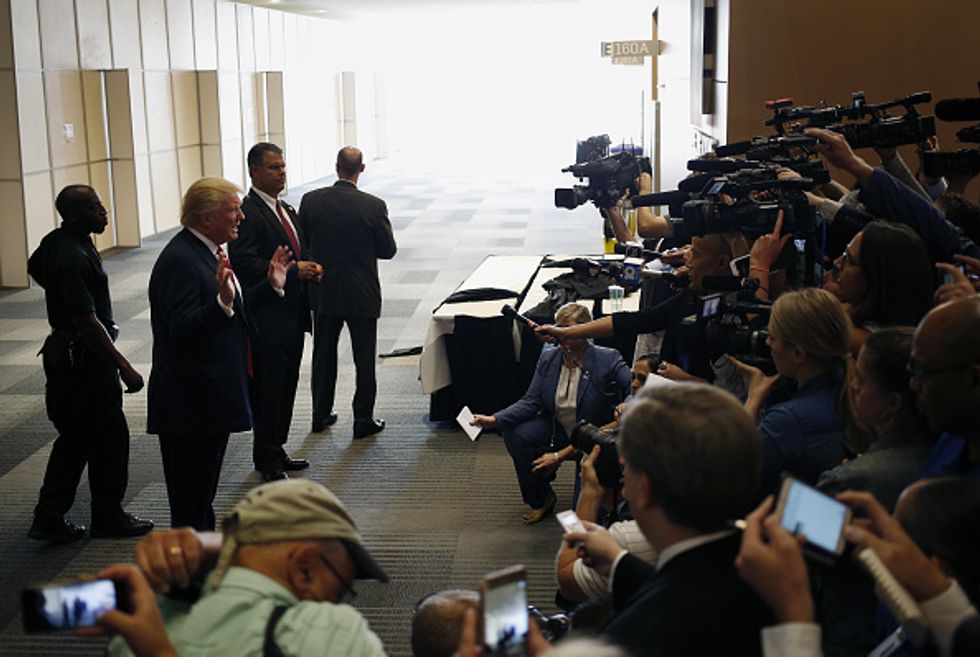 Republican presidential nominee Donald Trump speaks to the media before a town hall event in Columbus, Ohio. (Getty Images/Luke Sharrett)
The email also encourages supporters to take the "mainstream media accountability" survey, which asks about the fairness of the major cable news networks as well inquires about how well the media have covered certain issues such as immigration, taxes and abortion.
Trump's tiff with the media has been an ongoing issue throughout his presidential campaign. The bombastic billionaire has blocked reporters' access to events, mocked a disabled journalist and jeered individual reporters at rowdy rallies. He has called national publications "disgusting," said they are "going to hell" and referred to a reporter as "sleazy" during a press conference.
"I'm not running against Crooked Hillary. I'm running against the crooked media," Trump said at a rally in Connecticut over the weekend. "That's what I'm running against. I'm not running against Crooked Hillary."
Trump's email to supporters didn't ask for money — only for participation in the survey.
"I've always known that the media was out to get Republicans. But this campaign has opened my eyes to how truly biased and dishonest they are," Trump's email said. "We cannot let the media get away with it. We MUST fight back."
—
Follow Kaitlyn Schallhorn (@K_Schallhorn) on Twitter