Khizr Khan, father of the late Capt. Humayun Khan, a Purple Heart recipient who was killed in Iraq in 2004, challenged Republican presidential nominee Donald Trump to take a naturalization test in an interview Monday with the Huffington Post.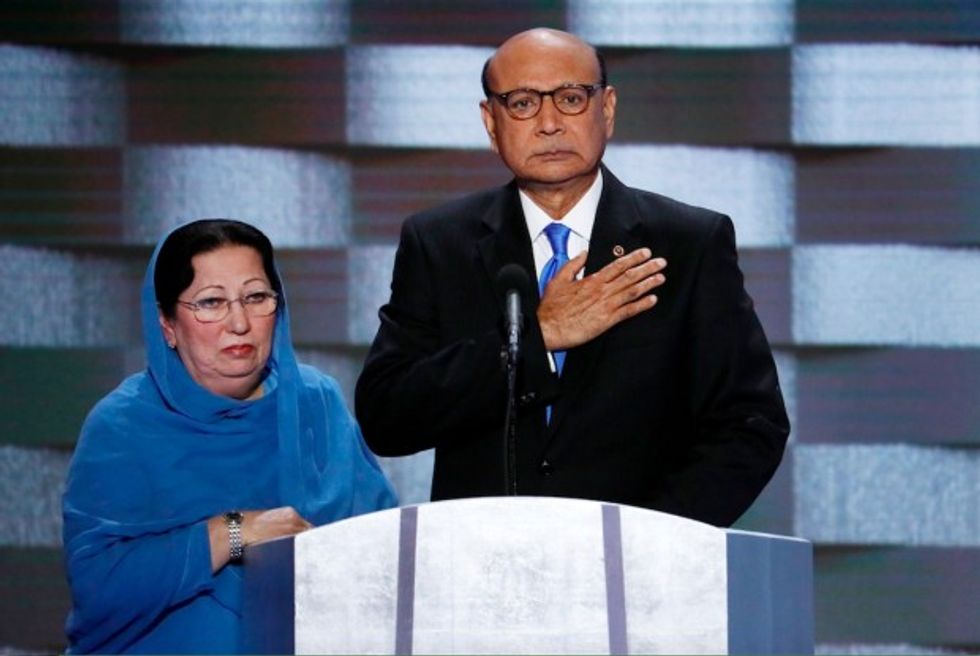 Khizr Khan, father of fallen Army Capt. Humayun Khan, and his wife Ghazala addressed the Democratic National Convention in Philadelphia July 28. (AP Photo/J. Scott Applewhite)
In a speech that same day, Trump called for an "ideological screening test" for those seeking to immigrate to the United States.
Khan, who became an American citizen after emigrating from Pakistan in 1980, rejected the proposal.
"This is my country, too," Khan told the Huffington Post. "We must make it safe — as Muslim Americans it is our obligation to keep our country safe. We reject all violence. We support better immigration policies. We stand as a testament to assimilation and being part of patriotic America as anyone else."
He then issued his challenge to Trump to take the existing naturalization test.
"I challenge Trump to take the naturalization test with me any day," he said. "His is demagoguery and pandering for vote. A divider like Trump can never be the steward of this country."
Trump has openly feuded with the Khan family after the elder Khan criticized him during a speech at the Democratic National Convention last month. Trump insinuated that Ghazala stood silently beside her husband during the speech because he did not permit her to speak, a claim she disputed in a Washington Post op-ed.
I was viciously attacked by Mr. Khan at the Democratic Convention. Am I not allowed to respond? Hillary voted for the Iraq war, not me!

— Donald J. Trump (@realDonaldTrump) July 31, 2016
Trump was criticized by many Republicans for his attacks on the Khan family.
Trump's running mate, Indiana Gov. Mike Pence, attempted to end the feud, saying in a statement released by the campaign, "Donald Trump and I believe that Captain Humayun Khan is an American hero and his family, like all Gold Star families, should be cherished by every American."
—
Follow the author of this story on Twitter and Facebook: