Independent presidential candidate Even McMullin joined CNN's Kate Bolduan on "At This Hour" Tuesday to discuss what his campaign offers that the campaigns of the two major-party candidates have failed to provide.
McMullin, a former CIA operative, began by ripping apart the speech on national security Republican nominee Donald Trump delivered Monday in Ohio. During that speech, McMullin tweeted that Trump "sound[ed] more like ISIS than an American president."
"Extreme", @realDonaldTrump? You sound more like ISIS than an American president.

— Evan McMullin (@Evan_McMullin) August 15, 2016
"He tries to divide Americans the same way ISIS does or our other adversaries, the same way Vladimir Putin does," he told Bouldan. "He wants to pit religion against religion, race against race. We've been a divided country for so long, Kate. It is time for us to unite." McMullin added that Trump and Democratic candidate Hillary Clinton both seek to divide the country "in different ways."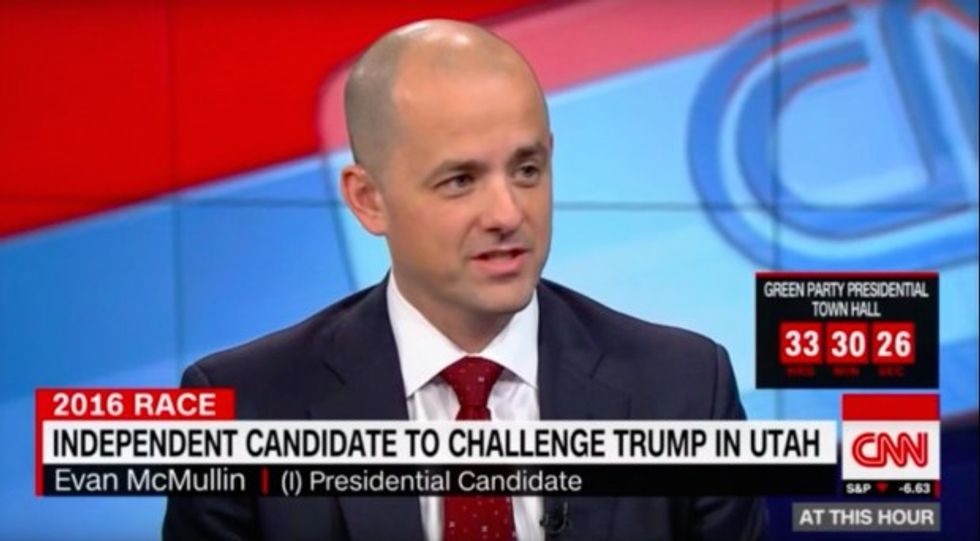 Image source: YouTube
McMullin's campaign announced Monday that he had gained enough support secure a spot on the ballot in Utah. According to his website, his campaign gathered more than 2,000 signatures in 72 hours — double the required amount.
I'm officially on the ballot in #Utah! Thank you to all our volunteers who collected signatures! #StandUpWithEvanpic.twitter.com/My0tVfhs7e

— Evan McMullin (@Evan_McMullin) August 15, 2016
The candidate is also on the ballot in Colorado, and he recently received a nomination from the Independence Party of Minnesota.
McMullin told Bouldan that while "it is possible" that he would end up on the ballot in all 50 states, that's not his expectation, nor is it a key part of his strategy.
"If neither Hillary Clinton nor Donald Trump nor I are able to win 270 in the electoral college … then it will go the House of Representatives," he explained.
Bolduan noted that such an outcome has only happened once in United States history, in the election of 1824. But that fact seemed only to support McMullin's argument that the country is entering "new waters" and that the current political climate is unlike any America has seen before.
"This is an election season unlike any other," he added.