Following the announcement of Donald Trump's campaign staff shake-up, Hillary Clinton's campaign manager, Robby Mook, went on the offensive as he slammed the Republican presidential nominee's newest chief executive.
The Trump campaign announced Wednesday morning that it had hired Breitbart News Executive Chairman Steve Bannon as the campaign's CEO and had named GOP strategist and pollster Kellyanne Conway as its newest campaign manager. Paul Manafort is expected to stay on as Trump's campaign chairman and chief strategist.
"After several failed attempts to pivot into a more serious and  presidential mode, Donald Trump has decided to double down on his most small, nasty and divisive instincts by turning his campaign over to someone who is best known for running a so-called news site that peddles divisive, at times racist, anti-Muslim, anti-Semitic, conspiracy theories," Mook said on a conference call with reporters Wednesday afternoon.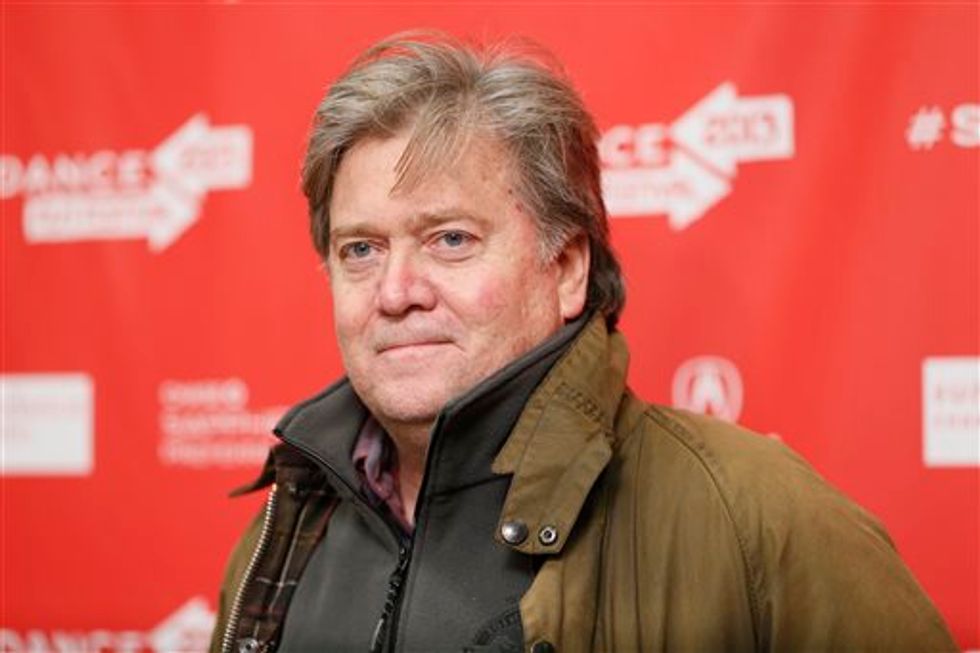 Republican Donald Trump is overhauling his presidential campaign again, bringing in Breitbart News' Stephen Bannon as campaign CEO. (AP Images/Danny Moloshok)
Mook contended that the Hillary campaign "absolutely expects" Trump to "double down on more hateful, divisive rhetoric, more conspiracy theories, more wild accusations" with the new additions to his team.
"What has become clear from this is that no matter how much the establishment wants to clean Donald Trump up, get him on a teleprompter and get him on message, he has officially won the fight to let Trump be Trump," he added. "And he keeps telling us who he is; it's time that we believe him."
Mook excoriated both Breitbart and Bannon, citing the Southern Poverty Law Center's own critique of the website, which he criticized as having "been known to defend white supremacists like Trump."
"Like Trump himself, Breitbart and Bannon have frequently trafficked in all sorts of deranged conspiracy theories from touting that President Obama was not born in America to claiming that the Obama administration was 'importing more hating Muslims,'" Mook said. "It's clear that [Trump's] divisive, erratic and dangerous rhetoric simply represents who he really is."
Aside from the Democratic presidential nominee's own campaign, former Breitbart writer Ben Shapiro also slammed Bannon Wednesday afternoon, saying that Bannon "turned Breitbart into Trump Pravda for his own personal gain" and allowed the website's staff to "openly embrace the white supremacist alt-right."
Clinton is leading Trump nationally by six points, according to Real Clear Politics' aggregated polling data.
—
Follow Kaitlyn Schallhorn (@K_Schallhorn) on Twitter