Democratic vice presidential nominee Sen. Tim Kaine (Va.) told NBC's "Today" Wednesday that he would support the public release of the FBI's notes on their investigation into Hillary Clinton's emails.
"Anything the FBI gives to the Congress, they should give to the public," Kaine said. "Because what we've seen is this lengthy, multi-million dollar congressional investigation that has been highly partisan, where they've wanted to leak out this or that, to try to make their case against Hillary Clinton. Let the public see what the FBI decides to let Congress see."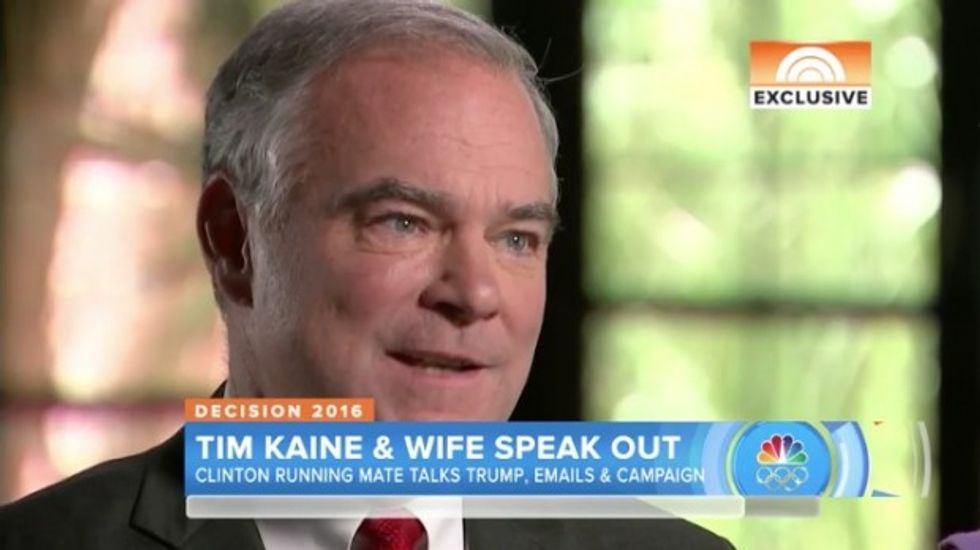 Image source: "Today"
Pressed about claims Clinton has made about her emails that turned out to be false, Kaine defended his running mate as trustworthy.
"Listen, if you asked somebody a question 150 times or 200 times, you're gonna be able to find that they don't use exactly the same word every time," he said. "And there's gonna be variations, and then people are gonna play on those."
Kaine went on to say that he is optimistic about the election. "I see no complacency on the team. I have been in a lot of races. This is the ninth ballot I'll be on, and I've won every race, but barely, usually. And the way I win is I say, 'Be an underdog till they call you the winner.'"
Kaine's wife, Anne Holton, joined him for the interview. Holton, who stepped down from her role as Virginia's secretary of education when Kaine joined the Democratic ticket, was asked if she would be interested in filling her husband's vacated Senate seat should he be elected vice president.
"Absolutely not," Holton replied. "One per household."
Watch:
—
Follow the author of this story on Twitter and Facebook: