Fox News reporter James Rosen and other journalists grilled State Department spokesman John Kirby Thursday over a report asserting the $400 million payment to Iran was contingent upon the release of American prisoners.
The Wall Street Journal story was an apparent contradiction to what Kirby and other State Department officials had told reporters weeks earlier.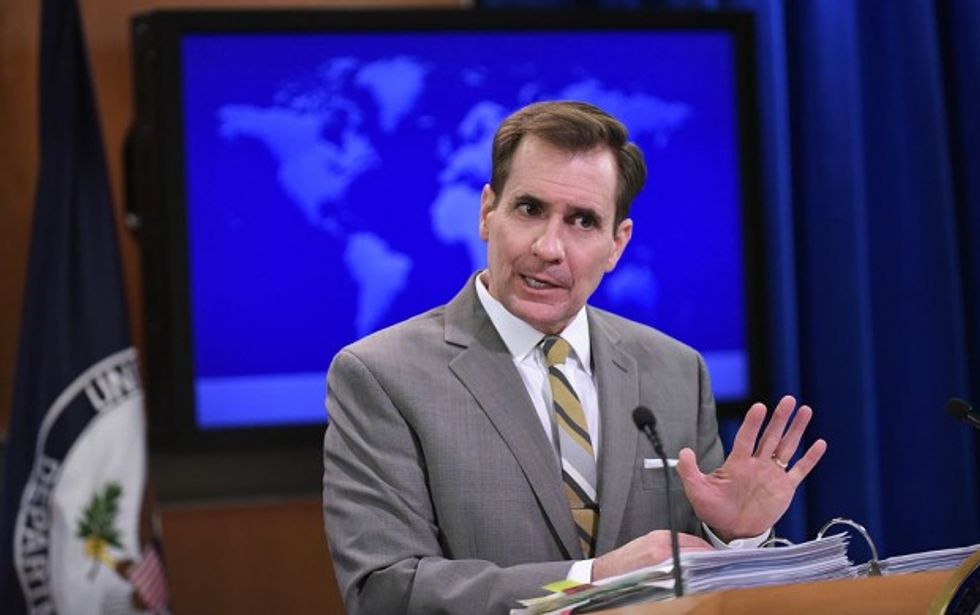 John Kirby (Photo by MANDEL NGAN/AFP/Getty Images)
For several minutes, Rosen pressed Kirby on the report, asking if there is anything in the article he would "dispute on factual grounds." After laughing off the question and saying he had seen the article, Kirby told the Fox News reporter that the State Department "completed multiple strands of diplomacy" on Jan. 17, when the cash was delivered and the American detainees were released.
Kirby insisted the U.S.'s actions were "above board" while also admitting that the $400 million cash deposit was used as "leverage" in the negotiations. He later said it would be "imprudent not to consider that some leverage in trying to make sure our Americans got out."
"Just to return to my question, is there anything in The Wall Street Journal story that you would dispute on factual grounds?" an unsatisfied Rosen asked yet again.
The State Department spokesman confirmed that the money was not given to Iran until the prisoners were released, but said he was not going to go through the details of The Wall Street Journal report "line-by-line."
"Why weren't you able to tell us that 10 days ago, when I, myself, asked, 'Can you at least assure us that those prisoners were in the process of being released before that money was pushed out?'" Rosen inquired.
Kirby answered by saying that in earlier briefings he was uninterested in getting into a "tick-tock" of what happened on the day both transactions were completed. He also pushed back against previous reports suggesting the negotiations created a "quid pro quo" situation.
"In basic English you are saying you wouldn't give them the $400 million in cash until the prisoners were released, correct?" one reporter asked.
"That's correct," Kirby replied.
Another reporter then chimed in a few minutes later, telling Kirby, "What you just described is, by definition, a quid pro quo" — a characterization the State Department official swiftly rejected.
"How is it not?" the journalist continued. "You said they would not get the money until they were released. Quid, quo. ... What am I missing in the quid pro quo that you have just outlined?"
Kirby stood firm in his view that the two transactions were not related in anyway, telling the reporter the $400 million payment would have gone through regardless of any other circumstances.
"There's really nothing new here," Kirby said of the latest revelations surrounding the Iran negotiations.
Watch the tense exchange below:
—
Follow the author of this story on Twitter: